3 Essentials You Need To Go Hunting With Your Side By Side
Chaparral Motorsports
|
October 1, 2015
Driving a utility vehicle is best vehicle to choose when you are performing specialized work, or have a lot to haul. In the case of hunting, you can usually check off both of those requirements.

A must-have for most modern day hunters is a UTV, more commonly known as a side by side. Side by sides give hunters much more access to their grounds of choice, provides some protection from the elements and takes the burden off the hunter to carry all your bulky stuff, like your prize that will soon be fresh venison sausage, a freezer full of venison steaks, or even a new 12-point whitetail trophy. Hunting is typically an all-day affair and walking around with a rifle or bow, ammo, and all the other necessities that make for a successful day on the prowl is simply not practical.

1. Choose a UTV for Hunters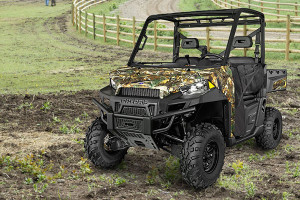 Deciding which UTV side by side is the best option for you is first decision to tackle. Polaris and Kawasaki make popular models, and are even available in Hunter Editions with Camo colors optional. The 2016 Ranger XP 900 EPS offers extreme performance on the hunt or around the home. Starting at $16,299 and designed for easy maintenance, it is a suitable option for for a first time owner. Drivers can build out their UTVs to suit their own personal needs with a number of accessories and add-ons help fully utilize all that a UTV offers for the sportsman

2. Accessorize for Function
[caption id="" align="alignright" width="330"]
Great Day Inc. Power Ride Bow Carrier[/caption]

If you're a hunter who prefers shooting a bow and arrow a bow rack is a must have. The [mageProductLink sku="340-3483" title=""]Great Day Inc. Power Ride Bow Carrier[/mageProductLink] is an ideal way to safely store and secure your compound or recurve bow while en route. The carrier mounts on back of UTV cab to save space.

For the rifleman, a gun rack is the perfect choice. The Moose Single Gun and Bow Rack or the Double Gun and Bow Rack mounts perfectly on the rear of your UTV, securely and safely fastens your firearm and also works well locking down a bow or a rifle in a soft case.

Check out the full line of UTV mounts for firearms:
[schema type="productembed" url="http://www.chaparral-racing.com/Product/kolpin-utv-double-gun-boot-mount/357-8303.aspx" name="Kolpin UTV Double Gun Boot Mount" image="357-8303" description="Constructed of steel and durable glass infused plastic for superior strength. Innovative patent pending design provides mounting surface for most accessories on utility vehicles. ..."]
[schema type="productembed" url="http://www.chaparral-racing.com/Product/kolpin-utv-gear-transport-system/357-8310.aspx" name="Kolpin UTV Gear Transport System" image="357-8310" description="Constructed of steel and durable glass infused plastic for superior strength. Innovative patent pending design provides mounting surface for most accessories on utility vehicles. ... "]
[schema type="productembed" url="http://www.chaparral-racing.com/Product/kolpin-utv-gun-mount/357-8406.aspx" name="Kolpin UTV Gun Mount" image="357-8406" description="Safely and securely mounts any shotgun or rifle. Rubber strap keeps forearm of firearm secure to eliminate vibration and movement. Fully adjustable for different heights, angles, and orientations... "]