Gage McAllister Wins KTM RC Cup
Chaparral Motorsports
|
September 14, 2015
Gage McAllister Claims First-Ever KTM RC Cup Championship At MotoAmerica Season Finale
New Jersey Native Anthony Mazziotto Captures His Second Career-Victory in Home State
[caption id="attachment_56598" align="alignright" width="300"]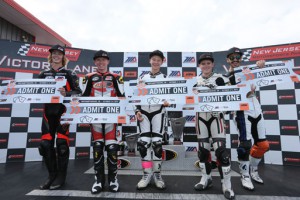 2015 KTM RC Cup Top Five Finalists - Photo: Brian J. Nelson[/caption]

The 2015 KTM RC Cup Championship came to a conclusion on Sunday with the fifth and final round of the MotoAmerica Series in Millville, New Jersey. Twenty-year-old Gage McAllister emerged as the first-ever RC Cup Champion after capturing a race one victory over his Canadian competitor, Braeden Ortt. Race two saw a second-time winner with Anthony Mazziotto III shining bright in front of his home state crowd and a season high number of 37 RC Cup participants.

Mazziotto kicked off the weekend in a big way as he qualified fastest in the timed sessions, claiming pole position for both races. Behind the New Jersey native was a head-to-head battle between McAllister and Ortt, who entered the final round with a 22-point gap in the championship standings.

McAllister began in the fifth place position, where he quickly made his way into a multi-way battle for the lead position. Ortt, who injured his right hand during an earlier qualifying session, came into race one with a thirteenth place start position. The Canadian pushed his way into the sixth place position, where he ultimately finished in race one. Meanwhile, McAllister battled it out with Mazziotto and Justin McWilliams for the top spot. In true form, McAllister held strong to capture not only a race one victory, but the first-ever RC Cup Championship.

[caption id="attachment_56599" align="alignright" width="300"]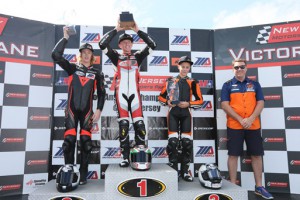 2015 KTM RC Cup New Jersey Podium - Photo: Brian J. Nelson[/caption]

"It's a speechless moment," McAllister commented after the race. "I enjoy racing a spec-series like the KTM RC Cup because it allows the rider's talent to shine through and I look forward to seeing the talent continue to grow each year."

Texas' Justin McWilliams held on to capture third place behind Mazziotto in race one, proving his bid for a top-five position in the championship standings. Pennsylvania's Benjamin Smith put in an impressive showing in his RC Cup debut, claiming fourth place in race one, while New Jersey's very own Brandon Paasch rounded out the top five in only his second RC Cup appearance.

With the championship wrapped up, race two focused on the remaining top-five positions, as four tickets to the World Final at Silverstone were still up for grabs. Mazziotto got off to favorable start and opened an even bigger gap when another rider made a mistake to hold back the rest of the pack. It didn't take long for Illinois native Jody Barry and newly-crowned champion McAllister to jump into the lead battle, where the three riders swapped several times for the top spot.

Unfortunately, Barry experienced a crash while battling for the lead spot, which ultimately ended the race with a red flag. Mazziotto and McAllister swapped positions but it was the New Jersey native who came away with his second win of the season, bumping himself into second place in the overall standings.

[caption id="attachment_56600" align="alignright" width="300"]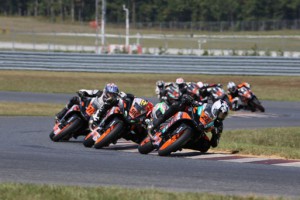 Gage McAllister 2015 KTM RC Cup New Jersey - Photo: Brian J. Nelson[/caption]

With McAllister at the helm, the top five riders in the U.S.-based MotoAmerica Championship will head to the Silverstone Race Circuit in Northamptonshire, UK to compete against the best five riders from RC Cup youth series around the world at the penultimate round of the British Superbike Championship at Silverstone on Oct. 2-4, 2015. Mazziotto will join McAllister, along with Braeden Ortt, Hayden Schultz and Justin McWilliams to represent North America in the World Final.

Additionally, the winner of the five-round U.S. RC Cup Series will earn $3,500 in KTM Cash, while the second place finisher in the championship standings will take home $2,500 in KTM Cash and third place will earn $1,000 in KTM Cash.

The RC Cup Series features riders between the ages of 14 and 22-years-old who hold an AMA Superstock Limited license to participate. All participants race aboard a 2015 KTM RC 390 Cup Racebike, designed as racing competition bikes (not street-legal) and have been prepared by KTM with over 40 PowerParts and other enhancements to increase racing performance.

The 2015 KTM RC Cup Championship concluded this weekend, Sept. 11-13 at New Jersey Motorsports Park in Millville, New Jersey. For more information, please visit www.ktmrccup.com.

KTM RC Cup Standings - Round 5 of 5


Gage McAllister, 5 wins (172)

Anthony Mazziotto III, 2 wins (137)

Braeden Ortt, 2 wins (124)

Hayden Schultz (88)

Justin McWilliams (86)

Brandon Altmeyer (71)

Jody Barry (67)

Josh Serne (67)

Alejandro Gutierrez Mejia (63)

Brandon Paasch (55)