2016 Indian Motorcycle Lineup
Chaparral Motorsports
|
September 10, 2015
The latest from Indian Motorcycle is the hottest display of premium bikes we've seen yet. There are lots of upgraded models to choose from, and Indian's new line is already being met with overwhelming demand.

Midsize
2016 Indian Scout
[caption id="attachment_56323" align="alignright" width="300"]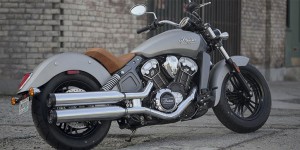 2016 Indian Scout[/caption]

The 2016 Scout is a midsize bike "redesigned for the 21st century." Like most Indian-brand motorcycles, the all new Scout comes with a variety of accessory options dependent upon the customer's comfort preferences. With over 80 years of history backing the Scout's design, this middle-weight cruiser weighs in at 558 pounds dry. Its engine is a liquid cooled v-twin with 69 cubic inches of displacement. Featuring closed loop fuel injection, 100 horse power and 5900 rpm of peak torque, the Scout truly redefines what it means to be "sporty."

Cruisers
2016 Indian Chief
[caption id="attachment_38053" align="alignright" width="300"]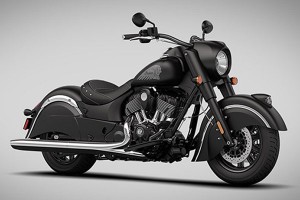 2016 Indian Chief Dark Horse[/caption]

New year, new horse in town. The 2016 Chief Dark Horse is an "unpolished, blacked-out machine designed to make an uncompromising statement." It comes in matte black, and has the option of adding 16-inch Black Ape chopper-style handlebars. But that's just the aesthetics.

The Chief Dark Horse rides atop a Thunder Stroke 111 engine. This steed has 111 cu in and 1911 cubic centimeters of displacement, 46 millimeters of compression, and a closed loop electronic fuel injection system (54 mm bore). Its peak torque registers at 3000 / 2600 rpm.

The Dark Horse starts at $16,999 - slightly cheaper than the Chief Classics, which start at $17,999 and feature no major technical differences.

Baggers
2016 Indian Chief Vintage
[caption id="attachment_56326" align="alignright" width="300"]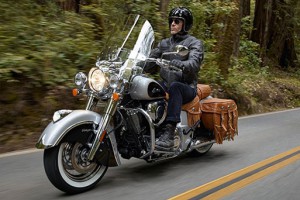 2016 Indian Chief Vintage[/caption]

The 2016 Indian Chief Vintage comes in Willow Green and smooth Ivory Cream. This timeless, authentic and versatile bike has everything you need for a smooth-handling, high-performance ride.

The Chief Vintage starts at $21,999 and weighs in at 801 lbs dry. Accessories like quick-release vintage leather saddle bags and a windshield come standard.

2016 Indian Chieftain
[caption id="attachment_56324" align="alignright" width="300"]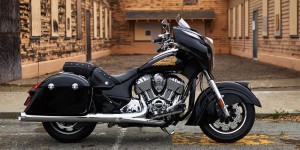 2016 Indian Chieftain[/caption]

The 2016 Chieftain comes complete with all of the accessories you'll need for a cross-country journey. A bit of an upgrade from the previous Cruisers, this award-winning, top-of-its-series bike delivers the best in handling, engineering, beauty and, of course, raw power.

Powered by the same Thunder Stroke 111, the Chieftain's luxury accessories include power-locking hard saddlebags and standard power windshield. Dry, the Chieftain weighs 815 lbs and starts at $23,499.

Touring
2016 Indian Roadmaster
[caption id="attachment_56325" align="alignright" width="300"]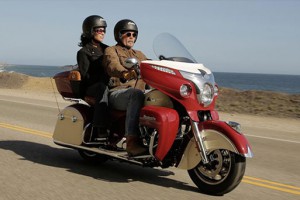 2016 Indian Roadmaster[/caption]

The pièce de résistance from Indian's 2016 lineup is undoubtedly the Roadmaster model. Indian has been in the business of defining pure American luxury for decades, but this year it has really outdone itself. The Roadmaster's ergonomic design and innovative engineering make it a truly unique bike - ready for long hauls and pleasure cruises alike.

Starting at $27,999, the 2016 Roadmaster has spared no expense on bells and whistles. Weighing in at 897 lbs. dry (930 wet), this beast features a wheelbase of 65.7 in, a total width of 39.4 inch, ground clearance of 5.5 in and a 5.5 gallons of fuel capacity. The seat height rests at 26.5 in, overall length comes in at 104.6 inches, and the bike has nearly 38 gallons of premium storage. When buying a premium brand, you really get what you pay for. With Indian Motorcycles, you're certainly paying for its award-winning Polaris made Thunder Stroke 111 engine - a rider favorite since 2013 and featured throughout all of its bikes since.

Additional standard luxury features include heated hand grips, dual heated seats, ABS, tire pressure monitoring, keyless ignition with remote locking storage, infotainment systems, cruise control Bluetooth capacity and more. The 2016 Roadmaster comes in Blue Diamond, two-tone Storm Gray, Thunder Black, Springfield Blue and Cream. With so many included accessories and additional options to choose from - rolling up on an Indian Roadmaster will definitely turn heads.

Keep updated with all the latest motorcycle, ATV and road bike lines and accessories at Chaparral-Racing.com.