Motorcycle Transportation Best Practices
Chaparral Motorsports
|
September 2, 2015
Motorcycle Transportation Made Easy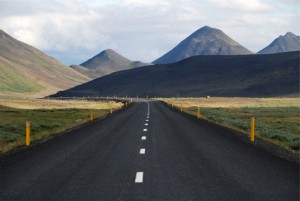 For motorcycle riders who need to get their bike from point A to point B, there are several options to take. Some riders simply want to transport their motorcycles to a new location without riding the entire way. Others transport their bikes because they are moving to a new area or maybe because they've sold their bike. There are a lot of reasons why you might need help with motorcycle transporting, but first things first, you have to make sure you're safe and secure on your travels. With a few simple and easy steps to keep in mind, you'll find even a coast to coast move a breeze.

Using A Pickup Truck
[schema type="chaparralproduct" url="http://www.chaparral-racing.com/product/high-roller-ratchet-tiedown/310-0042.aspx" name="High Roller Ratchet Tiedown" image="310-0044" alignment="right" ]One of the best ways to get your ride to its destination is by using a pickup truck. The bed is perfect for hauling a motorcycle and most truck beds have built-in tie downs or anchors. If your truck doesn't have these latches, you can purchase them and easily install them into the bed for added security.

Next, you want to invest in some premium tie down buckle straps, so you know your ride is secure. Depending on the layout of your truck anchors and tie downs, you typically want to connect two straps to the handlebars. These straps should come from the top left and right anchors. It's smart to keep these straps at a 45-degree angle to your tire, since you'll want to have the bike as straight as possible.

You will need to do the same thing for the bottom left and right anchors as well. Tie them at 45-degree angles of the rear tire to keep the motorcycle as straight as possible. This will equally distribute the weight of your motorcycle in your truck bed.

Working In Small Spaces
[schema type="chaparralproduct" url="http://www.chaparral-racing.com/product/ccr-sport-bed-buddy-mini-size-motorcycle-tie-down-rack/lv45-002.aspx" name="CCR Sport Bed Buddy Mini Size Motorcycle Tie Down Rack" image="LV45-002-B" alignment="right" ]If your truck bed is too small to tie your bike completely vertical, you might want to try placing the front tire in the top left or right corner. However, if you decide to do this, you run the risk of damaging your exhaust as it will likely be very close or pressed up against the side of the truck bed. Try to get as much room as possible as you don't want to seriously dent your pipes.

Since your bike is tilted sideways, bumps in the road will push the bike around a bit more, which is why it's smart to wrap your exhausts with a towel and then duct tape the towel around your exhaust pipes. This creates a thick protective sleeve for your exhaust pipes to avoid scratches or dents. You'll need this during your motorcycle transportation, as the straps can loosen.

Another option is to extend your working area by leaving the truck tailgate down. To make sure your ride does not escape, you will likely want to invest in a motorcycle transportation system built for pick up trucks, such as the Bed Buddy from CCR Sport. These devices attach to your truck bed and give you a location to tie your bike down, and one specifically built for motorcycles at that.

Using A Flatbed Trailer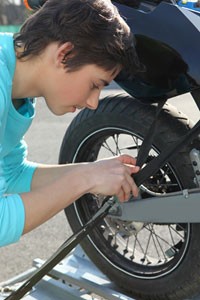 If you don't have a truck or the bed is simply too small, there are other routes - such as motorcycle transportation carriers that attach to back of trucks and SUVs with a trailer hitch. If you're only looking at a one-way move, renting a flatbed trailer is one of the best options because you can easily place your motorcycle in the middle of the trailer and tie it vertically.

Flatbeds allow you to get your bike completely straight, which helps keep it from harm while you are moving. You can use straps that connect to each side of your handlebars, which are then tied downward to anchors in the middle of the flatbed. This will stabilize your ride.

Once you have the front stable, use the same technique on the rear of your motorcycle to secure the back. It's beneficial to add more straps from the base of the flatbed to the motorcycle. Every connection should be tense and provide little to no wiggle room for your ride to move during transportation.

When you feel like your ride is safe and secure, you're ready to hit the road with your hitch or motorcycle in your truck bed.