Go Rogue: The Bike From "Mission: Impossible - Rogue Nation"
Chaparral Motorsports
|
September 2, 2015
|
Last Updated: October 23, 2020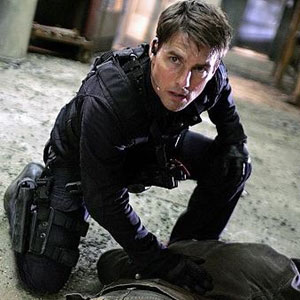 One of this summer's hottest action flicks is - you guessed it - also a fine display of hot biking action. Tom Cruise stars in "Mission: Impossible - Rogue Nation," but his blacked-out BMW S1000RR superbike really steals the show.
Code named "K46", these sleek beasts are made by BMW Motorrad and powered by a 999cc, inline-4 engine that redlines at 14,200 rpm. The S1000RR comes in two models: factory race and production. The prime differences between the commercially sold production bike and the factory model are juiced engine compression ratio (14.0:1 vs. the production's 13.0:1), raw horsepower (200 hp at 14,000 rpm vs. 193 hp at 13,000 rpm), net weight (162 kg vs. 207.7 kg), and finally its wheel forks (44mm Öhlins for the racer, compared with a 46mm ZF Sachs).
The S1000RR also starred in the famous 2010 BMW promo-gone-viral, "Dinner for RR," aka "The oldest trick in the world." In it, K46 supposed pulled a tablecloth clean out from under a properly set dinner table from a dead stop.
While it has been proven to use a dose of video magic, it does go to show that the raw torque that comes standard in this powerhouse was evident long before Mr. Cruise took it for a spin.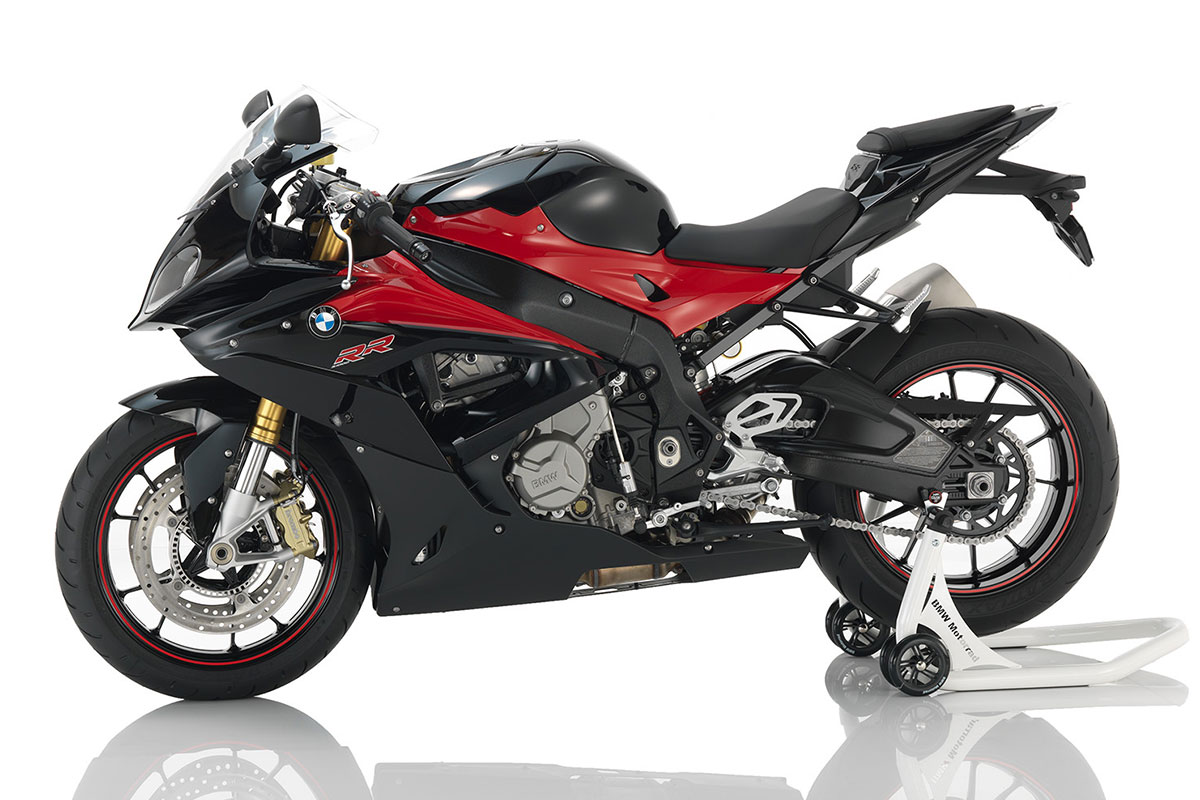 | | |
| --- | --- |
| Year | 2016 |
| Manufacturer | BMW |
| Model Name | S 1000 RR |
| Generic Type (Primary) | Sport Bike |
| Engine Type | Water-cooled 4-stroke in-line four-cylinder-engine, two camshafts, four valves per cylinder |
| Bore x Stroke | 80 mm x 49.7 mm |
| Capacity | 999 cc |
| Rated Output | 193 hp (142 kW) at 13,000 rpm |
| Max. Torque | 83 ft-lb (112 Nm) at 9,750 rpm |
| Compression Ratio | 13.0 : 1 |
| Mixture Control / Engine Management | Electronic intake pipe injection/digital engine management including knock sensor (BMS-K-P) |
| Emission Control | Catalytic- 2 Closed-loop 3-way catalytic converter, emission standard EU-4 ready |
| Maximum Speed | Over 125 mph (200 km/h) |
| Fuel consumption per 100 km at constant 90 km/h | Euro Rating: 5.7 l |
| Fuel consumption per 100 km at constant 120 km/h | Euro Rating: 5.9 l |
| Fuel Type | Unleaded premium, octane number 91-93, automatic knock control |
| Alternator | Three-phase alternator 350 W |
| Battery | 14 V / 10 Ah, maintenance-free |
| Clutch | Multiple-disc clutch in oil bath, anti hopping clutch, cable operated |
| Gearbox | Constant mesh 6-speed gearbox |
| Drive | Chain |
| Frame | Bridge-type frame, cast aluminum, load-bearing engine |
| Front wheel location / suspension | 46 mm Upside-down fork, rebound and compression adjustable |
| Rear wheel location / suspension | Cast aluminum swing arm, Continuously adjustable rear inbound-rebound damping, high and low speed |
| Suspension travel front / rear | 4.7/5.1 inch (120 mm / 130 mm) |
| Wheelbase | 56 inches (1,432 mm) |
| Castor | 3.7 inches (95.9 mm) |
| Steering Head Angle | 66,1 ° |
| Wheels | Cast aluminum |
| Rim, Front | 3.50 x 17" |
| Rim, Rear | 6.00 x 17" |
| Tires, Front | 120/70 ZR 17 |
| Tires, Rear | 190/55 ZR 17 |
| Brake, Front | Twin disc, floating brake discs,radial-fixed 4-piston calipers, diameter 320 mm, 5 mm thickness |
| Brake, Rear | Single disc brake, one-piston floating caliper, diameter 220 mm, 5 mm thickness |
| ABS | DTC: DTC 4 mode dynamic traction control adjustment, only avalibale with Race ABS, disengageable. Race-ABS: 4 mode Race-ABS adjustment, disengageable |
| Overall Length | 80.9 inches (2,056 mm) |
| Overall Width | 32.5 inches (826 mm) |
| Overall Height | 44.8 inches (1,138 mm) |
| Seat Height, unladen weight | 32 inches (820 mm) |
| Inner Leg Curve, unladen weight | 71.2 inches (1,810 mm) |
| Unladen Weight, road ready, fully fuelled | 450 lbs (204 kg), 455 lbs (206.5 kg) incl. Race-ABS |
| Dry Weight | 403 lbs (183 kg) |
| Permitted Total Weight | 859 lbs (390 kg) |
| Payload Capacity | 412 lbs (187 kg) |
| Fuel Capacity | 4.5 gal (17.5 l) |
| Reserve Tank | approx. 1 gal (4.0 l) |