Women's Speed Record Ends In Crash
Chaparral Motorsports
|
August 19, 2015
Soon after a close attempt at beating her own world speed record on the standing mile, the fastest woman ever on two wheels, Becci Ellis, was suddenly tossed off her motorcycle and went out of control by a large gust of wind at the World Wheelie Championship hosted by the Elvington Airfield in Yorkshire, England. Ellis was able to reach a high speed of 259 mph, which almost set a new record in women's speed trails.

Luckily, Ellis only suffered from a broken ankle, bruised ribs and whiplash from the crash, but when she spoke with Visor Down, the motorcycle maniac said she certainly got off lightly from the crash.

"I'm fine,' Ellis said, according to the source. "It's the only crash I've ever had. I've got no fear, it's in my blood and it's what I love to do. I crashed on Saturday but was back at the track on Sunday and nobody expected to see me, the paramedics couldn't believe it ... but I had to collect my winner's medal."

Once Ellis was able to hit 250 mph, she eventually slowed down to 230 mph, which is when she was lifted upright from the gust of wind. The action threw her onto a ploughed field at nearly 230 mph, and was still able to manage the motorcycle for almost 1,000 feet. Ellis told Visor Down it was like being a stone skipping across water.

Ellis was riding a turbo Hayabusa, which sadly, unlike herself, did not make it through the crash. The motorcycle was completely totaled from the high-speed wreck and her crew is actually still searching the racing grounds to look for the motorcycle's expensive electronic control unit. During the crash, the costly piece of equipment was tossed from the bike, which has crew members and volunteers using metal detectors to find it.

World Records Still In Place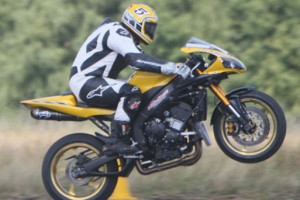 Ellis currently holds the speed record at 265 mph, but was only able to get to 259 mph in this specific run. Even though the motorcycle racer will have to be in a cast for up to six weeks, she plans to beat the 265 mph record as soon as she can get back on a bike, Visor Down reported.

'I'm just really angry with myself that for one tiny split second I must have raised my head and the wind got under me," Ellis continued. "I'm really annoyed. Of course, I'm thankful that I'm fine - somebody must have been watching over me."

According to the Pocklington Post, another world record was almost beaten during the event as well. Gary Rothwell nearly beat Egbert Van Popta's 199-mph wheelie record, but fell short by only reaching 197 mph.

The event organizer, Trevor Duckworth, told the source the race was a triumph even with a few records not being beat.

"It was very successful," said Duckworth. "It was the 10th year we ran it and it has grown year on year. This was the biggest one we have done. People from all over came to watch."