Polaris' New Ranger XP 900 EPS High Lifter Edition
Chaparral Motorsports
|
August 16, 2015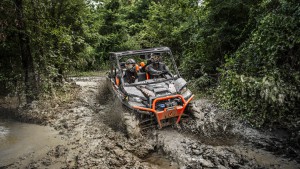 Polaris Industries
just tossed a new toy into the mud pit and it's as tough as it is strong. Polaris' new RANGER XP 900 EPS High Lifter Edition Stealth Black is the industry's first three-seat mud riding machine. The Ranger High Lifter is a work horse designed to haul heavy loads and deliver big fun while chewing through the muddiest of trails, bogs, worksites, and marshy fields.

Similar But Different
Drawing on key aspects from its popular RZR XP 1000 High Lifter Edition, Polaris created the Ranger High Lifter to take sloppy terrain and work to the next level. The Ranger High Lifter Edition carries many of the same traits as the RZR High Lifter with features such as reduced gearing to help slog through thick mud, high engine air and clutch intakes and outlet, arched lower A-Arms, 28 in/71.12 cm High Lifter Outlaw II tires and an improved drainage skid plate. This model differs in the fact that it comes with Pro-Lock™ On-Demand All-Wheel Drive for quicker four-wheel drive engagement.

Three Is Not A Crowd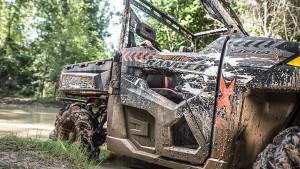 Like peas in a pod, the Ranger XP 900 High Lifter Edition was designed to fit three adults comfortably on the split bench seat. More importantly, the Ranger XP 900 model features an easy access seat height and wide clearance down at the feet, making for quick and effortless in/out. Half doors help keep mud and debris out of the cab area. For the driver the steering wheel provides for 10" of tilt adjustment.


It's A Mudder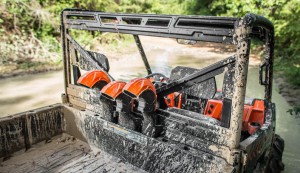 When it came to tire selection for the Ranger High Lifter, Polaris pulled from the 10-plus years of the the High Lifter team they fitted the Outlaw 2 UTV tires. The 28" Outlaw 2 tires features a full tread wrap to the rim to increase traction in ruts and has a flatter profile for a smoother ride. To navigate deep ruts, rocks, and mud holes it takes more ground clearance, RANGER XP 900 gives you a full 13" of ground clearance so you can go farther and get deeper. Between the cab and the tilting bed a stack of high mounted intake and exhaust breathers keep the water out and fresh air in. You've got an engine intake, clutch intake, and exhaust outlet, and all the vent lines are integrated into the cab frame to keep them free of debris.

It's A Worker
When it comes to work and slogging materials around the job site or farm, the Ranger XP 900 High Lifter is ready to tackle any task with its 2,000 lbs. towing capacity and standard 2" receiver. Additionally, a class-leading 1,500 lbs. payload capacity is highlighted by a rear box with gas-assist dumping operation that can tote up to 1,000 lbs. of gear. Front and rear protection is provided by custom Polaris bumpers, and when it comes to pulling your buddy and his baby Rhino out of mud pit or assisting your crawl up a slippery precipice the 4,500 lb winch will get the job done.