2015 Unadilla Motocross National Results
Chaparral Motorsports
|
August 10, 2015
It's one of the most historic motocross circuits in the world, having played host to the U.S. Motocross Grand Prix events several times as well as AMA Nationals for decades. Unadilla is a name known by motocross fans far and wide. Red Bull KTM Factory rider Ryan Dungey earned two moto wins for a perfect sweep of the tenth round of the 450 Pro Motocross Championship Series held at Unadilla Raceway. His teammate, Dean Wilson, ended the day with a 10th place overall score in his first race back since an injury sustained earlier this year.

[caption id="attachment_47943" align="alignright" width="300"]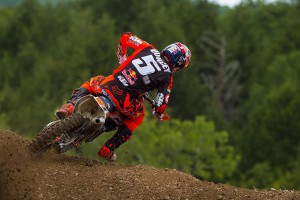 Photos by Simon Cudby[/caption]

Dungey launched off the line in moto one with a 2nd place start. He quickly worked his way into the lead. He led every lap of the race to take an easy win in moto one. Wilson earned an 8th place start out of the gate. He moved up as high as 7th place but eventually faded to 11th before moto end.

"I felt good on the bike in moto one, but the track was really rough and I fell back a little at the end since I haven't been back to racing in a while," stated Wilson. "I know what I need to work on and will continue to plug away to get better in the second moto and the next two races."

In the second moto, Dungey got another great start and led the moto from start to finish. He now has a 69 point lead in the championship series with two rounds remaining. Wilson finished the second moto with a better score, this time 10th at the moto end.

"It feels great to get both moto wins today," stated Dungey. "We are taking each race one at a time as we get near the end of the series. We have a comfortable lead and hope to continue to collect more moto wins at the final two races."
Red Bull KTM Factory rider Marvin Musquin earned 2nd overall after collecting 2-1 moto scores at the tenth round of the 250 Pro Motocross Championship held at Unadilla Raceway.

[caption id="attachment_47946" align="alignright" width="300"]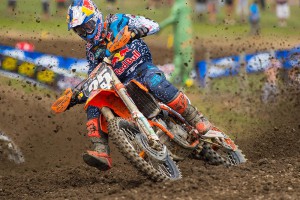 Musquin at Unadilla: Photos by Simon Cudby[/caption]

In the first moto, Musquin got off to a great start and came around the first corner in 3rd. His teammate, Justin Hill, was further back in 13th. Before the end of the first lap, Musquin made a mistake and tipped over and dropped back to 8th place. By the fourth lap he had already climbed back to 4th position while Hill was in 13th. On the seventh lap, Musquin pulled off his goggles to shake off dirt that had gotten in them from the first lap crash, but did not lose any positions. Musquin hung on for 4th position at the moto end while Hill finished 14th.

In the second moto, Musquin got off the line to another decent start coming around the first turn in 5th place. Hill didn't get a great jump and came around the first lap in 18th place. On lap five Musquin moved into 4th, a lap later he moved into 3rd when a lead rider went down. Two laps after that he made another critical pass to move into 2nd. He didn't stop his charge there and kept moving forward to eventually take the lead on lap ten. He went on to lead the remaining laps of the race to take the second moto win. Hill hung on for 14th place. Musquin's 4-1 moto scores earned him second overall for the day while Hill's 14-14 finishes secured 14th place.

Now ten rounds into the series, Musquin sits only two points away from Jeremy Martin in the championship standings. "I am really excited I was able to close the gap this weekend," stated Musquin. "It is exciting for the fans and exciting for us to take this championship to the final rounds."

[caption id="attachment_47945" align="alignright" width="300"]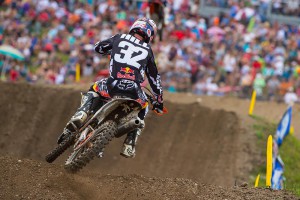 Wilson at Unadilla: Photos by Simon Cudby[/caption]

[caption id="attachment_47948" align="alignright" width="300"]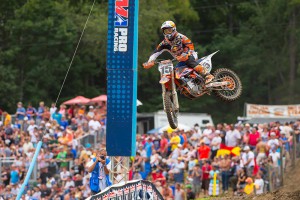 Wilson at Unadilla: Photos by Simon Cudby[/caption]

Yoshimura Suzuki Factory Racing's Blake Baggett added his name to storied record of the track at the weekend by coming away from the hilly New York venue with yet another top-10 finish, earning a 13-7 moto tally and an eighth overall in his first outing at the track in the premier 450 class. The Unadilla National started off on a bit of a sour note when Baggett crashed his bike on the first lap of the first 450 moto. But BB4's fans have almost come to expect comeback rides by the gritty 450 class rookie, and they weren't disappointed this time either: Baggett kept his head down and used the power and handling of his Yoshimura Suzuki RM-Z450 to charge all the way back to 13th by the end of the moto.

Things went considerably closer to design in moto two, where Baggett nailed a solid start inside the top-10 and then rode a steady race, making passes on some top riders to finish seventh. While it wasn't quite the result Baggett had hoped for at Unadilla, he earned enough points that it's looking almost certain that Baggett will finish the season ranked in the top-five and he's also on track to be the top finishing rookie in the series. Baggett began the day at the hilly and rock-strewn track placing 10th in timed qualifying.

"We were inside the top-10 in both practices and I'm just going to keep working on it," Baggett said. "The lines will probably change throughout the day and we'll make little changes to the bike to get ready for the motos. You've got to try to stay out of the roost here because the rocks are pretty bad. We'll be running handguards and chest protector and everything else."

A tumble on the first lap put Baggett behind the eight ball in moto one. He got back in the race and began chipping away, moving from 35th-place at the end of the first lap, to break inside the top-20 by lap five and so it went all the way to the chequered flag where Baggett found he had charged all the way back to 13th.

In the second moto he powered out of the gate with his Yoshimura Suzuki and ran just inside the top 10. But then he made moves past top-notch riders like Josh Grant, Dean Wilson and MXGP rider Shaun Simpson to end up seventh by the end of the moto.

It was another strong outing for Baggett and his result keeps him solidly in fourth in the standings with just two rounds remaining.

"I ended up going down in the first moto on the first lap," Baggett explained. "It was my mistake and once you go down on the first lap it's tough to claw your way back. Not bad though. I think we got back to 13th. In the second moto I got a top-10 start and just kept going. I charged the whole moto and got to seventh.

"It was a tough day, but we'll just keep working and practicing and try to get better and better each weekend. I'll chalk this one up to experience and head to Utah."

[caption id="attachment_47944" align="alignright" width="300"]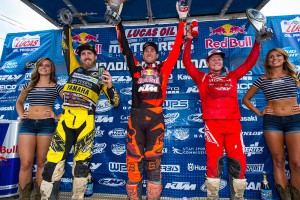 Ryan Dungey on Podium at Unadilla: Photos by Simon Cudby[/caption]

[caption id="attachment_47947" align="alignright" width="200"]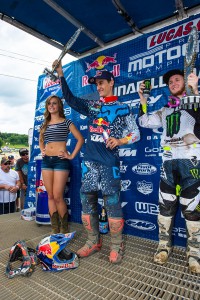 Musquin on Podium at Unadilla: Photos by Simon Cudby[/caption]

Unadilla 450 Motocross Results:
1. Ryan Dungey (1-1)
2. Justin Barcia (2-4)
3. Trey Canard (3-6)
4. Shaun Simpson (4-8)
5. Ken Roczen (16-2)
6. Broc Tickle (6-9)
7. Weston Peick (12-5)
8. Blake Baggett (13-7)
9. Josh Grant (9-11)
10. Dean Wilson (11-10)

Unadilla 250 Motocross Results:
1.Joey Savatgy - 2-2
2.Marvin Musquin - 4-1
3.Jeremy Martin - 1-5
4.Jessy Nelson - 6-4
5.Alex Martin - 8-6
6.Shane McElrath - 7-8
7.Christian Craig - 5-10
8.Aaron Plessinger - 16-3
9.Matt Bisceglia - 12-9
10.RJ Hampshire - 15-7
11.Chris Alldredge - 3-37
12.Mitchell Oldenburg - 10-13
13.Zach Osborne - 9-15
14.Luke Renzland - 13-12
15.Justin Hill - 14-14
16.Jordon Smith - 11-18
17.Martin Davalos - 19-11
18.Nick Gaines - 22-16
19.Dakota Alix - 20-17
20.Kyle Peters - 17-33

450 Motocross Standings:
1. Ryan Dungey, 450
2. Justin Barcia, 371
3. Ken Roczen 358
4. Blake Baggett 297
5. Christophe Pourcel, 267
6. Jason Anderson, 263
7. Broc Tickle 253
8. Weston Peick, 223
9. Phil Nicoletti, 209
10. Fredrik Noren, 206