Black Bullet Scout Announced From Indian Motorcycle
Chaparral Motorsports
|
July 15, 2015
[caption id="attachment_26173" align="alignright" width="300"]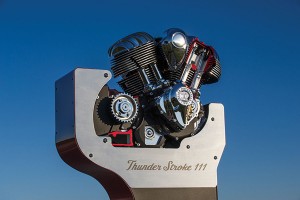 The Thunder Stroke 111 engine was publicly unveiled on March 9, 2013 at Daytona Bike Week - Photo: Barry Hathaway[/caption]

In 2014, Jeb Scolman, a hot-rod and motorcycle designer and artist, created the Spirit of Munro, which was crafted to honor the release of the Thunder Stroke 111 engine. However, in 2015, Scolman has delivered another custom beast with the 2015 Indian Scout engine. The motorcycle is a simple engine and framework build with hand built metalworking that makes this unique ride stand out. Additionally, the Scout has a resemblance to the 1950s and 1960s speed motorcycles with a fork mounted bullet fairing design.

This bike has some of the most simplistic and minimal framework of any motorcycle ever built. However, riders shouldn't take that for granted as it still has the heart of a pure speed motorcycle. "The post-war hot rod crowd was using airplane drop tanks for race cars, and the motorcycle racers started to adapt nose cones to help them cut through the wind," the Indian press release stated. "As the bike took shape we started calling it the 'Black Bullet.'"

Small But Fast Design From Hot-Rod Artist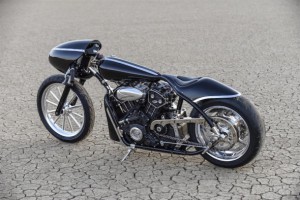 The small motorcycle still packs a 1200cc engine through simple framework that leaves nothing to hide in its design. The minimal body makes this Black Bullet Scout unique in every way, and especially so with the massive engine packed into the small frame by creating a custom intake manifold and turning the throttle sideways.

The press release continues by saying the sleek design of the Bullet is all hand-made and shaped for one single reason - finding the fastest speed possible. The minimal seat, controls and shape make it a true "Bullet" of a ride as there's nothing extra on this bike.

"The all-custom, all-metal, and all hand-made bike features a custom windscreen that wraps around the front of the bike to fair in the headlight," Indian stated. "Tight clip-ons and footrests mounted to the rear axle makes for as streamlined a rider's position as possible."

Scolman has been notorious for his metalwork and there's no doubt the design of the Black Bullet Scout is completely full of creativity and innovation in its design within the motorcycle manufacturing world. The pure-speed design will have vintage and modern motorcycle enthusiasts eager to see this design.

The public can get an up close look at the bike from July 31 to Aug. 8, since the Indian Black Bullet Scout will be showcased at the Lazelle Street display in [mageProductLink sku="pk-15-sturgis" title=""]Sturgis[/mageProductLink].

Black Bullet Indian Scout Video
http://www.youtube.com/watch?v=wo7KtsKLSoM