Scorpion EXO Provides Affordable Helmet Option With The EXO-500
Chaparral Motorsports
|
July 11, 2015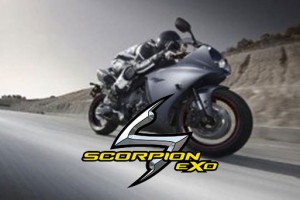 Buying a cool motorcycle helmet can sometimes be a tough decision. A motorcycle helmet has to fit you perfectly, have the right feel, weight, comfort and aesthetic.

However, finding the perfect helmet isn't the easiest - or cheapest - task in the world. Luckily, Scorpion EXO motorcycle helmets provide riders with an affordable and practical option with the EXO-500. This is a full-face, drop down helmet with a clear face shield that is made from fog-free and anti-scratch material.

In terms of sport and street riding, the EXO-500 fits a lot of riders' needs. This helmet is DOT and ECE 22.05-certified, with a retail starting price of $179.95. Scorpion provided riders with an affordable option that will give motorcyclists the most for their investment.

Its industry-leading polycarbonate shell is crafted to not only reduce weight, but disperse the impact in case of an accident. This provides optimal coverage and protection, without being too heavy on the rider's head.

Personalizing The EXO-500
[caption id="attachment_47618" align="alignright" width="300"][mageProductLink sku="033-50-6242" title=""]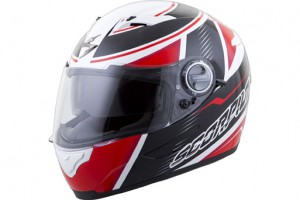 [/mageProductLink] [mageProductLink sku="033-50-6242" title=""]EXO-500 Corsica Full Face Helmet[/mageProductLink][/caption]

With inflatable cheek pad technology, the helmet can be formed to fit your exact head and face shape. Additionally, the helmet is ideal for commuters or for adventure riders who need breathability.

The Aero-Tuned Ventilation design has three intake vents and six exhaust vents to ensure riders get the maximum airflow for the hottest riding days. At the same time, the removable and washable hypo-allergenic liner has anti-microbial and moisture-wicking fabric that can keep your face dry in the heat, but warm on colder riding days.

One of the more unique features of the Scorpion EXO-500 is the retractable internal tinted sun visor with an EverClear fog-free coating that prevents eye straight from the sun. This essentially allows riders to worry less about keeping a pair of sunglasses on them while riding with the clear outer face shield and then the tinted internal sun visor.

Additionally, the internal sun visor is fully adjustable to switch down in an instant. It's simple to use and can be adjusted by the turn of a dial on the outer shell of the helmet. There are also a speed shifts apparatus that moves to the clear face shield to lock it, loosen it and move it up a few centimeters to get more airflow into the helmet.

For under $200, riders are not likely going to find another helmet at this price with so many features.