Full-Face Helmets: Know All Your Options
Chaparral Motorsports
|
July 10, 2015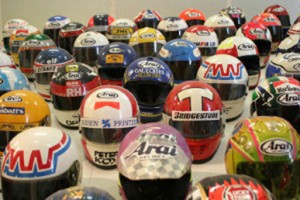 While there are several motorcycle helmet designs out there, it's smart to know the various types of each design. For beginners, there are full-face, three-quarter and half-helmets available, but depending on your riding style, type of bike and personal preference, there are variations to each motorcycle helmet.

One of the most important motorcycle helmets to look at is the full-faced helmet. While some states don't require full-face helmets (or none at all), these models are simply going to be the best at protecting your head and brain.

Here are the different variations of full-face motorcycle helmets:

Street Full-Face Helmets
[caption id="attachment_47607" align="alignright" width="300"]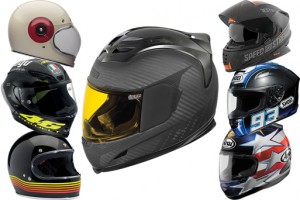 Full Face Motorcycle Helmets[/caption]

For the safety-conscious rider, standard, also known as street full-face helmets, are ideal. Its casing protects the head, face and haw, and some versions come with visor shields to safeguard your eyes from the sun or debris from the road.

Most full-face helmets have plenty of head room, but fit snug enough to not move around in the event of a crash. There are ventilated ports for adequate airflow, but not large enough to let water in if riding in the rain.

Street full-face helmets are one of the heavier types of motorcycle helmets, but when compared to other types of full-face designs, regular helmets can be made much lighter (compared to modular, hybrid and off-road).

Some other benefits to standard full-face helmets are that they stay locked in position at higher speeds and remain quiet through high winds. The only real downfalls are they are more expensive than three-quarter and half-shell helmets, and some riders say the design limits their sensory input. Additionally, the weight of the helmet can be burdening for some riders traveling long distances.

Off-Road And Motocross Helmets
[caption id="attachment_47605" align="alignright" width="300"]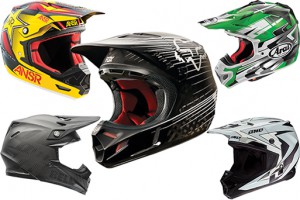 Motocross Full Face Helmets[/caption]

There's a lot that goes into an off-road or motocross helmet because it's made to give the most protection. Off-road helmets are typically used on rugged terrain or areas that might be prone for riders to fall.

Because of this, off-road helmets are made to cover as much of your face and head as possible. This style has a piece of molding that juts out over the chin and jaw for optimum protection. Additionally, off-road helmets are heavily ventilated in the nose, mouth, sides and top of the gear, which serve nicely in rigorous off-road riding.

Since there are many dirt bike and motocross competitions, off-road helmets are ideal because of the ventilation and protection. Also, these come with open face plates for goggles to protect your eyes from dirt. The extended visor is for sun protection and to deflect branches. However, the only downside is that the visor catches wind when riding at higher speeds.

Hybrid Helmets
[caption id="attachment_47608" align="alignright" width="300"]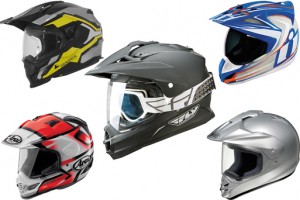 Dual Sport Motorcycle Helmets[/caption]

If you're looking for a dual-sport piece of motorcycle gear, your best bet is with a hybrid dual sport helmet. Just like it sounds, dual sport helmets are a hybrid combination of off-road and street full-face helmets. This allows riders to take on rugged terrain with a wider visor for goggles, but still keep a face shield for street riding.

A hybrid motorcycle helmet allows riders to change terrain in an instant, which is perfect for the daily commute and then straight to the off-road track. This helmet still keeps the jutting chin and jaw molding and the built-in overhead visor. The only downside is that with the wider visor, there's more wind resistance, which can increase the noise.

Modular Helmets
[caption id="attachment_47606" align="alignright" width="300"]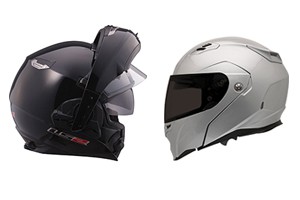 Modular Motorcycle Helmets[/caption]

Although modular helmets are separate from hybrid helmets, modular equipment is a combination of the hybrid and three-quarter helmet. Modular helmets are convenient because the chin and jaw molding can flip up to allow airflow.

These helmets are perfect for those riding with friends and need to flip up the helmet to communicate better. However, it's not recommended to ever ride with the open-face or in the three-quarters position.