Newest Smart Helmet Could Be Best Of Them All
Chaparral Motorsports
|
June 30, 2015
[caption id="attachment_47379" align="alignright" width="262"]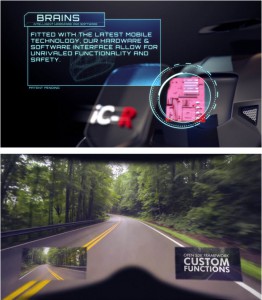 iC-R The Most Advanced Motorcycle Helmet Ever[/caption]

By now, the majority of motorcyclists have heard about smart helmets and the combination of technology and safety on top of your head. However, a new front-runner in the smart helmet manufacturing market just announced its newest design. According to GizMag, the Intelligent Cranium iC-R motorcycle helmet has plenty of new technology to make it absolutely futuristic, but functional at the same time.

Some of the technology used includes twin full-color LED heads-up displays, built-in Bluetooth communication technology, phone connectivity, voice controls and twin rear-facing cameras built in to the cool motorcycle helmet. Additionally, the helmet includes voice controls, LiDAR rear-ender collision warnings and an electronic operated LCD helmet visor that can become tinted with a single push of a button.

This smart helmet has some of the most unique technology features ever seen on a piece of motorcycle gear. Also, Intelligent Cranium is much more poised to release an actual product into the market before other major smart helmet makers such as Nuviz, Livemap and Skully. Currently, the other three manufacturers do not have a set release date because of battery technology.

In fact, to run all of these operations, battery life has to be strong and long-lasting. While this is a major hurdle for other manufacturers, Intelligent Cranium went one step ahead and built a solar panel into the top of the helmet, which will charge while motorcyclists ride.

iC-R Motorcycle Helmet Concept Video
http://www.youtube.com/watch?v=30EHI4S38u4

Getting Closer To 360-Degree Vision
[caption id="attachment_47380" align="alignright" width="300"]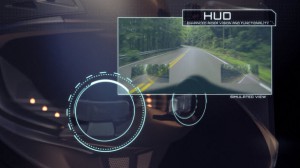 iC-R The Most Advanced Motorcycle Helmet Ever[/caption]

Ambrose Dodson, CEO of Intelligent Cranium, explained the LCD screens can operate interchangeably with the rear-view cameras and the heads-up data display, GizMag reported. The field of vision is 210 degrees of a rearward view, which is actually much more than other competitors.

"Looking at Skully's product, they've got a wide-angle camera that gives the rider 180 degrees, which is a great field of view," said Dodson. "But once a vehicle gets past that field of view, the rider still has a blind spot. Two cameras and 210 degrees of view completely eliminates that blind spot."

The whole point of Intelligent Crainum's technology is to get closer to the 360-degree vision, which would allow riders to have the same feeling as riding without a helmet, but with an even better view. The rearview cameras will let riders travel more safely and the navigation, speed call data and telemetry features will give the most highly-connected ride ever.

[caption id="attachment_47381" align="alignleft" width="263"]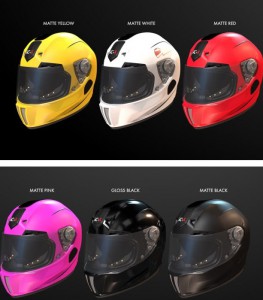 iC-R The Most Advanced Motorcycle Helmet Ever[/caption]

Being able to turn your head while riding has been a major problem for riders to fully see what's going on behind them. Dodson explained this problem helped launch his idea to get more of a 360-degree feel to the helmet's view.

"I saw this as a really big issue for motorcycle riders, and started thinking about what I could do to make riding safer," said Dodson, according to the source, "Both for current riders, and for myself in the future. I've [wanted] to ride a motorcycle for the longest time."

According to the company's Indiegogo crowdfunding website, the entire purpose of the helmet is to increase rider safety and give motorcyclists more control of their travel.