Honda Announces Its Most Expensive Street-Legal MotoGP-Style Motorcycle
Chaparral Motorsports
|
June 23, 2015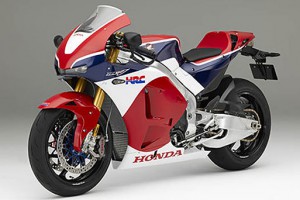 For just a measly $184,000, you could be the owner of the first-ever street-legal Honda RC213V-S. This bike is certainly one of a kind, and while street-legal bikes have to follow certain regulations, the RC213V-S still packs the punch of a MotoGP bike.

Honda recently announced the bike calling it the most expensive motorcycle the company has ever released to the public. The newest creation is solely based on Honda's MotoGP Championship-winning ride. According to the source, the Honda RC213V-S contains roughly 80 percent of the same exact parts as the championship MotoGP version of their bike.

The RC213V-S has a V4 999cc engine with a six-speed transmission. Even though the engine speed is limited from the racing version, the sport kit can have the motorcycle reaching insane limits of 13,000 rpm with 212 horsepower. However, this sport kit will only be available in Europe and Australia, which will leave those in the U.S. with a version that only has 8,000 rpm and roughly 101 HP. This is primarily due to a noise restriction that prohibits bikes to go over those limits.

Honda Going Above And Beyond Motorcycle Technology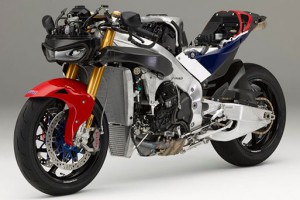 Honda recently issued a press release that stated the new technology in the RC213V-S isn't simply based on the availability of that equipment, but instead a whole new way to look at how to make MotoGP-inspired motorcycles that can be driven on public roads.

"To win in the world championship races, it is necessary to enter a machine that runs the fastest in the world, but in Honda's view, the rider needs to maneuver the machine well, and so Honda sees ease of use as the means necessary for winning races," Honda added. "In other words, Honda has a principle that the fastest machine in the world is also the machine that is the easiest to maneuver in the world."

Honda's pricetag is certainly turning heads as the RC213V-S motorcycle is by far the most expensive street-legal ride available. Even the recently introduced non-street legal Kawasaki H2R, with 300 HP, has a pricetag just around $50,000. Additionally, the Ducati 1199 Panigale Superleggera was just announced at a whopping $65,000.

Honda only plans to make 200 RC213V-S models and these bikes will be available July 12. The total value of all these motorcycles comes in around $36.8 million.

Honda RC213V-S Image Gallery
(Click for full size images)