Taylor Robert And Cody Webb Medal At X-Games EnduroX
Chaparral Motorsports
|
June 5, 2015
[caption id="attachment_46650" align="alignright" width="300"]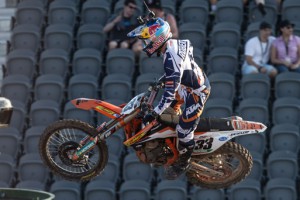 Taylor Robert - Photo: Drew Ruiz[/caption]

FMF KTM Factory rider Taylor Robert and RPM KTM rider Cody Webb finished 2nd and 3rd respectively at the Men's EnduroX event, a part of the 2015 X-Games.

Robert and Webb were placed in the first EnduroX heat. They both put their KTM's out front quickly. Webb was able to move into the lead in the rock section after the third turn while Robert worked his way up through a few riders to move into a top spot. Webb stretched his lead out front to easily take the heat win while Robert finished a solid 2nd.

The two KTM riders top heat finishes earned them a great pick for the main event. They both got out of the gate quickly and were up in the front of the pack. Webb was able to move around the first two riders after they got held up in the rock section. He went on to lead the first lap. Meanwhile, Robert had moved into a top three position and began trying to close in on Webb.

[caption id="attachment_46649" align="alignleft" width="300"]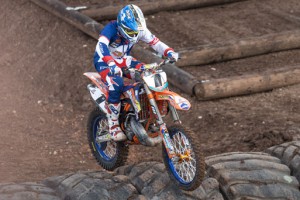 Cody Webb - Photo: Drew Ruiz[/caption]

Webb led the opening laps while a hard-charging Mike Brown and Robert began the hunt for the lead position. Brown was able to make a pass on Webb with a few laps remaining. While Brown and Webb battled for that position, it allowed Robert to close the gap. Once Webb was in view, Robert turned up the gas and was able to reel him in. Robert made the pass for 2nd position over the tire double. Robert spent the remaining laps trying to chase down the lead ride of Brown. He put in a great effort and closed the gap to a few bike lengths but was unable to make the pass. He finished 2nd while Webb was 3rd.

"I felt really good tonight," stated Robert. "This track was really fun and I am happy with my finish. I have come back from some injuries this year and I finally feel 100%. I am excited to get a good finish here and continue to improve in the series."

FMF KTM Factory rider Kacy Martinez also medaled in the Women's EnduroX event. She finished 3rd overall to take home the bronze medal after riding a mistake-free race. Fellow KTM rider Laia Sanz put in an impressive ride to earn the gold medal in that event.

REPLACE Overview And Point Standings
2015 X Games EnduroX Image Gallery (Click for full size images)
Overall Results - EnduroX Men's


Mike Brown

Taylor Robert

Cody Webb

Colton Haaker

Geoff Aaron

Kyle Redmond

Nick Thompson

Ty Tremaine

Cory Graffunder

Jamie Lanza

Nemeth Komel

Max Gerston

Overall Results - EnduroX Women's


Laia Sanz

Tarah Gieger

Kacy Martinez

Shelby Turner

Emma Bristow

Maria Forsberg

Sandra Gomez

Rachel Gutish

Lexi Pechout

Chantelle Bykerk

Melissa Harten

Morgan Tanke

Nicole Bradford

Source: KTM North America