New 2 Stroke Dirt Bike Introduced For 2016 Yamaha Line Up
Chaparral Motorsports
|
June 5, 2015
For 2016, Yamaha unveiled a pure, closed-course competition lightweight 2-stroke GNCC/Woods racer. The 2016 Yamaha YZ250X will be arriving at Chaparral Motorsports soon.

[caption id="attachment_46396" align="alignnone" width="300"]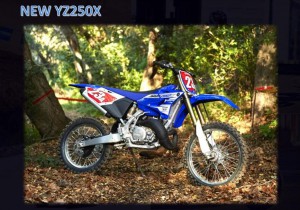 2016 Yamaha YZ250X[/caption]

Highlights include:
--New Piston
A new lightweight forged two-ring piston uses a flat piston crown surface with additional strengthening ribs and a shorter, more durable piston pin with diamond like carbon (DLC) coating. The new piston is lighter, significantly stronger and together with revised EFI mapping, improves combustion performance for a faster, more thorough burn, resulting in excellent pulling power.

--New Oil Jets
Revised piston oil jets direct oil underneath the new piston, to help promote cooling and contribute to more stable engine performance. --Updated Shifter
Revisions to the clutch boss and shift stopper arm provide smooth clutch engagement feel and more precise shifting action when the gate drops.

--New Crank
Optimized crankshaft and counterbalancer designs feature a revised balance ratio, predictive power delivery and reduced vibration.

--New ECU
New ECU settings provide smoother transition as the rider reaches the rev limiter.

--New Brakes
New 270mm front disc brake, up from 250mm, uses new brake pad material for exceptional stopping power and control for aggressive corner entries.

--Updated Suspension
New suspension settings front and rear are designed to eliminate sudden jolts and better control front-end dive, for a smoother, more balanced damping feel through the corner.