Arai RX-7V Helmet Continues To Impress With Slight Re-Designs
Chaparral Motorsports
|
June 4, 2015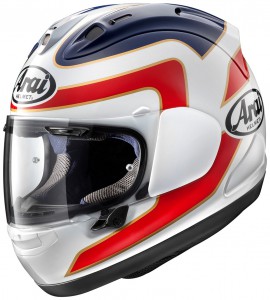 For some of the most top of the line motorcycle helmets on the market, Arai continues to be a well known name. With newly evolved motorcycle helmets released from Arai, there are plenty of options for beginners to the most extreme motorcycle racing experts.

Recently, Arai released its newest model, the RX-7V, which uses a lower visor pivot point than the previous RX-7GP model. What this means is riders will be able to have a smoother shape with the overall size of the motorcycle's shell. Arai explained that this function is to help "spread the impact load" across the helmet, which will ultimately limit the total energy and force of an impact to the rider's brain.

For full-faced helmets with built-in visors, the visor area is one of the most-dangerous areas for motorcyclists when they are in an accident or crash on the track. Researchers have worked diligently to figure out how to better protect rider's heads with this area as it can sometimes be a vulnerable spot on the helmet.

Better Flow Throughout The Helmet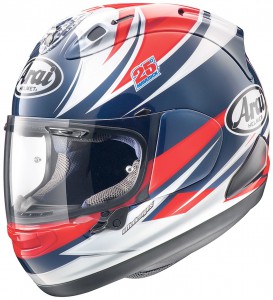 Additionally, Arai redesigned the shell of the new RX-7V to be much smoother. This well-rounded and sleeker style provides more protection and is actually lighter by 30 grams than its previous version just because of the shell design alone. Also, there are new alterations with the visor pivot, which gives riders 3 millimeters of additional space from the mouth to the chin for a more comfortable and secure fit.

Another plus about the Arai RX-7V is the aerodynamics of helmet's design allows 11 percent more air flow into the helmet. This also allows hot air to escape from the helmet more efficiently through the redesigned plastic spoiler on top of the helmet. Arai is a leader in motorcycle manufacturing and design, which is obvious in the new RX-7V.