Triumph Releases Both Venom And Barbour Special Edition Rides
Chaparral Motorsports
|
May 30, 2015

Triumph
has been expanding the type of motorcycles they manufacture in recent years, and have had a good jump in sales recently. In addition to all the new production bikes in their stable, Triumph has been working on two new custom designs. Working in collaboration with the makers of the popular video game series Metal Gear Solid, Triumph has created a distinctive motorcycle that many lined up to see when they recently released one of its two new custom versions of the Bonneville at the MCM London Comic Con convention. Additionally they partnered with a popular clothing line to make another custom bike with a matching jacket.

Venom: Military Grade And Feel
[caption id="attachment_46530" align="alignright" width="300"]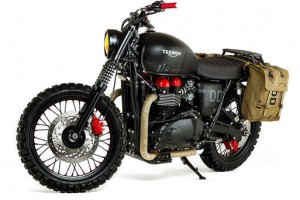 Triumph Venom Custom Motorcycle[/caption]

Venom, which will be released in collaboration with the newest edition of popular video game series Metal Gear Solid V: The Phantom Pain, has been developed in house by Triumph - with a distinctive military style in mind. The two collaborated on a vintage and military style of motorcycle that has that still has the core of the Bonneville aesthetic. Additionally, the motorcycle will be featured in the new video game where the main character, Snake, will use the bike to complete missions within the game.

The sleek style of the bike has all the basics of a military motorcycle, and to add to it, the Venom custom Bonneville has no side mirrors, speedometer, rev counter or fuel gauge on the bike. Also, the motorcycle has very distinct Continental Conti Twinduro TKC80 Dual Sport Tire Kit"]Continental TKC80 tiresthat are made to take on nearly any terrain.

The saddle comes with leather reinforced with carbon Kevlar® materials and is made with the intention to appear very similarly to the combat apparel Snake wears in the Metal Gear Solid series. The motorcycle takes the military theme even further with the heavy-duty ammo rack attached to the back of the saddle with two side military and Snake themed saddlebags to hand on the side. These saddlebags were specifically designed to look exactly like the character's uniform in certain versions of the video game.

The Venom motorcycle also has a distinctive yellow headlight and extra strong and durable fork springs to give a more aggressive appeal on the front end of the bike. This motorcycle will tour other comic con events and make different appearances along with the release of the Metal Gear Solid video game.

Many motorcycle enthusiasts are saying the bike's design is also closely related to the motorcycle used in the Steve McQueen film "The Great Escape." However, this motorcycle has a bit more flare and comes with distinctive parts such as the footpegs that were borrowed from Tiger to give a more-aggressive look and feel to the ride.

Triumph Announces The Barbour As Well
[caption id="attachment_46531" align="alignright" width="300"]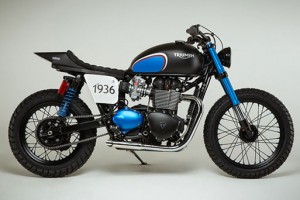 Triumph Barbour Custom Motorcycle[/caption]

While many Triumph enthusiasts were eager to see Venom, the motorcycle manufacturer also released its second special edition bike, Barbour. This unique motorcycle is another collaboration with Triumph and the popular British apparel brand, Barbour. This new ride is being called the Barbour International Triumph 1 Street Tracker, which is also known as the BIT1.

This ride is a completely stripped down, flat-track version of the Bonneville, but has some vastly new frame modifications that give the classic bike style a whole new look. The BIT1 has K-Tech Razor rear shocks and a Street Triple R fork. The motorcycle exhaust and EFI system features slash cut pipes to pay homage to the heritage theme of the motorcycle and the clothing line.

The popular clothing line will also release a custom jacket that has CE-approved armor for the shoulders, elbows and waist. The jacket is available in both men's and women's sizes and will be available for purchase in Triumph dealerships later this summer in August.

As for the new motorcycle, it will only be a single, one-off design for the collaboration between the two companies, so don't get your hopes up to get the BIT1 anytime soon. The ride will be featured on several motorcycle tours this summer, including the Bike Shed London, among many others.

DuPont™ and Kevlar® are trademarks or registered trademarks of E.I. du Pont de Nemours and Company

Triumph Custom Bike Image Gallery
(Click for full size images)