TCX Releases Vintage Cut Waterproof Boot
Chaparral Motorsports
|
May 17, 2015
Summer is almost here, but spring showers are still causing some motorcycle riders to deal with soggy boots. To ensure you're not stuck with wet feet this riding season, TCX released their X-Blend Waterproof Boots, which are a great option for someone looking for a vintage style.

This style of boot is made to be absolutely comfortable for riders with full-grain leather that gives the boot a classic appeal. This boot is certainly ideal for the café, retro or cruiser rider and is a great upgrade over any of your non-moto motorcycle boots.

The leather style also fits well for riders in the city who need to pass a dress code without having to bring along an extra pair of work-appropriate shoes. These boots are absolutely slick and look like any designer classic-cut boot, but still provide optimal protection with TCX's material technology.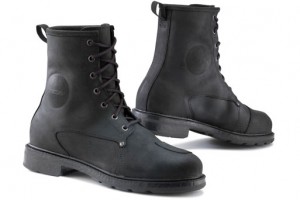 The boot's simple cut makes this a great choice for nearly any type of rider looking for a standard boot, but with waterproof lining. Additionally, the reinforced toe and heel counter make this a much safer boot to wear while riding than a standard boot.

There are protectors on each side of the ankle to give the rider even more protection in case of an accident. Also, the water-resistant rubber sole on the bottom of these boots helps you grip your footpegs if you're riding on a wet street or get caught in the rain.

The boots do tend to feel a little larger because of the extra protection, but comfort is still key with these motorcycle boots. Don't let slick road surfaces take over your riding experience. For $219.99, the TCX X-Blend Waterproof Boots can give you a great footwear option for nearly any riding season.