WASPcam 9900 Cameras Catch All The Action
Chaparral Motorsports
|
April 25, 2015
[mageProductLink sku="4402-0427" title=""]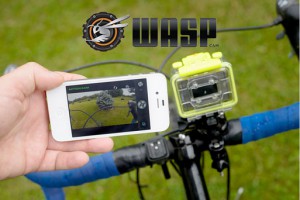 [/mageProductLink]Body action cameras are quickly finding their spot in extreme sports for those wanting to give their audience a first-hand experience to their adventure. Wearable cameras give viewers a chance to see exactly what the person recording is doing, which can make for an intense view of someone riding at a heart-pounding speed around a track.

There are different cameras available on the market that give users the chance to do some incredible things with the technology. Additionally, the quality of video has increased dramatically in recent years, which means no large film crews are needed to capture clear high-definition pictures. Additionally, modern devices can fit in the palm of your hand, perfect for filming without getting in the way of the action.

WASPcam 9900 Action Cameras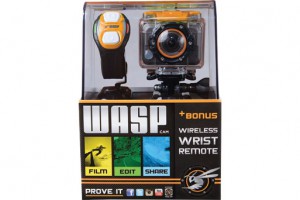 For wide-angle HD video and the ability to also take still pictures as well, the [mageProductLink sku="4402-0427" title="WASPcam 9900 camera"]WASPcam 9900 action-sport cameras[/mageProductLink] are ideal for those on the move. The video quality can reach up to 1080p30 with five megapixel resolution for still pictures. These cameras have the wi-fi technology to synch up with your Android or iOS devices, which enables those wanting a live-viewing to make edits or do retakes for the perfect shot.

The WASPcam 9900 features photo burst, time-lapse, sequences and still image functions that can be used through a remote control. The images can be then immediately uploaded to the Internet via the smart phone app as soon as you're ready to unleash your awesomeness. To aid your filming, the 9900 has a wireless wrist remote control that connects over radio frequency (which gives better battery life than a wi-fi connection) allowing anyone within 15 feet of the camera to easily start/stop recording and switch between recording modes. In addition, the wrist remote allows you to take still pictures while you are recording video, without having to change the camera mode - something you couldn't do with just the camera alone.

All Conditions Camera Functions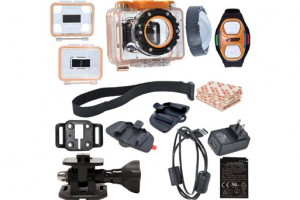 The camera comes with a waterproof case and has anti-fog inserts, a lens cover and vented waterproof casing back door. No matter if you're on the beach or hitting the race track, these cameras and wireless remote control devices can make it a breeze to manage your filming while on the go, allowing you to capture your best moments without having to fumble with your camera when you want to make changes to your camera mode. In addition, you can check film footage on your phone instead of taking a camera off its helmet mount each time you want to make sure you caught the right thing.

Also, the WASPcam 9900 can connect to any WASPcam or GoPro mount (with the adapter) and the easy-to-use LED screen will make editing and recording as simple as possible.