Scorpion EXO Yukon Jacket Great For Touring And Adventure Riders
Chaparral Motorsports
|
April 22, 2015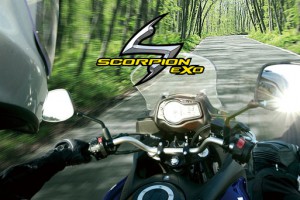 For skiers, snowboarders, snowmobilers and other winter sports enthusiasts, protective clothing has been on the market for some time. However, this weather proof style of textiles has been fairly limited to the snow-sport industry. The [mageProductLink sku="033-12703-3" title="Scorpion EXO Yukon Textile Jacket"]Scorpion EXO Yukon Jacket[/mageProductLink] brings that same style of high-tech fabric to motorcyclists.

Adventure and touring motorcyclists need clothing that can handle a wide variety of temperatures, terrain and climates. The Scorpion Yukon Jacket and matching [mageProductLink sku="033-2903-3" title="Scorpion EXO Yukon Textile Pants"]pants[/mageProductLink] both offer Exo-Dry lining, which is a breathable, and are complete with waterproof laminate material that lets riders add or subtract layers with ease.

Built For Long Hauls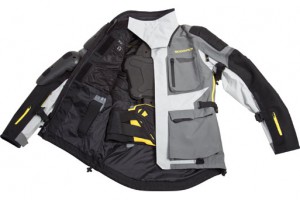 The upgraded material is also sewn with the company's Exo-Stitch material, which is designed to not rip apart in the instance of a crash. The range of weather proof benefits is outstanding in terms of dealing with extreme colds, rain and hot dessert climates - everything adventure riding has to offer. There are zipper ventilation slips in the back, armpit and shoulder regions to generate more air flow and comfort.

There are numerous pockets and storage areas, which is perfect for those on long trips who need to keep essentials on them. Additionally, all nine external pockets are waterproof. There are also two hidden pockets - one interior and one on the sleeve - that are ideal for holding money and your passport.

Easy Custom Fitting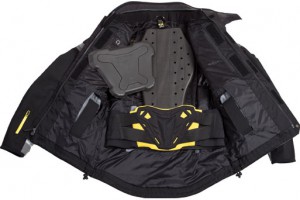 Riders are able to fit their motorcycle jacket to any personal preference, whether a motorcyclist wants it loose, tight or ventilated. There's also ballistic nylon set within all of the rider's major impact areas such as chest, arms, shoulders and back.

The front chest and back have Sas-Tec CE-certified armor, which is a type of material that strengthens on impact. This gives riders a lightweight piece of armor that can suddenly work like a strong and thick shield if there's impact.

Additionally, the NightViz reflective material located on the shoulders, chest, torso and the back of the neck will help other motorists see riders at night. The starting price for the Scorpion Yukon Jacket is $549.95, and comes in grey and black with yellow reflective zippers.