2015 AMA Supercross Santa Clara Race Results
Chaparral Motorsports
|
April 18, 2015
Dungey Soars To 7th Monster Energy Supercross Win At Inaugural Race Inside Levi's Stadium
Cooper Webb Wins Again, Taking Home Win Number 6 In The 250SX Class
[caption id="attachment_45348" align="alignright" width="300"]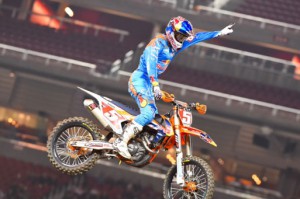 Photo: Simon Cudby[/caption]

Red Bull KTM's Ryan Dungey earned his seventh Monster Energy AMA Supercross, an FIM World Championship, race win tonight in front of 42,336 fans at the inaugural race inside Levi's Stadium. Just one week after clinching the Western Regional 250SX Class Championship, Yamalube/Star Racing/Yamaha's Cooper Webb followed up with a win tonight.

Autotrader.com/Toyota/Yamaha's Justin Barcia, who is in his second race back from injury, won the SupercrossLive.com Holeshot Award in the 450SX Class with Discount Tire/TwoTwo Motorsports' Chad Reed following in second. While battling for the lead on Lap 2, Reed crashed and dropped to last place.

Dungey, who clinched his second 450SX Class Championship last weekend in Houston, moved into second place and Autotrader.com/Toyota/Yamaha's Weston Peick moved into third place on Lap 1. Dungey passed Barcia for the lead on Lap 3 and started to pull away. The following Lap, Peick moved into second place, and on Lap 6, GEICO Honda's Eli Tomac moved into third place.

Tomac made one final move for second place on Lap 10 to pick up his ninth podium finish of the season. Peick held on for third place, which was the first best finish of his career.

[caption id="attachment_45347" align="alignleft" width="300"]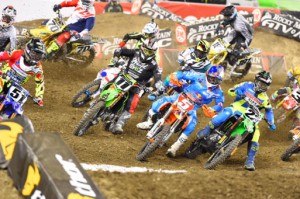 Photo: Simon Cudby[/caption]

Coming into tonight's race, Dungey was tied with Jeff Ward for eight place on the all-time 450SX Class win list, and he is now in sole possession of that position.

"Today was rough; it took a few practices to finally get the bike dialed in," said Dungey. "The Heat Race win gave me a good spot on the gate for the Main Event, which was a big help in getting the start I did."

"It's been a rough season for me, many ups and downs," said Peick. "To be able to put the bike on the podium for the team is awesome. I am stoked."

Supercross LIVE Highlights Video - 450SX Class Santa Clara
https://www.youtube.com/watch?v=cM-Ss-5L0-g&feature=player_embedded

[caption id="attachment_45346" align="alignright" width="300"]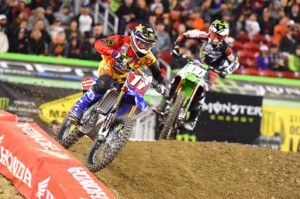 Photo: Simon Cudby[/caption]

Motosport.com/Monster Energy/Kawasaki's Josh Hansen started the Western Regional 250SX Class Main Event with the SupercrossLive.com Holeshot Award, and behind him a massive pile-up in turn one collected several riders, including Red Bull KTM's Justin Hill and Webb. Webb's teammates Jeremy Martin and Aaron Plessinger followed in second and third respectively.

On Lap 1, Plessinger passed Martin for second place, and on Lap 3, he passed Hansen for the lead. By Lap 4, Webb had moved into fourth place after starting in ninth. While leading, Plessinger crashed on Lap 6 and dropped to fourth place, giving the lead back to Hansen. On the same lap, and Webb moved into second place.

On Lap 8, following an intense battle between Hansen and Webb, Webb took over the lead and rode to his sixth win of the season and fourth consecutive. Hansen was forced to withdraw from the race due to mechanical issues.

[caption id="attachment_45345" align="alignleft" width="300"]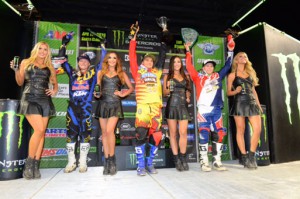 Photo: Simon Cudby[/caption]

Plessinger was holding down the number three position when he once again crashed on Lap 9. Plessinger's crash allowed Hill to move into second place, where he would finish, marking Hill's second podium of the season. Martin finished third, marking his fifth podium finish of the season.

"It was definitely a wild and hectic main event. I just tried to get up as fast as I could and charge," said Webb. It was basically a race to get your bike up the fastest and it worked out. I had fun racing with Hansen."

Racing continues next weekend at MetLife Stadium in East Rutherford, New Jersey, where the first-ever live broadcast of Monster Energy Supercross will take place on FOX at 3:00 p.m. ET.

Supercross LIVE Highlights Video - 250SX Class Santa Clara
https://www.youtube.com/watch?v=_dZLWQoXVvM&feature=player_embedded

Source: Supercross Live

Ryan Dungey Wins Santa Clara Supercross
[caption id="attachment_45343" align="alignright" width="199"]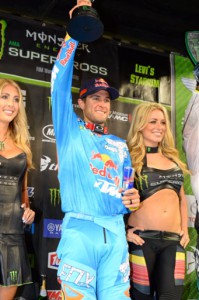 Photo: Simon Cudby[/caption]

Red Bull KTM factory rider Ryan Dungey took the win at the fifteenth round of the Monster Energy Supercross Series, an FIM Championship, held at Levi Stadium.

Ryan Dungey was placed in the first 450SX heat where he pulled a holeshot from an inside line. He led the first lap before falling to 2nd place on lap two. On the next lap, Dungey came back up on the rear wheel of the lead rider and pressured for the position. On the final lap, Dungey made a pass to take back the lead and gain the heat race win. That win marked his tenth heat race win of the season.

At the start of the main event, Dungey earned a 3rd place start. Dungey quickly challenged for the lead position and was able to take over the position by the third lap of the race. Once out front, he never looked back, and continued to turn fast times to increase his gap on the field throughout the remaining laps on his KTM 450 SX-F Factory Edition. When the checkered flag flew, he took the win by an impressive four seconds over the rest of the pack.

"I really enjoyed wrapping up the championship last weekend, but I came into this race wanting to continue to win the remainder of the races," stated Dungey. "I'm really excited that I was able to get another win tonight and am looking forward to the final two races."

Next Event: East Rutherford, NJ - April 25, 2015

Supercross LIVE Interview Video - Ryan Dungey Santa Clara
https://www.youtube.com/watch?v=RGoRR30ySy4&feature=player_embedded

Source: KTM North America

Double Podium For Yamaha In Santa Clara Supercross
[caption id="attachment_45342" align="alignright" width="300"]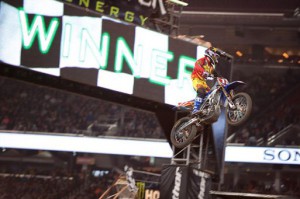 Photo: Steve Cox[/caption]

In a truly stirring performance, newly crowned 2015 AMA 250 Supercross West champion Cooper Webb came from behind on his Yamalube/Star Racing/ Yamaha YZ250F to win his fourth consecutive 250SX race of the year at Levi's Stadium in Santa Clara, Calif. on Saturday evening, April 18. The win was also Webb's sixth in eight rounds. Making things even better for Yamaha, teammate Aaron Plessinger also led three laps of the event, moving up to fifth in points in the process, while CycleTrader.com/Rock River/Yamaha's Alex Martin finished third, putting the YZ250F at center stage throughout the evening.

Despite already owning the 250SX West championship, Webb started the day by topping qualifying practice with a time of 50.687 seconds, also outpacing 90 percent of the 450SX field in the process. He then won his heat race, with Plessinger and Martin going 2-3 in their heat. Adding more excitement for Yamaha was the trio of Trevor Reis, Cole Martinez and Morgan Burger sweeping the LCQ aboard their YZ250Fs.

When the gate dropped for the 250SX West main event, Martin and Plessinger got terrific starts, settling in behind rival Josh Hansen with the holeshot. Plessinger was on it immediately, getting past Martin on lap two and then grabbing the lead from Hansen on lap four. The bLU cRU rider then led the next three laps before a mistake dropped him back to fourth.

Incredibly, by this time Webb, who had been knocked down in a first-turn pileup, had rifled his way forward from a disastrous start into second place, and after two laps behind Hansen the series champion took over the lead, which he held to the flag. For his part, Martin rode inside the top three for most of the race and was rewarded with his second podium of the year.

[caption id="attachment_45339" align="alignleft" width="300"]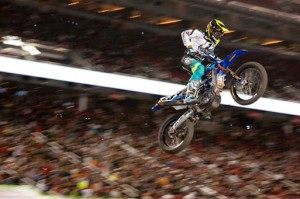 Photo: Steve Cox[/caption]

AutoTrader.com/Toyota/Yamaha's Justin Barcia and Weston Peick added excitement of their own in the 450SX class, with Barcia leading the first two laps of the main event and Peick scoring his long-awaited first career premier-class podium.

The 450SX event was one of the most exciting for YZ450F fans all year. Peick started the evening out with huge focus, finishing just 1.547 seconds behind series champion Ryan Dungey in his heat race. Barcia likewise finished second in the first semi, transferring to the main. Then Barcia pulled out a huge start in the main event, taking the holeshot and leading the first three laps over Dungey.

Peick also got a great start, completing the first lap inside the top five and quickly working his way up to third behind Barcia and Dungey. Peick then got past his teammate into second, holding the position until rival Eli Tomac took over the position in mid-race. Although Barcia eventually dropped out, Peick hammered forward, maintaining third all the way to the flag for his first career AMA 450 Supercross podium.

Source: Yamaha Motorsports

Eli Tomac Takes 9th Podium Of The Season In Santa Clara SX
[caption id="attachment_45336" align="alignright" width="199"]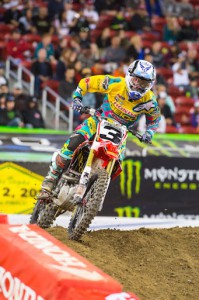 Photo: Simon Cudby[/caption]

GEICO Honda racer Eli Tomac continues to roll, charging to a second-place finish in the 450cc main event Saturday night at Levi's Stadium. He posted his fourth consecutive podium finish and ninth of the season, his first full year of Monster Energy Supercross competition.

GEICO Honda 250cc teammates Malcolm Stewart and Matt Bisceglia had decent races in Supercross' first appearance at the new track, as Stewart finished fourth and Bisceglia eighth.

Tomac had to work hard for his runner-up finish because he was eighth after the opening lap. He had to race in one of the 450 semifinals and didn't have the best gate pick for the start of the 20-lap main.

"That didn't help my start but that's no excuse," Tomac said. "(Eventual winner Ryan) Dungey got out there in the lead, but I was riding pretty hard trying to catch him. This was a tough track tonight, and I hoped I could get him but we ran out of time. A podium is great, of course, and we've had some success lately, so that's been good."

Tomac moved to fourth place by lap three and to third on lap seven. At the halfway point, he got into second place and began his pursuit of Dungey. Tomac was consistently quicker and had the gap under three seconds before the checkered flag waved.

[caption id="attachment_45335" align="alignleft" width="300"]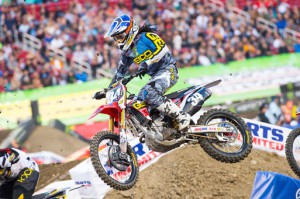 Photo: Simon Cudby[/caption]

Stewart has finished third and fourth in the two races since the 250 West Series returned to action. He was a victim of a massive first-lap pileup in the main event that left him barely inside the top 10. But like Tomac, Stewart continued to charge, getting within a challenging position for a podium finish until a lapped rider cost him crucial time and a shot at third.

"Tonight wasn't the best, but it was better than Houston," said Stewart, who was involved in several incidents last week. "My team continues to work hard and give me a good bike every week, and I'd love to get them another win before the year is out.

"But, yeah, that first turn was crazy. There were bikes everywhere. I got hit and went down and tried to get up and get going as quick as I could. I tried to get as many spots as I could the rest of the night, but fourth was about as high as I could go. Still, not bad."

[caption id="attachment_45334" align="alignright" width="300"]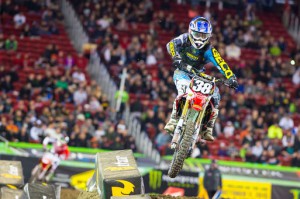 Photo: Simon Cudby[/caption]

Bisceglia was in the first-lap melee, too, with more than half the field involved in the pileup. He was 18th after the first lap but made up 10 spots.

"It was a little bit of a rough day," Bisceglia said. "I had a couple of crashes in qualifying, and then we probably had the gnarliest first-corner pileup I've ever seen. I got up and tried to get as many places as I could. I rode well, but I just didn't do everything I needed to in the main."

Source: GEICO Honda

Justin Hill Earns Season Best Finish At Santa Clara Supercross
[caption id="attachment_45333" align="alignright" width="199"]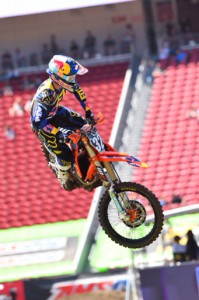 Photo: Simon Cudby[/caption]

Red Bull KTM factory rider Justin Hill earned a 2nd place finish at the final round of the West 250 Supercross Championship, a part of the Monster Energy Supercross Series, held at Levi Stadium.

Justin Hill earned a great start at the gate drop of the first 250SX heat. He led the race early on and continued to pull on the field to take the heat win by three seconds.

Hill got a great jump off the gate drop of the main event and was sitting in 4th position as they rounded the corner. Unfortunately, a rider fell in front of him and Hill could not avoid him and crashed in the corner.

Hill quickly recovered from his crash and began besting the leaders lap times to move through the pack and gain positions. By the halfway point he had already moved into 6th place. Two laps later, he had moved into podium position. In the remaining laps he continued to close the gap on the lead rider with his KTM 250 SX-F Factory Edition. At the end of the 15 lap race, he was able to move into the runner-up positon and earn his season best finish.

"It was difficult to come back from that crazy first turn pile-up," stated Hill. "Even though I didn't get the win, this was a great ride for me. I'm glad to end the season on a positive note and am thankful for all the support my team has given me."

Next Round: East Rutherford, NJ - April 25, 2015

Supercross LIVE Interview Video - Justin Hill Santa Clara
https://www.youtube.com/watch?v=ciHuDBIMtwA&feature=player_embedded

Source: KTM North America

Jason Anderson 4th In Santa Clara For Rockstar Energy Husqvarna Factory Racing
Zach Osborne Third Overall In 250 Class
[caption id="attachment_45331" align="alignright" width="199"]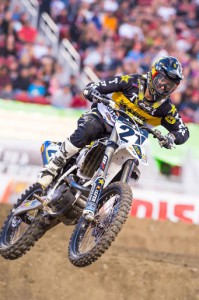 Photo: Simon Cudby[/caption]

Rockstar Energy Husqvarna Factory Racing's Jason Anderson and Zach Osborne rolled into Santa Clara, Calif.'s Levi's Stadium for the very first time on Saturday for Round 15 of the 2015 Supercross series. Anderson had an impressive night with a fourth-place finish, while Osborne faced some unfortunate luck and was unable to finish the 250SX West main.

Jason Anderson got a top-five start in his heat and had moved into the third-place position by the end of the first lap. He held steady and finished third to transfer directly to the main. In the main, Anderson pulled a top-10 start and navigated his Husqvarna FC 450 into the sixth place spot by lap eight. He continued to charge forward and made an impressive pass on Justin Barcia for the fourth-place position with seven laps to go. He crossed the finish line in fourth, and is currently seventh overall in 450 rider point standings.

"Today was good overall," said Anderson. "I worked through the day. It was better than last weekend. I felt patient every race. My heat race wasn't great, but it wasn't bad. I cased a rhythm section, but I was able to pull it off. I didn't get as good a start as I wanted in the main, but I was pumped and able to move up to the front and get a fourth. Top five is good, but I want to get on the box. I was calmer tonight and I didn't rush anything. I managed my race better and felt like I rode more mature."

Munn Racing's Ben Lamay finished 17th in the 450 class aboard his Husqvarna FC 450

[caption id="attachment_45329" align="alignleft" width="300"]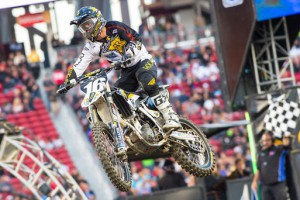 Photo: Simon Cudby[/caption]

Santa Clara marked the finale of the 2015 250SX West series. Zach Osborne was looking awesome all night. His Husqvarna FC 250 was pulling great starts, and he was looking to finish the season up front. He got the holeshot in the main, but got caught up in a massive pileup in the first turn after another rider ran into the back of his bike. He was unable to finish the race after the incident, and finishes the season third overall in 250SX West rider point standings.

"My day started off well," said Osborne. "I was fastest in the first free practice, but then struggled a little in the other two practices. Then tonight I turned it around in the heat race. I pulled a great start in the main but then got plowed from behind. There wasn't much I could do. It pretty much destroyed my bike, and I got pretty banged up myself. I ended up third in the championship, but it's a little disheartening. It's been one of those years where it seems like I'm doing all the right things, but the pieces just aren't coming together. It's tough to swallow, for sure."

Source: Husqvarna Motorcycles

Solid Sixth For Blake Baggett At Santa Clara SX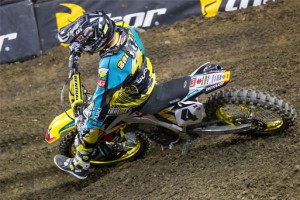 Blake Baggett
bounced back to earn his best finish in four rounds aboard his Yoshimura Suzuki Factory Racing RM-Z450 Saturday night in front of 42,336 fans in the inaugural race inside Levi Stadium, Santa Clara in California.

His sixth-place result was Baggett's best result since he scored a podium at Daytona in March. It also marked his 11th top-10 finish of the season and kept Baggett ranked sixth in the AMA/ FIM World Supercross Series with just two events left to go.

It was the first time the Supercross series visited the new home of the NFL's San Francisco 49ers and Baggett was up to speed quickly on the challenging layout, finishing timed qualifying in seventh.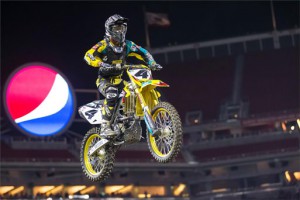 "It's a real rocky hard base," Baggett said of the racing surface of the new track. "It's kind of gooey down in between where they tried to soak it, so it's got some ruts at the bottom. All in all it's a technical track, really hard to get everything precise with all the rocks. It's hard to judge how much wheel-spin you're going to get in some areas."

Baggett had the track and his Yoshimura RM-Z450 dialed-in enough to go directly into the Main by finishing a close fourth his Heat race.

In the Main Baggett began the race in 12th on the first lap, but on this night he was able to use the razor-sharp handling of his RM-Z450 to rapidly make his way through the field.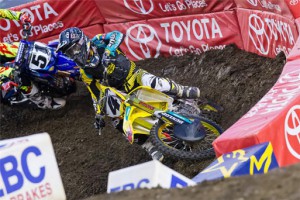 In one outstanding lap (lap two) Baggett passed five riders to get up to seventh. He wasn't going to stop there. He moved as high as inside the top-five before a slip late in the race put him back to his ultimate finishing spot of sixth.

"I felt good in some sections tonight," Baggett said after the race. "I just got tight in the Main. I came up on (Justin) Barcia and got behind him and couldn't really find a good opening to get around him. Then I made a mistake in a rhythm lane and the guys behind me caught me. It was what it was; I'll just have to go back and work on my racecraft and get ready to do battle next weekend. I'll be doing some outdoor testing as well and see what we can do next week in New Jersey."

There are just two races left in the 2015 AMA/ FIM World Supercross Series. Next Saturday, April 25th, the bright lights of New York City will shine on the series as it flies cross-country to MetLife Stadium in East Rutherford, New Jersey.

Source: Team Suzuki

Kawasaki Stays Resilient In Santa Clara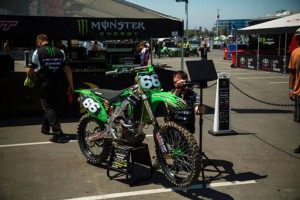 Monster Energy/Pro Circuit/Kawasaki's Chris Alldredge was excited for Round 15 of the Monster Energy AMA Supercross, an FIM Championship at Levi's Stadium in Santa Clara, California. After Alldredge finished fourth in his heat race, he was poised for a great race in the main event. After getting a good jump out of the gate, he got together with another rider entering the first turn and he went down hard, knocking him out of the race. In the 450SX main event Discount Tire Racing/TwoTwo Motorsport's Chad Reed got a great jump out of the gate and battled for the lead early, but an early crash forced him to ride through the field to an eighth place finish. Mafia Moto Crew Kawasaki rider Nick Wey had his best finish of the season and put his KX450F in the top 10.

Ride Through The Field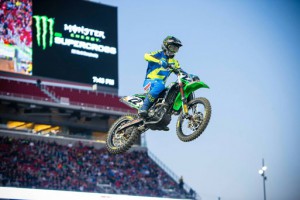 After winning his heat race, Reed looked like a contender for the main event win after getting through the first turn near the front of the field. The Australian passed for the lead in the opening lap and after getting passed back on Lap 2, he crashed in a rhythm section while fighting to retake the lead. Reed remounted his Kawasaki KX450F in 21st place and worked hard to ride all the way up to eighth on Lap 20.

What Could Have Been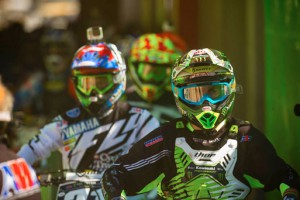 Alldredge came into Santa Clara looking to get his first podium finish of the season. He felt good during qualifying and rode a solid heat race, giving him a lot of confidence heading into the main event. With a good jump out of the gate, Alldredge stayed on the throttle heading to the first turn when another rider cut in front of him. The abrupt move caused him to crash, snapping his handlebars in two and knocking him out of the race.

"Mitch (Payton) told me I need to be more aggressive and stay on the throttle," said Alldredge. "I was right there and as we got to the first turn, but then I got cut off and had to get on the brakes which sent me to the ground. I felt really good and I think I could have run with the leaders during the race."

Heat Race Win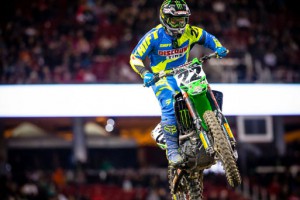 After having a couple of crashes in practice and entering the night show a little battered and bruised, Reed rode a smart race in the heat to earn a win. Reed was running a solid second when the leader made a mistake and Reed capitalized for the victory.

"When you are as invested as much as my team is, you want to get the win every time you are on the track," said Reed. "I was able to see the leader make a mistake and I knew I could hold on for the heat race win."

On The Way Out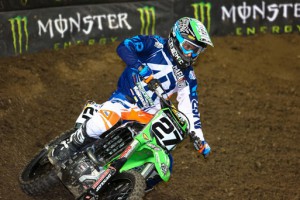 With only two more events left after the Santa Clara race, Wey made a strong statement, winning a semi race to advance to the main event. Wey got a good start and rode a great race leading all five laps of the semi to take the win. The Michigan native parlayed the semi performance into a top 10 in the main event, his best finish of the year.

New Stadium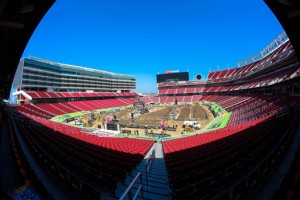 Levi's Stadium made an impressive debut on the Monster Energy Supercross schedule and Alldredge had the honor of being the first rider to take to the track as part of the event's press day on Thursday. Besides riding, Alldredge also travelled to Comcast Sports Network for a segment on Yahoo! Sports Talk Live.

Bright Lights, Big City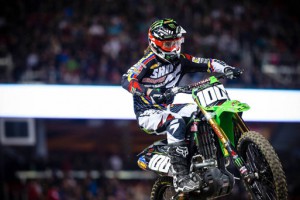 Monster Energy Supercross heads back to the New York area for its second visit to MetLife Stadium in the East Rutherford, New Jersey. It is the final round of the Eastern Region and Joey Savatgy will be back on his KX 250F for the Monster Energy/Pro Circuit/Kawasaki team.

Source: Kawasaki Racing

Santa Clara SX Overview And Point Standings
2015 AMA Supercross Santa Clara Image Gallery
(Click for full size images)
gallery

Overall Results - Supercross Class
| Pos. | # | Rider | Bike | Interval | Best Time |
| --- | --- | --- | --- | --- | --- |
| 1 | 5 | Ryan Dungey | KTM 450 SX-F Factory Edition | 20 Laps | 49.304 |
| 2 | 3 | Eli Tomac | Honda CRF450 | +05.738 | 49.027 |
| 3 | 23 | Weston Peick | Yamaha YZ450F | +17.437 | 49.665 |
| 4 | 21 | Jason Anderson | Husqvarna FC450 | +20.057 | 50.169 |
| 5 | 14 | Cole Seely | Honda CRF450 | +23.123 | 50.002 |
| 6 | 4 | Blake Baggett | Suzuki RM-Z450 | +25.564 | 50.165 |
| 7 | 10 | Justin Brayton | KTM 450 SX-F Factory Edition | +45.952 | 51.113 |
| 8 | 22 | Chad Reed | Kawasaki KX450F | +48.582 | 50.663 |
| 9 | 29 | Andrew Short | KTM 450 SX-F Factory Edition | 19 Laps | 51.195 |
| 10 | 27 | Nicholas Wey | Kawasaki KX450F | +00.761 | 51.931 |
| 11 | 11 | Kyle Chisholm | Kawasaki KX450F | +02.570 | 51.808 |
| 12 | 20 | Broc Tickle | Suzuki RM-Z450 | +08.222 | 50.602 |
| 13 | 199 | Kyle Partridge | Honda CRF450 | +41.418 | 52.174 |
| 14 | 70 | Nicholas Schmidt | Suzuki RM-Z450 | +49.769 | 53.895 |
| 15 | 58 | Killian Rusk | Yamaha YZ450F | +54.506 | 53.940 |
| 16 | 51 | Justin Barcia | Yamaha YZ450F | 18 Laps | 50.081 |
| 17 | 42 | Ben Lamay | Husqvarna FC450 | +1:16.620 | 53.687 |
| 18 | 181 | Dustin Pipes | Suzuki RM-Z450 | +1:21.884 | 54.291 |
| 19 | 69 | Ronnie Stewart | Suzuki RM-Z450 | +1:34.201 | 54.143 |
| 20 | 314 | Alex Ray | Honda CRF450 | 16 Laps | 56.239 |
| 21 | 206 | Thomas Ramette | Kawasaki KX450F | 8 Laps | 56.858 |
| 22 | 33 | Joshua Grant | Kawasaki KX450F | DNS | |
Rider Point Standings - Supercross Class
Statistics




Race Time: 16:20.024

Margin of Victory: 05.738

Winner's Avg. Laptime: 49.001

2nd Place Avg. Laptime: 49.288

Best Qualifier: #5 - Ryan Dungey

Holeshot: #51 - Justin Barcia




( Race 15 of 17 )


Ryan Dungey - 343 / 2015 Champion

Eli Tomac - 258

Cole Seely - 239

Chad Reed - 212

Trey Canard - 204

Blake Baggett - 190

Jason Anderson - 188

Broc Tickle - 168

Andrew Short - 164

Ken Roczen - 156

Manufacturer Point Standings - Supercross Class
( Race 15 of 17 )


KTM - 343

Honda - 337

Suzuki - 266

Kawasaki - 241

Yamaha - 207

Husqvarna - 195

Overall Results - Supercross Lites West Class
| Pos. | # | Rider | Bike | Interval | Best Time |
| --- | --- | --- | --- | --- | --- |
| 1 | 17 | Cooper Webb | Yamaha YZ250F | 15 Laps | 50.705 |
| 2 | 32 | Justin Hill | KTM 250 SX-F | +04.244 | 51.059 |
| 3 | 31 | Alex Martin | Yamaha YZ250F | +11.516 | 51.374 |
| 4 | 34 | Malcolm Stewart | Honda CRF250 | +19.025 | 51.787 |
| 5 | 40 | Shane McElrath | KTM 250 SX-F | +21.740 | 51.574 |
| 6 | 57 | Jackson Richardson | Honda CRF250 | +32.039 | 52.563 |
| 7 | 157 | Aaron Plessinger | Yamaha YZ250F | +37.710 | 50.712 |
| 8 | 38 | Matthew Bisceglia | Honda CRF250 | +38.948 | 52.610 |
| 9 | 130 | Thomas Hahn | Honda CRF250 | +45.311 | 53.194 |
| 10 | 65 | Scott Champion | Yamaha YZ250 | +47.066 | 54.542 |
| 11 | 71 | Cole Martinez | Yamaha YZ250F | +51.810 | 53.773 |
| 12 | 164 | Austin Ullrich | Yamaha YZ250F | 14 Laps | 54.722 |
| 13 | 397 | Brandon Scharer | Suzuki RM-Z250 | +22.511 | 56.152 |
| 14 | 544 | Morgan Burger | Yamaha YZ250F | +31.461 | 56.763 |
| 15 | 217 | Ryan Breece | Yamaha YZ250F | +33.097 | 55.047 |
| 16 | 284 | Cody Church | Kawasaki KX250F | +51.178 | 57.785 |
| 17 | 148 | Trevor Reis | Yamaha YZ250F | 13 Laps | 54.526 |
| 18 | 252 | Kevin Weisbruch | Kawasaki KX250F | +06.170 | 57.713 |
| 19 | 100 | Joshua Hansen | Kawasaki KX250F | 9 Laps | 52.131 |
| 20 | 16 | Zach Osborne | Husqvarna FC250 | DNF | |
| 21 | 91 | Chris Howell | Yamaha YZ250F | DNF | |
| 22 | 66 | Chris Alldredge | Kawasaki KX250F | DNS | |
Rider Point Standings - Supercross Lites West Class
Statistics




Race Time: 12:39.987

Margin of Victory: 04.244

Winner's Avg. Laptime: 50.665

2nd Place Avg. Laptime: 50.948

Best Qualifier: #32 - Justin Hill

Holeshot: #100 - Joshua Hansen




( Race 8 of 9 )


Cooper Webb - 186 / 2015 Champion

Shane McElrath - 124

Zach Osborne - 117

Justin Hill - 116

Aaron Plessinger - 113

Alex Martin - 111

Malcolm Stewart - 107

Jessy Nelson - 106

Tyler Bowers - 105

Joshua Hansen - 91

Manufacturer Point Standings - Supercross Lites Class
( Race 15 of 17 )


KTM - 334

Yamaha - 323

Honda - 289

Kawasaki - 250

Husqvarna - 181

Suzuki - 28