Yamaha Prepares For 24-Hour Endurance Season-Opener At Le Mans
Chaparral Motorsports
|
April 17, 2015
[caption id="attachment_44794" align="alignright" width="300"]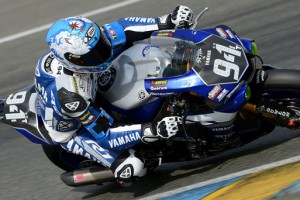 2015 World Endurance GMT94 Yamaha[/caption]

GMT94 Yamaha and the Monster Energy Yamaha Austria Racing Team (YART) are preparing their all-new 2015 Yamaha YZF-R1s for the 38th edition of the famous 24 Heures Motos at Le Mans this weekend, kicking off the 2015 FIM Endurance World Championship (EWC).

After seven months of waiting, reigning Endurance World Champion team GMT94 Yamaha is eager to start the action at the Circuit Bugatti - Le Mans. Riders David Checa, Kenny Foray and Mathieu Gines are thrilled to return to the French track where they clinched the 2014 Endurance World Title with an amazing victory last September.

The YART team will also again be taking part in the straining endurance World Championship. Last year they rode a strong race to claim third at the season finale at Le Mans, taking sixth in the overall championship. This year the Austrian team is eager to position themselves as a key protagonist thanks to the new YZF-R1 and its 2015 line-up, consisting of Ivan Silva, Sheridan Morais and Max Neukirchner.

[caption id="attachment_44795" align="alignleft" width="300"]
2015 World Endurance Monster Energy Yamaha YART[/caption]

The endurance race of Le Mans is one of the most famous races in the world. The 24 hours of grueling action, together with the often uncertain weather conditions make for a spectacle that race fans don't want to miss out on.

The pre-season test at the Le Mans circuit already saw some consistently fast lap times being dropped by both YART and GMT94, showing a first glimpse of the great potential the YZF-R1 has in the endurance class.

For an extremely intense race such as the Le Mans 24-hours, weight, sturdiness and power are absolutely crucial qualities for endurance racing machines, which is where the YZF-R1 has an advantage.

The 2015 YZF-R1 model is not only smaller and lighter than is predecessors, but it's also more powerful. However, the bikes used in endurance are heavier than the short-distance race bikes because of the lights on the bike for riding in the dark, a bigger tank that holds more fuel and the heavier bodywork for extra durability.

David Checa - GMT94 Yamaha Rider
"I crashed Tuesday late in the test session. I didn't really understand why because I was on the same pace as usual. Fortunately I didn't get hurt and I will be able to take the start of the race with only a few bruises and a few bumps. I'm still happy to be at Le Mans. We expect a very competitive race."
Kenny Foray - GMT94 Yamaha Rider
"For now everything works perfectly on the bike. We know we start with a "wise solution" that is to say a stock engine and simple electronics. These are the points on which we will evolve in the future. The Dunlop tires are really great and give us satisfaction. For qualifying we perhaps will not be able to race for the pole position but we have high hopes for the race."
Mathieu Gines - GMT94 Yamaha Rider
"I love this bike. I just returned from Assen where I was still doing a test session with my IDM team, and when I go back on the GMT94 bike it is still so good. The team had to make a lot of modifications for endurance and we do not feel them at all. The bike remains as light and as good, so I expect the start of 24H impatiently."
Christophe Guyot - GMT94 Yamaha Team Manager
"We are hoping for a podium, but we had a big crash with David Checa on Tuesday. Luckily he is ok and it is one hundred per cent sure that he will be riding this weekend. The bike is really good and so are the riders. The team is very happy to be here in Le Mans. The only problem is that we are the current World Champions so everybody is sure we will win the race while this is actually not certain. There are not some many spare parts so we have to ask our riders to take care this first race, because in order to win the championship, it's important we finish. Though it's already very fast, we are sure that the bike will be even faster at the next race."
Sheridan Morais - YART rider
"After solving the issue with my passport and VISA in South Africa I am so happy to be here at LeMans for this memorable event. Today was my first day on the bike after I missed Tuesday's 6 hours of track time and we were very fast. All of our rider's are on the gas and the Team are doing an amazing job with our Yamaha R1. After month's of build up and preparation for this race we are finally here and I am very confident that our efforts won't go unrewarded."
Ivan Silva - YART rider
"I'm very happy that I belong to the YART team. It's a long weekend and I hope everything with the bike will remain this good and we won't run into any problems. The other riders are great so with our team's infrastructure we can fight for the victory. We are fast and determined and now we only have to work hard to get the win."
Max Neukirchner - YART rider
"I feel really good and I've been doing a lot of fitness training during the winter for the 24H race. It's a very special race for me, because Le Mans is of course very famous and I am in a really good team and my teammates, Sheridan Morais and Ivan Silva, are good. There was a test at Le Mans two weeks ago and we were the strongest team and yesterday we were training all day and again we were the strongest. We are quite fast, but with 24H of racing you need a bit of luck to get onto the podium. I look forward to get a good position, if we don't get any technical problems."
Mandy Kainz - YART Team Manager
"The preparation of the bike is a bit of a tough story because we arrived quite late at the Le Mans circuit. We are working hard to finish the bike, but we are quite confident because the bike is very fast and the riders are in perfect harmony, so I think we have a very strong package for the weekend."


Source: www.yamaha-racing.com