Memphis Shades Trigger-Lock Mounting Kits Take The Pain Out Of Windshield Installation
Chaparral Motorsports
|
April 8, 2015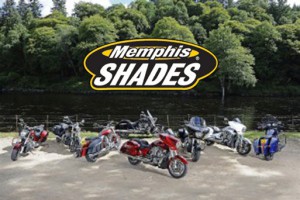 Mounting new fairings or windshields can be a process to install and remove from your motorcycle. Some riders prefer to have both options on their bike, but taking on and off the parts is a time-consuming task.

However, Memphis Shades, one of the nation's largest manufacturers of fairings and windshields, released a revolutionary product to make your installation process a breeze. The company now has Trigger-Lock hardware mounting system, which can easily be installed on the majority of different makes and models. The whole purpose of this windshield hardware is to be convenient and installed quickly.

Easy As 1 - 2 - 3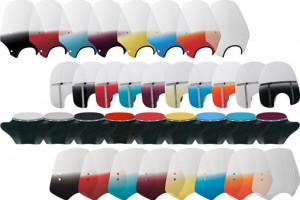 The complete mounting kit from Memphis Shades includes three major parts: anchoring hardware, mounting plates, and a fairing or windshield. All of the company's hardware is crafted with E-coated polished aluminum and stainless steel, which comes in black or polished silver. The fasteners are also stainless steel, so riders never have to worry about rust or corrosion on their motorcycle.

The [mageProductLink sku="mem2321-0045" title="Memphis Shades Trigger-Lock Mount Kit"]Trigger-Lock Mount Kit[/mageProductLink] comes with both halves of the mounting hardware - the anchoring hardware for the motorcycle as well as the mounting plates for the windshield or fairing. If you already have the anchoring hardware installed on your bike, all you need to swap out your current fairing or windshield to another style is the [mageProductLink sku="mem2320-0039" title="Memphis Shades Trigger-Lock Plate Kit"]Trigger-Lock Plate Kit[/mageProductLink] for your style of bike and the windshield.

Fast Installation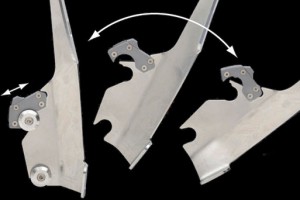 The whole process of installing the new fairing and windshield hardware takes an estimated 15 minutes. What's even better is the fact that once the hardware is installed on your bike, you'll never need additional tools to remove or add on your fairing or windshield. Also, once the equipment is in place, riders can adjust the windshield and faring to their specific liking.

Memphis Shades easy Trigger-Lock hardware mounting system makes it easy to pop on and pop off a windshield at anywhere, which will save you time and a lot of frustration.

Made To Fit Nearly Any Cruiser Or Street Bike
[mageProductLink sku="mem2321-0201" title=""]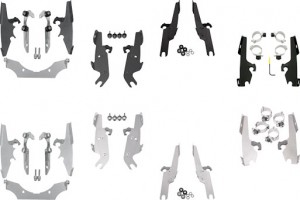 [/mageProductLink] The hardware is also convenient for riders because once the equipment is installed on your ride, you can easily add a new windshield with the gear you already have added to your bike. This makes windshield shopping much easier knowing you have a product that can easily match to your mounting kit system.

Memphis Shades also provides a manufacturer's limited two-year warranty for the hardware, and all of their products are made in the U.S. Additionally, the fairing and windshield mounting kit is customized to fit onto street or cruiser motorcycles. Its custom adjustment angles will make this perfect for those who want a windshield tailored to their needs, and one that can be easily changed or repositioned on the go. Never worry about complicated installation processes again with the new Trigger-Lock hardware mounting system.