Mobius X8 Knee Brace Now Available To The Public
Chaparral Motorsports
|
April 4, 2015
After a few years of test runs with professional riders Josh Grant and Ryan Villopoto, the [mageProductLink sku="3008-1010102" title="Mobius X8 Knee Braces"]Mobius X8 Knee Brace[/mageProductLink] is finally available to the public. The newest piece of dirt bike and race equipment works off its custom continuous cable routing system (CCRS), which Mobius has patented.

Additionally, the equipment's tendon back plate gives full support to the knee, protecting the four main ligaments in the knee from a severe leg twist or harsh impact. Its futuristic look, fit and movement are all designed to prevent lateral bending, lateral rotation and hyperextension, which are three main types of knee injuries common in motocross.

Infinite Loop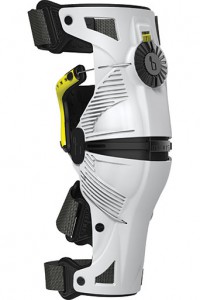 Named after the the famous one-sided loop, the mobius strip, this knee brace utilizes a similar structure. The X8 uses a hard nylon shell along with its CCRS in a figure-eight construction to loop around the rider's knee joint. This allows the knee brace to tighten when impact is applied. The brace shell constricts upon impact to keep the knee in place and avoid injuries.

Essentially, each time a motocross racer experiences a severe impact to the knee area, the X8 will tighten through its CCRS and grip the rider's tibia and femur bones in the shin and thigh to control and safeguard the knee and lower leg. This incredible technology along with its lightweight Nylon shell will fit directly to the rider's leg.

Superior Hardware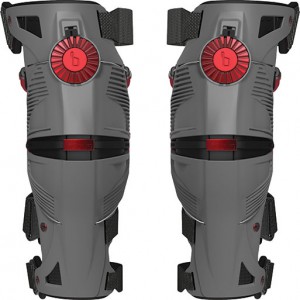 Also, Mobius uses CNC forged 6061-T6 anodized aluminum hinge plates and Velcro straps with pull tabs so that the brace fits comfortably while riding. This allows riders to quickly don and remove the knee brace in an instant. The Mobius X8 Knee Brace comes in three sizes: small, medium and large. There are also two color options: White and Acid Yellow and Storm Gray and Crimson.

As the popularity of the X8 grows it's unlikely the majority of motocross riders will go without this knee brace.