Head To Head: Top Shelf Motorcycle Boots
Chaparral Motorsports
|
April 4, 2015
In this Head to Head article we take a look at some premiere dirt bike boots.

Tech 10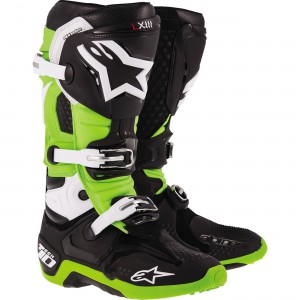 Manufacturer: Alpinestars

Price: $599.95

Colors: Black, Black/Green, Orange/White, Black/Red/Yellow, Cyan/Grey/White

Sizes: 7-14

Closure System: polymer buckles plus aluminum frame with self-aligning, quick release closures for customized secure fitment

If only your riding skills were as technical as [mageProductLink sku="020-3410-1083.aspx"]Alpinestars' Tech 10 boots[/mageProductLink]. Comfort and durability is achieved with a lightweight upper comprised of full grain leather with lightweight microfiber backed by an impact and abrasion resistant TPU (Thermoplastic Polyurethane) shell. An innovative bio-mechanical inner brace features torsion bars to control ankle and leg rotation, while allowing freedom of movement. On the underside a dual compound sole is seamlessly integrated to the multi-density foot base structure with built in support for superior sole durability and grip.

Crossfire 2 SRS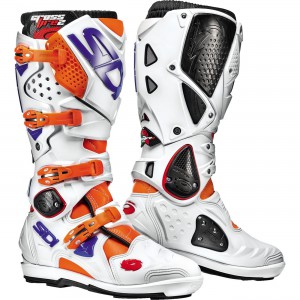 Manufacturer: Sidi

Price: $575.00

Colors: White/Flo Orange/Blue, Red/White/Blue, White, White/Blue, Grey/White, White/Orange, White/Black, Black/White/Flo Yellow, Black, Black/Grey/Flo Yellow, White/Flo Yellow/Blue

Sizes: 7-13/40-48

Closure System: Replaceable, micro adjustable, cam lock buckle system with memory retention straps

If The Six Million Dollar Man rode moto these are probably the bots he would wear. When you combine the [mageProductLink sku="043-2130-x-40"]Crossfire 2 SRS[/mageProductLink] boot leg, which is entirely assembled with screws and is stitch free, with Sidi's Sole Replacement system you end up with a MX boot that rebuildable from the ground up. Add in the adjustable calf plate, adjustable buckles with indented memory regulation straps, and removable arch support and you've got a boot that can be finely-tuned.

SG-12
Manufacturer: Gaerne

Price: $619.95

Colors: Black, White/Black, Red/White/Black, White/Red/Blue/Black, Green/White/Black, Blue/White/Black

Sizes: 8-14

Closure System: Four lightweight alloy buckles that attach to an adjustable strap, provides easy in and easy out non-failure system

You'll love wearing [mageProductLink sku="345-5442" title=""]Gaerne's SG-12[/mageProductLink] boots on and off the track with their myriad comfort features. The interior is highlighted by Gaerne's famous Memory Cell Foam which provides an exacting fit for all day satisfaction. Have large calves or wear a knee brace? No problem, simply remove three screws and you can make the opening wider. Inside the boot you will find a footbed that's specially molded to correctly support the foot. The rear of the footbed has shock absorbing material and the front has been designed to allow ventilation.