2015 Kymco MXU 500i Is Ready For Beginners
Chaparral Motorsports
|
April 2, 2015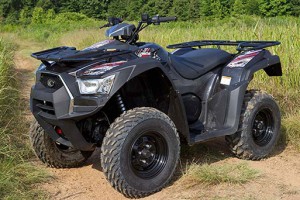 Redesigns are supposed to make machines better, allowing them to grow with the times with regard to style and technology. Striking the right note between paying homage to a reputation and building for the future can be complicated, which only makes introductions like the 2015 Kymco MXU 500i all the more impressive. The 2015 Kymco MXU 500i is just one in a line of new Kymco models, but it is definitely an edition that riders will want to consider for their next investment.

Engine And Frame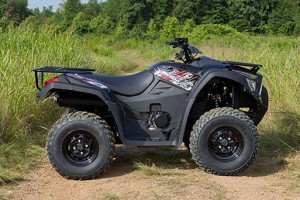 At the center of this machine is a four-stroke, liquid-cooled DOHC engine. The 500cc displacement provides plenty of oomph to keep the ATV going on any terrain, boasting 36-horsepower capabilities. A CVT automatic transmission controls the power output, making it easy for even riders who are just beginning their motorsports career to handle the machine.

The chassis of the 2015 Kymco MXU 500i received the bulk of the updates. While the frames of the MXU 500i's predecessors were impressive, the new chassis is considerably more rugged and dependable. Much of that is due to the suspension, which is comprised of Independent Dual A-Arm front and rear gear. It allows for excellent stability even when shifting between two-wheel drive and four-wheel drive.

Rounding out the frame is a 4.4-gallon fuel tank. This hefty container allows for riders to fill up and hit the trails without worrying about anything other than the great outdoors. To alleviate concerns about riding, Kymco has even included a Rider-Training Instructional DVD, which could be the ideal go-to for beginners.

All-Black Everything - Almost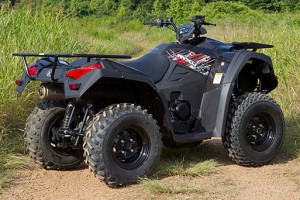 One of the first things you'll notice about the basic version of the 2015 Kymco MXU 500i is that has all-black everything - almost. Only a few red accents separate this machine from a blacked-out ATV, but the effect achieved is similar regardless. It is also available in green or red.

No matter what color you get, you'll have the chance to enjoy a backlit digital dashboard where all of the main controls of the ATV are stored. The Kymco vehicle also comes equipped with front and rear storage racks, a standard receiver hitch and disc brakes. Additional lockable storage space is available under the right rear fender and the top of the left front side. Heavy-duty work can also be completed with this ATV, as the machine boasts a towing capacity of about 1,050 pounds.

2015 Kymco MXU 500i Image Gallery
(Click for full size images)