2015 AMA Supercross St Louis Race Results
Chaparral Motorsports
|
March 30, 2015
Another Dual Podium For KTM At Monster Energy Supercross In St. Louis
Sixth-Win Celebration For Dungey, Five For Musquin
[caption id="attachment_45178" align="alignright" width="300"]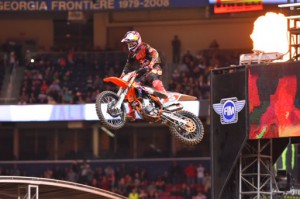 Photo: Simon Cudby[/caption]

For the sixth time this season, Red Bull KTM's Ryan Dungey was victorious en route to winning the Monster Energy AMA Supercross, an FIM World Championship, race at the Edward Jones Dome in front of 58,552 fans. Red Bull KTM's Marvin Musquin won his fifth Eastern Regional 250SX Class race, leading all 15 laps of the Main Event. Tonight was the fifth time this season that the Red Bull KTM team swept both classes.

BTOSports.com/KTM's Andrew Short opened the 450SX Class Main Event with the SupercrossLive.com Holeshot Award but was quickly passed by Dungey before being ejected from his bike. The crash forced Short to exit the race.

On the first lap, Autotrader.com/Toyota/Yamaha's Weston Peick trailed Dungey in second with Rockstar Energy/Husqvarna Factory Racing's Jason Anderson in third place. GEICO Honda's Eli Tomac, who won last week's Main Event in Detroit, moved into third place but Anderson answered back and re-passed him to hold down the number-three position.

Near the halfway point of the race, Peick was passed by Anderson, then Tomac and finally Team Honda HRC's Cole Seely. Peick finished the race in fifth place, bouncing back from his 22nd-place finish last weekend.

On Lap 14, Tomac passed Anderson for second place, where he would finish. Anderson finished in third, marking his second podium finish of the season.

[caption id="attachment_45177" align="alignleft" width="300"]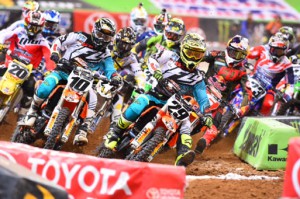 Photo: Simon Cudby[/caption]

"That was a monkey off my back," said Anderson. "I have been wanting to get back on the podium since the first race of the season. There are a lot of people behind me to help me get here, and I am going to come out swinging at the next race."

Tomac now has seven podium finishes on the season and is second in season standings.

"I struggled off the start and didn't make the fast passes early enough in the race," said Tomac.

Dungey, who captured the second win in St. Louis of his career, has an 80-point lead over Tomac in season standings.

"I tried to open a gap on Weston [Peick], but he kept me honest in the early stages," said Dungey.

Supercross LIVE Highlights Video - 450SX Class St. Louis
https://www.youtube.com/watch?v=ve2PJAs7nBw&feature=player_embedded

[caption id="attachment_45176" align="alignright" width="300"]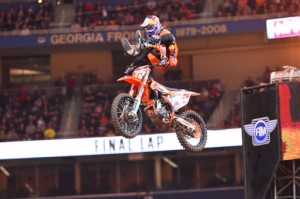 Photo: Simon Cudby[/caption]

Yamalube/Star Racing/Yamaha's Jeremy Martin picked up the SupercrossLive.com Holeshot Award with Musquin in tow to start the Eastern Regional 250SX Class Main Event. Musquin moved around Martin in Turn 2 and the two traded places a few times on the opening lap before Musquin pulled away.

Musquin established a 2.9 second lead by Lap 5. Earlier, on Lap 3, Monster Energy/Pro Circuit/Kawasaki's Joey Savatgy established a sizable lead in third place.

Defending class champion Justin Bogle worked his way through the field to fourth place and set chase to Savatgy but was unable to cut into the deficit. Martin finished second and Savatgy finished third.

"To be on the podium is where I need to be, but I want to be a little higher," said Savatgy on his third podium of the season. "I can't wait to get on the gate in New Jersey."

[caption id="attachment_45175" align="alignleft" width="300"]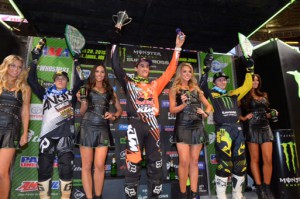 Photo: Simon Cudby[/caption]

Musquin, who finished second last weekend in Detroit, now has a 20-point lead in season standings with the final race of the championship set to take place April 25 at MetLife Stadium in East Rutherford, New Jersey.

"We work hard during the week, and come here prepared to race," said Musquin. "I had a good pass early on and we battled on the opening lap."

The next Monster Energy Supercross will take place Saturday, April 11 at NRG Stadium in Houston, Texas.

Supercross LIVE Highlights Video - East 250SX Class St. Louis
https://www.youtube.com/watch?feature=player_embedded&v=XBFTIcXG9IQ

Source: Supercross Live

Ryan Dungey Wins St. Louis Supercross
[caption id="attachment_45174" align="alignright" width="300"]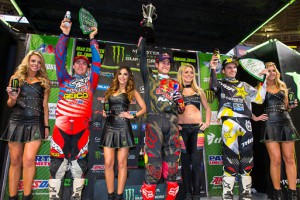 Photo: Simon Cudby[/caption]

Red Bull KTM factory rider Ryan Dungey earned his sixth win of the season at the Edward Jones Dome, stretching his championship lead to 80 points at round thirteen of the Monster Energy Supercross Series, an FIM Championship.

Ryan Dungey was on fire the whole night, earning a great start in his 450SX heat. He took that start to lead every lap of the heat race and easily take a win and the top transfer spot in the main event.

At the gate drop of the 450SX main, Dungey once again, launched off the line aboard his KTM 450 SX-F Factory Edition motorcycle earning a 2nd place start. He passed into the lead by the second corner and led the first lap. He continued to lead every lap remaining to take the win by four seconds over Eli Tomac. Dungey's win at the Dome increased his points lead to 80 points heading to the next event.

"The team has built an incredible bike this season," stated Dungey. "I was able to get off to a good start. I was then able to focus on my opening laps and then settle in and focus on the win. I am so happy with my KTM and everyone that has been behind me on the team."

Next Round: Houston, TX - April 11, 2015

Supercross LIVE Interview Video - Ryan Dungey St. Louis
https://www.youtube.com/watch?feature=player_embedded&v=hEu5hKO0lHE

Source: KTM North America

Marvin Musquin Earns Victory At St. Louis Supercross
[caption id="attachment_45171" align="alignright" width="200"]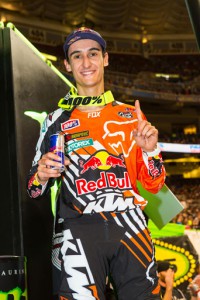 Photo: Simon Cudby[/caption]

Red Bull KTM factory rider Marvin Musquin earned the victory at the St. Louis Supercross to once again lead the way for what would be back to back wins for the Red Bull KTM team for the fifth time during the 2015 Monster Energy Supercross season.

Marvin Musquin took the win at the Edward Jones Dome in front of a packed stadium of Supercross fans. The French rider earned the holeshot in his heat race and led the entire heat. He took the win in his heat to earn a great gate pick in the main event.

When the gate dropped for the main event, Musquin earned a 2nd place start. He quickly cut under the top rider and moved straight into the lead on his KTM 250 SX-F Factory Edition. Musquin never looked back on his way to take the win and led every lap until he crossed the checkers three seconds ahead of the competition.

"I'm really excited to increase my points lead tonight," stated Musquin. "I felt confident all day and am glad it all came together in the main event."

Next Round: Houston, TX - April 11, 2015

Supercross LIVE Interview Video - Marvin Musquin St. Louis
https://www.youtube.com/watch?feature=player_embedded&v=KC09eTRj30M

Source: KTM North America

Podium Finish For Jason Anderson In St. Louis SX
Martin Davalos Unable To Race Due To Illness
[caption id="attachment_45170" align="alignright" width="300"]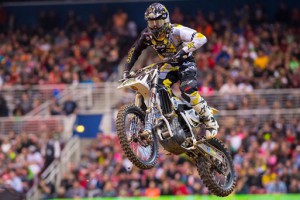 Photo: Simon Cudby[/caption]

Rockstar Energy Husqvarna Factory Racing's Jason Anderson landed back on the podium at St. Louis' Edward Jones Dome on Saturday for the 13th round of the 2015 Supercross series. After an exciting race, Anderson moves from eighth to sixth overall in 450SX rider point standings. Teammate Martin Davalos was unable to race due to illness.

Jason Anderson found his rhythm again and stayed aggressive in St. Louis. He got caught up behind a fallen rider in the first turn of his heat, but continued to fight and finished fourth to transfer directly to the main. In the main, Anderson got a sixth-place start and quickly navigated his Husqvarna FC 450 into the third-place spot. He continued to charge and made an impressive pass for second mid-way through the race. After a multi-lap battle, he eventually conceded the second-place spot to another rider and finished third. This was his first podium finish since the season opener in Anaheim.

"I'm going in the right direction," said Anderson. "I feel like I took 12 races too long, but I got a podium and I'm pumped. I'm not used to riding up front because it's taken me awhile to do it, but I felt good up there. I'm just happy to get my Husqvarna up there on the podium and I'm pumped for my team. The track was mellow but the transitions were a little technical. All-in-all I felt good, and this is something that we definitely needed to go into the weekend off."

Munn Racing's Ben Lamay finished 15th in the 450 class aboard his Husqvarna FC 450.

Source: Husqvarna Motorcycles

Second-Consecutive Podium Finish For Savatgy In St. Louis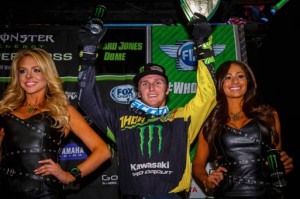 Round 13 of Monster Energy Supercross, an FIM Championship returned to Edward Jones Dome in St. Louis, Missouri on Saturday where Monster Energy/Pro Circuit/Kawasaki's Joey Savatgy put his Kawasaki on the podium for the second-consecutive weekend. Savatgy won his heat race and came from a mid-pack start to battle to the front and finished third. Monster Energy Kawasaki's Davi Millsaps finished in between the Discount Tire/TwoTwo Motorsports Kawasaki's of Josh Grant and Chad Reed. Grant finished sixth for the second straight race, followed by Millsaps in seventh and Reed in eighth.

Looking For The Win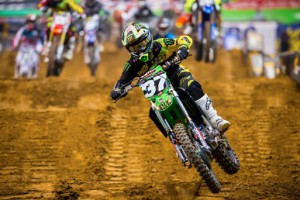 Savatgy continues to gain momentum as the Eastern Region winds down and he was ready to put his Kawasaki KX250F on the box in St. Louis. Building on last week's podium in Detroit, Savatgy qualified two tenths of a second off the fastest lap time. On pace for his best finish of the season, he grabbed the holeshot in his heat race and led all six laps to claim his second heat race win of the season. Anxious for the gate drop in the 15-lap main event, Savatgy rounded the first corner mid pack and had his work cut out for him. The Georgia native made some quick moves on the opening laps and climbed into fifth on second lap. By Lap 3 he had made it into third place and attempted to reel in the leaders but the gap was insurmountable. Savatgy finished third for his second podium of the season and sits fourth overall with one round remaining in four weeks.

"I'm really disappointed with tonight's results," said Savatgy. "I was on pace to win tonight and really felt good after my heat race. When the gate dropped I didn't get the jump and I had to try and make up the ground. I think had I got into third a little sooner, I could have latched on to them. I know I have the speed to win and I have an amazing bike. We've got one more chance to prove it in New Jersey before we square off against the West riders in Las Vegas."

Building Blocks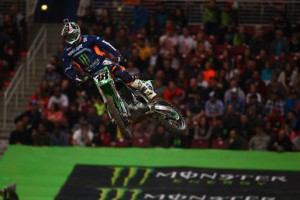 Millsaps had the opportunity to see the St. Louis track design earlier than usual as the Monster Energy Kawasaki team took part in the press activities leading up to Saturday's race. The local Fox, NBC, and CBS affiliates all came out to cover the race and talk with Millsaps. With some extra track time, Millsaps posted some fast qualifying times in the afternoon and transitioned that into a runner-up finish in his heat to transfer to the main event. In the 20-lap main event, the "Duke" battled through the top-10 to finish seventh.

"The track was difficult tonight," said Millsaps. "I rounded the first turn around tenth and had to tip-toe around the first lap in traffic. Once we spaced out a bit, I was able to hit my lines to make up some ground, but if someone took your line there wasn't many options to make passes. It's always good to come out and help promote the sport in the cities we visit as well as visit the top Kawasaki dealership in the area."

KX Proof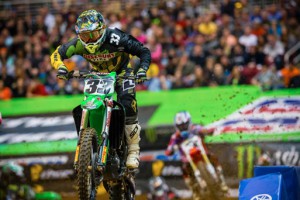 The Discount Tire/TwoTwo Motorsports teammates of Grant and Reed once again put their KX450Fs in the top 10. Grant, Millsaps, and Reed became a Kawasaki freight train that tore towards the front of the pack in the main event. Grant and Millsaps battled for top honors throughout most of the main while Reed closed in from behind. Outside the top 10, Kyle Chisholm and Nick Wey matched their best finishes of the season in 11th and 12th, respectively and Tony Archer had his best finish in 17th.

Behind the Scenes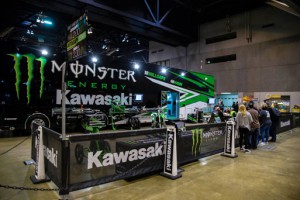 In addition to the local media that covered Monster Energy Kawasaki in St. Louis, Transworld Motocross also traveled along for the week in between Detroit to St. Louis to document every aspect of the Monster Energy Kawasaki Racing Team. They joined Senior Transportation Specialist Brain Barnhart aboard the Kawasaki semi for the eight hour journey and experienced first-hand the hard work and logistics that go into a championship team.

Off Week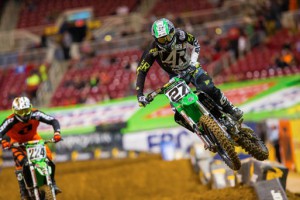 Following 13 consecutive race weekends, Monster Energy Supercross takes a much-needed weekend off for Easter. The riders, mechanics, and team personnel have been on the go since the start of the calendar year and although there is not a race this coming weekend, the work does not stop. For Monster Energy Kawasaki, the weekend off marks the first opportunity to get a head start on preparations for the Lucas Oil Pro Motocross Championship. Savatgy and Millsaps will hit the outdoor tracks in Southern California for the first time this year and Millsaps is excited to have his teammate Wil Hahn back by his side. Hahn will begin riding this week for the first time since his season-ending crash at the opening round of supercross back in January and plans to make his return for the Pro Motocross season. It will be back to the grind in two weeks time as Monster Energy Supercross heads to Houston, Texas on April 11 and the Western Region 250SX class returns to the gate.

Source: Kawasaki Racing

Top-10 Results For Suzuki Riders In St. Louis Supercross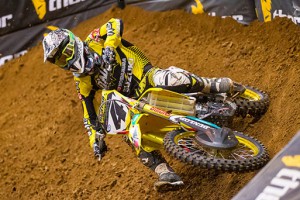 Broc Tickle
, aboard the RCH/Soaring Eagle/Jimmy Johns Suzuki Factory Racing RM-Z450, and Yoshimura Suzuki Factory Racing RM-Z450 rider Blake Baggett tallied top-10 finishes in the St. Louis Supercross Saturday night in front of 58,552 fans in the Edward Jones Dome. Tickle finished ninth and Baggett 10th. It was good night as well for ProMotoFan.com/Fly Racing Privateer Journey Suzuki's Nick Schmidt. Schmidt made his sixth Supercross final of the season and raced to a season best of 14th. In 250 East Supercross action it was another step up the ladder for AJ Catanzaro who once again made the 250 Main on his JMR Racing/Factory Suzuki RM-Z250 and scored his best result of the year so far in 14th.

The climb in the series standings continues for Tickle and Baggett. Both moved up in the rankings after the St. Louis results. Baggett is now tied for sixth in the AMA/FIM Supercross standings, while Tickle moved up to ninth.

Broc Tickle Stays Consistent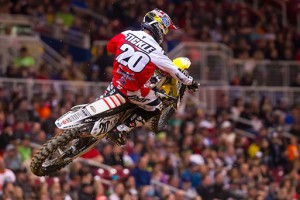 Broc Tickle remained consistent at St. Louis on his RCH Suzuki. He scored his eighth consecutive top-10 finish, resulting in moving from 10th to ninth in the standings. Tickle ran as high as sixth in St. Louis, before losing a few positions later in the race. Finishing races stronger is the primary goal for Tickle as he looks towards the last four rounds of the series. In spite of rarely putting a wheel wrong in the Main events on his nimble Suzuki RM-Z450, Tickle feels he may actually be overtraining during the week.

"I'm going to go back home and regroup," Tickle said. "We've got a weekend off and I think that will be good for me. I've been training like crazy during the week and it's not working, so we'll go back home, work on what we need to get better and come to Houston and be 100 percent ready."

Blake Baggett Overcomes Illness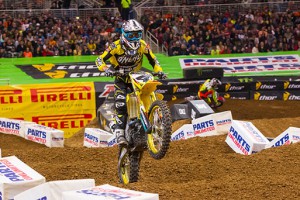 By all rights Yoshimura Suzuki's Blake Baggett probably should have been on the couch watching Saturday night's race, but he's one of the tough breed of racers who puts on the hard hat and punches the clock even when he's not 100 percent. Such was the case for Baggett in St. Louis. He was ill all week leading up to the race, which severely limited his normal training routine. And even though he felt weak on race day, Baggett and his Yoshimura Suzuki RM-Z450 had enough juice to finish inside the top 10.

Blake's persistence paid off too. Baggett now shares sixth place in the standings with fellow rookie Jason Anderson. He also talked about one of the rites of spring, initial testing for the upcoming outdoor motocross season.

"I came in under the weather a little bit," admitted Baggett, who is always reluctant to make any statement that sounds like an excuse. "I got tenth and I'll take that. I'll leave healthy and look forward to a week off where we can do some outdoor testing. I'm getting ready for that and looking to regroup for the final rounds of the Supercross season."

Nick Schmidt Earns His Best of 2015 Despite Fall
Nick Schmidt showed great determination in St. Louis. He suffered a crash on his ProMotoFan.com Suzuki RM-Z450 in the Main, but was able to get right back on his bike and rally to finish 14th. It marked the sixth time he's been able to make the Main and resulted in Schmidt's best finish of the season.

"I got a good start in the Main and then got pinched out wide behind a pileup," Schmidt explained. "Then I came back and was in 15th I think and then fell down. I got back up and salvaged a 14th, so I was pretty happy on the night and we'll keep building from here. My Suzuki is working great and I couldn't be happier."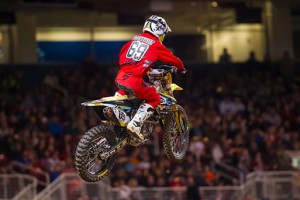 Ronnie Stewart was the other Suzuki rider in the 450 Main on his DirtCandy Graphics, PRBC.com Suzuki. It was Stewart's fourth Supercross Main of the year. He's still working to get back to full fitness in his return from injury, a true testament of just how grueling a 20-lap race can be.

"I made the Main out of my Semi," Stewart said. "I'm mainly struggling with the amount to laps in the Main event. With the injury that I had and taking four or five weeks off the bike and just going straight to racing is really tough. I feel like I'm only going to get stronger each week and we have another four races, so I'm hopeful that I can keep building and get stronger for Supercross and also prepare for the outdoors."

St. Louis = Best for AJ Catanzaro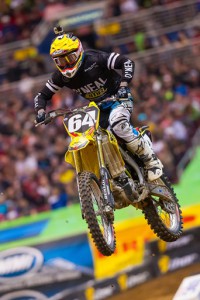 Things continue to look up for JMR Racing/Factory Suzuki's AJ Catanzaro. He made his fourth 250 East Main of the year and finished a season-best 14th.

"It's definitely a step in the right direction," Catanzaro said. "We made some suspension changes this week. The motor on my RM-Z250 is definitely strong. I got pinched off at the start and was dead last and was able to work my way up to 14th. It's ultimately not where I want to be, but the bike is running good and I hope to go out with a bang in the last couple of races."

In the 450 class Tevin Tapia, Dustin Pipes, Alexander Nagy, Teddy Parks and Johnnie Buller earned congratulations for making it out of the day program to qualify their RM-Z450s into the evening show, as did Michael Mims on his RM-Z250 in the 250 East class. Vicki Golden continued her brave quest of being the first female in the evening show of an AMA/FIM Supercross event, but came up short in St. Louis. She qualified 48th out of 53 riders.

Suzuki Supercross riders now enjoy a week off during Easter and will be back in action for beginning the final drive of the 2015 Supercross season, Saturday, April 11 at NRG Stadium in Houston, Texas. Riders, including Yoshimura Suzuki's Blake Baggett and RCH Suzuki's Broc Tickle, will be on hand to greet fans and sign autographs on Friday, April 10, at Cycle Shack North, 1101 I-45 South, Conroe, Texas, from 6:00-7:00 pm.

Source: Suzuki Factory Racing

St. Louis SX Overview And Point Standings
2015 AMA Supercross St. Louis Image Gallery
(Click for full size images)
Overall Results - Supercross Class
| Pos. | # | Rider | Bike | Interval | Best Time |
| --- | --- | --- | --- | --- | --- |
| 1 | 5 | Ryan Dungey | KTM 450 SX-F Factory Edition | 20 Laps | 47.270 |
| 2 | 3 | Eli Tomac | Honda CRF450 | +03.926 | 47.101 |
| 3 | 21 | Jason Anderson | Husqvarna FC450 | +09.801 | 47.464 |
| 4 | 14 | Cole Seely | Honda CRF450 | +14.072 | 47.443 |
| 5 | 23 | Weston Peick | Yamaha YZ450F | +17.548 | 47.578 |
| 6 | 33 | Joshua Grant | Kawasaki KX450F | +19.736 | 47.768 |
| 7 | 18 | David Millsaps | Kawasaki KX450F | +21.491 | 47.996 |
| 8 | 22 | Chad Reed | Kawasaki KX450F | +23.252 | 48.279 |
| 9 | 20 | Broc Tickle | Suzuki RM-Z450 | +28.576 | 47.957 |
| 10 | 4 | Blake Baggett | Suzuki RM-Z450 | +38.702 | 48.686 |
| 11 | 11 | Kyle Chisholm | Kawasaki KX450F | +52.822 | 48.805 |
| 12 | 27 | Nicholas Wey | Kawasaki KX450F | 19 Laps | 49.719 |
| 13 | 46 | Phillip Nicoletti | Yamaha YZ450F | +13.115 | 49.150 |
| 14 | 70 | Nicholas Schmidt | Suzuki RM-Z450 | +21.711 | 50.135 |
| 15 | 42 | Ben Lamay | Husqvarna FC450 | +24.288 | 49.996 |
| 16 | 722 | Adam Enticknap | Honda CRF450 | +33.898 | 50.311 |
| 17 | 285 | Tony Archer | Kawasaki KX450F | +35.384 | 50.934 |
| 18 | 10 | Justin Brayton | KTM 450 SX-F Factory Edition | +38.767 | 50.301 |
| 19 | 58 | Killian Rusk | Yamaha YZ450F | 18 Laps | 50.897 |
| 20 | 69 | Ronnie Stewart | Suzuki RM-Z450 | 17 Laps | 51.902 |
| 21 | 199 | Kyle Partridge | Honda CRF450 | 12 Laps | 50.797 |
| 22 | 29 | Andrew Short | KTM 450 SX-F Factory Edition | DNS | |
Rider Point Standings - Supercross Class
Statistics




Race Time: 15:59.401

Margin of Victory: 03.926

Winner's Avg. Laptime: 47.970

2nd Place Avg. Laptime: 48.166

Best Qualifier: #5 - Ryan Dungey

Holeshot: #5 - Ryan Dungey




( Race 13 of 17 )


Ryan Dungey - 296

Eli Tomac - 216

Trey Canard - 204

Cole Seely - 198

Chad Reed - 183

Jason Anderson - 165

Blake Baggett - 165

Ken Roczen - 156

Broc Tickle - 146

Andrew Short - 137

Manufacturer Point Standings - Supercross Class
( Race 13 of 17 )


KTM - 296

Honda - 290

Suzuki - 238

Kawasaki - 210

Yamaha - 175

Husqvarna - 171

Overall Results - Supercross Lites East Class
| Pos. | # | Rider | Bike | Interval | Best Time |
| --- | --- | --- | --- | --- | --- |
| 1 | 25 | Marvin Musquin | KTM 250 SX-F | 15 Laps | 47.292 |
| 2 | 6 | Jeremy Martin | Yamaha YZ250F | +03.233 | 47.276 |
| 3 | 37 | Joey Savatgy | Kawasaki KX250F | +11.393 | 47.906 |
| 4 | 1 | Justin Bogle | Honda CRF250 | +18.735 | 47.929 |
| 5 | 62 | Anthony Rodriguez | Yamaha YZ250F | +30.561 | 48.963 |
| 6 | 49 | James Decotis | Honda CRF250 | +39.853 | 49.331 |
| 7 | 343 | Luke Renzland | Yamaha YZ250F | +42.434 | 49.870 |
| 8 | 35 | Kyle Cunningham | Honda CRF250 | +45.479 | 49.635 |
| 9 | 79 | Jace Owen | Honda CRF250 | +48.560 | 50.131 |
| 10 | 55 | Kyle Peters | Honda CRF250 | +52.411 | 50.084 |
| 11 | 88 | Dakota Alix | KTM 250 SX-F | 14 Laps | 50.961 |
| 12 | 393 | Daniel Herrlein | Honda CRF250 | +00.951 | 50.875 |
| 13 | 126 | Jordon Smith | Honda CRF250 | +03.687 | 49.570 |
| 14 | 64 | AJ Catanzaro | Suzuki RM-Z250 | +03.939 | 50.101 |
| 15 | 74 | Zack Williams | Honda CRF250 | +06.753 | 50.736 |
| 16 | 986 | Colt Nichols | Honda CRF250 | +10.413 | 49.940 |
| 17 | 52 | Mitchell Oldenburg | Yamaha YZ250F | +11.954 | 49.937 |
| 18 | 395 | Taylor Potter | Honda CRF250 | +25.346 | 52.140 |
| 19 | 78 | Preston Mull | Yamaha YZ250F | +28.184 | 52.379 |
| 20 | 83 | Levi Kilbarger | Yamaha YZ250F | +32.785 | 52.968 |
| 21 | 700 | Shawn Rife | KTM 250 SX-F | +47.707 | 52.306 |
| 22 | 77 | Justin Starling | Yamaha YZ250F | 13 Laps | 51.673 |
Rider Point Standings - Supercross Lites East Class
Statistics




Race Time: 12:02.869

Margin of Victory: 03.233

Winner's Avg. Laptime: 48.191

2nd Place Avg. Laptime: 48.406

Best Qualifier: #25 - Marvin Musquin

Holeshot: #25 - Marvin Musquin




( Race 7 of 9 )


Marvin Musquin - 169

Justin Bogle - 149

Jeremy Martin - 125

Joey Savatgy - 113

RJ Hampshire - 84

Anthony Rodriguez - 84

James Decotis - 84

Kyle Peters - 76

Martin Davalos - 63

Kyle Cunningham - 60

Manufacturer Point Standings - Supercross Lites Class
( Race 13 of 17 )


KTM - 290

Yamaha - 273

Honda - 251

Kawasaki - 233

Husqvarna - 166

Suzuki - 22