2015 AMA Supercross Detroit Race Results
Chaparral Motorsports
|
March 23, 2015
Tomac Tears Through Pack En Route To Second Monster Energy Supercross Win
Bogle Dominates 250SX Class with First Win of the Year
[caption id="attachment_38181" align="alignright" width="300"]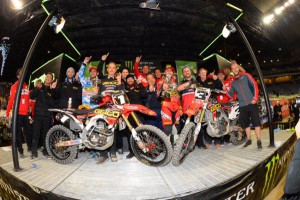 Photo: Simon Cudby[/caption]

GEICO Honda's Eli Tomac captured his second Monster Energy AMA Supercross, an FIM World Championship, race of the season tonight at Ford Field in front of 46,141 fans. GEICO Honda's Justin Bogle raced to his first Eastern Regional 250SX Class win of the season, leading all 15 laps of the Main Event.

BTO Sports/KTM's Andrew Short started the 450SX Class Main Event by winning the SupercrossLIve.com Holeshot Award. Monster Energy Kawasaki's Davi Millsaps and Red Bull KTM's Ryan Dungey fought for the number-two position. On the opening Lap Dungey would move into the lead before being challenged by Tomac.

On Lap 1, Tomac moved into second place and set his sights on Dungey. Team Honda HRC's Cole Seely made his way around Millsaps on Lap 3 to take over third place.

[caption id="attachment_38180" align="alignleft" width="300"]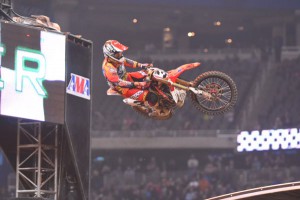 Photo: Simon Cudby[/caption]

Tomac took over the lead on Lap 4 and by Lap 12 established a 6.6 second lead. Tomac won by a margin of 11.89 seconds over Dungey, who finished second, and Seely, who finished third. Dungey now has 11 podium finishes on the season and Seely has three.

"I have had so many up-and-down races this year, but I was able to put it together tonight," said Tomac.

Team Honda HRC's Trey Canard, who is second in season standings, suffered a crash in qualifying and did not race in the Main Event. Dungey has a 67-point lead over Canard.

"I got a good start tonight," said Dungey. "He [Tomac] made a pass to get by me, and it was a solid pass. He is a good, clean racer."

Supercross LIVE Highlights - 450SX Class Detroit
https://www.youtube.com/watch?v=oHhqLlwfoHk&feature=player_embedded

[caption id="attachment_38178" align="alignright" width="300"]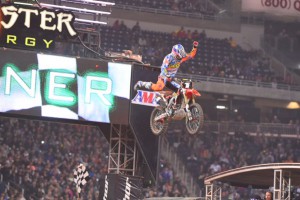 Photo: Simon Cudby[/caption]

Bogle jumped out to the early lead with the SupercrossLive.com Holeshot Award and Monster Energy/Pro Circuit/Kawasaki's Joey Savatgy pulled up on his rear wheel. Yamalube/Star Racing/Yamaha's Anthony Rodriguez settled into the number-three position.

Rockstar Energy/Husqvarna Factory Racing's Martin Davalos and GEICO Honda's RJ Hampshire collided on Lap 2, sending Davalos off the track. Hampshire remounted near last place and Davalos withdrew from the race.

On Lap 3, Red Bull KTM's Marvin Musquin, who came into tonight's race with four wins, rebounded from a bad start to take over the number three spot from Rodriguez. Musquin made a move around Savatgy for second place on Lap 7, but Savatgy answered back. Eventually Musquin took over the position and began to pull away.

"The bike is a rocket ship, and it got me off to a great start," said Bogle. "We have to take every weekend with the same approach. It's going to be tough with two races left on the Eastern Regional 250SX Class schedule, but I am going to keep my head down."

[caption id="attachment_38179" align="alignleft" width="300"]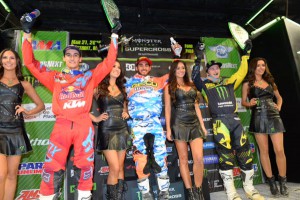 Photo: Simon Cudby[/caption]

Musquin finished second for the second time the season and Savatgy finished third for the second time this season.

"Once again, the start was key, and I didn't get the start I needed," said Musquin. "Second place isn't bad and I have the points lead still."

Both Musquin and Bogle have been on the podium at every race this season. With the win, Bogle cut into Musquin's points lead and now trails by 13 points.

Racing continues next Saturday night at St. Louis' Edward Jones Dome.

Supercross LIVE Highlights - 450SX Class Detroit
https://www.youtube.com/watch?v=sD2e3JaSHEo&feature=player_embedded

Source: Supercross Live

GEICO Honda Sweeps Detroit SX
[caption id="attachment_38175" align="alignright" width="300"]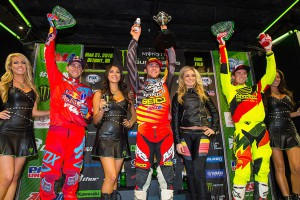 Photo: Simon Cudby[/caption]

The Motor City? How about the GEICO Honda City?

Eli Tomac and Justin Bogle swept the Monster Energy Supercross races on Saturday night at Ford Field, with Tomac scoring a dominant win in the 450cc class and Bogle going to victory lane in 250cc for the first time this season.

The victory was the first time since April 19, 2008, that the Factory Connection team swept both Supercross races. That night, in St. Louis, Trey Canard won in Supercross Lites while Kevin Windham won in 450.

Tomac secured his second career victory with a dominating performance, winning by more than 11 seconds over 450cc points leader Ryan Dungey and the rest of the field.

"It's been a long time coming," said Tomac, who last won in Phoenix in February. "It was just a day that was clicking for me from the beginning. I was fastest in qualifying - didn't win the heat race and qualified for the main.

[caption id="attachment_38176" align="alignleft" width="300"]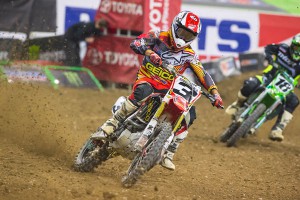 Photo: Simon Cudby[/caption]

"Ten rounds is a long time between wins when you want something so bad. It's nice to get it."

Tomac has been plenty fast this season, as highlighted by his five podium finishes, but the second-year 450 pro from Cortez, Colo., expected more victories.

"There have been multiple races where I've been the fastest guy for one lap or in the heat race," Tomac said. "But for the main events, I've struggled, and Dungey's been the fastest for the 20 laps. For me to finally put all 20 laps together and click those fast laps off, it's refreshing."

Tomac made a decent start, in third, but quickly moved his way into second place, chasing none other than Dungey. On the fifth lap, Tomac made his move and pulled away.

[caption id="attachment_38177" align="alignright" width="200"]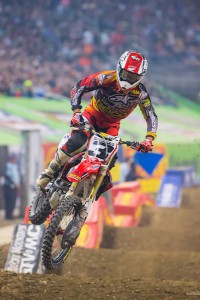 Photo: Simon Cudby[/caption]

"I got onto Dungey there and made the pass over the big quad," Tomac said. "I was able to get on the inside and do a standard block pass and just threw it down from there."

The quad jump was something Tomac didn't do until the main event.

"I never did it in practice, so it was something I had to pull during the night show, which is always a little bit hairball," Tomac said. "We saw Weston Peick do it in practice, and when you see a guy do it you're like, 'Hey, I can go bust that thing, too.' "

After making the pass, Tomac was never challenged, winning by 11.897 seconds.

"This was a track that was good for me, good for my motorcycle," Tomac said. "My bike was awesome in the whoops. I love the sand, too. I wish we had a big sand turn like that every race; I'm just a sand guy. It was a track I liked."

[caption id="attachment_38171" align="alignleft" width="200"]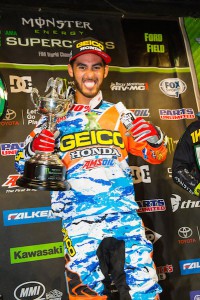 Photo: Simon Cudby[/caption]

After five consecutive podium finishes to start the 250cc East Series in Monster Energy Supercross competition, GEICO Honda's Justin Bogle broke through with a victory on Saturday night at Ford Field.

Bogle's win, coupled with teammate Eli Tomac's victory in the 450 class, marked the first time since April 19, 2008, that the Factory Connection team swept both Supercross races. Trey Canard won in Supercross Lites while Kevin Windham won in 450cc in St. Louis that night.

This night, though, belonged to Bogle in the 250 class. He won his heat race and then got the holeshot in the main event and led all 15 laps.

"It feels good," Bogle said. "That felt as good as my first win ever. Flawless race; my GEICO Honda was incredible. I got the holeshot and put in solid laps the whole time. I drilled all my lines. I felt good and rode my own race. I didn't focus on anything else."

[caption id="attachment_38172" align="alignright" width="200"]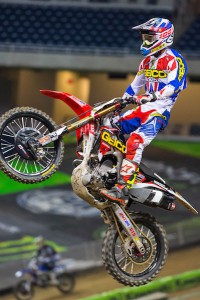 Photo: Simon Cudby[/caption]

The difference was simple: Bogle had fun aboard his GEICO Honda.

"I had fun tonight," Bogle said. "That's kind of what changed. I just started having fun and swagging out. That's really all it was. My starts have been good and I've been riding good, but I just needed to go out there and have fun and remember I can do this. I have a No. 1 on my bike for a reason. It's all good."

The defending East Series champion had finished second in three of the first five races this season, including the last two, but he kept working, kept pushing, and broke through Saturday. A key part to his victory was a series of jumps that he hit most of the night.

"I had a good rhythm through the first section," Bogle said. "I was going four, three, two through there, and that was pretty clutch."

[caption id="attachment_38170" align="alignleft" width="200"]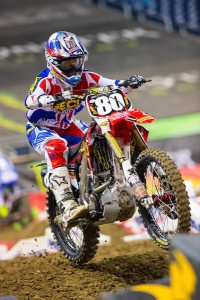 Photo: Simon Cudby[/caption]

Teammates R.J. Hampshire and Jordon Smith had flashes of brilliance Saturday but poor luck and mistakes cost them top-10 finishes.

Rookie Hampshire, a third-place finisher last week in Indianapolis, won a heat race for the second time in his young career, but early in the 15-lap main, Hampshire was run off the track by another rider, forcing him back to 20th.

"Bad luck is going to come whenever it does," Hampshire said. "You just have to make the best of a crappy night. It's the best I've felt all season. Actually, on the nights I feel the worst I have good luck, but then I feel great and have a little bad luck.

"Another heat-race win. It's still early in my career, six races. I wanted to get that top-10, and I was charging back hard, but I just didn't get there. But I'm pumped on the night. It really wasn't my fault, but I still put in 15 good laps."

[caption id="attachment_38169" align="alignright" width="300"]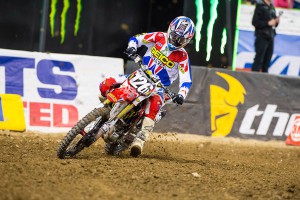 Photo: Simon Cudby[/caption]

Smith battled Hampshire in their heat race, as the GEICO Hondas ran first and second for five of the six laps, but then it went badly for Smith.

"I got a good start in the heat race, right behind R.J. right there," Smith said. "We came out 1-2 and we put some good laps together, he and I out front. On the last lap I went down, and I'm not really sure what happened. Next thing I knew I was just endoing."

He recovered to finish ninth and advance to the main, but he didn't have a good gate choice.

"I got a pretty good start for where I was," Smith said. "Coming through the rhythm section, I caught a Tuff block with my rear brake pedal, and it ripped it all the way to the foot peg. I had to stop and get that straightened out."

Source: GEICO Honda

Dungey Earns 2nd At Detroit Supercross
[caption id="attachment_38173" align="alignright" width="200"]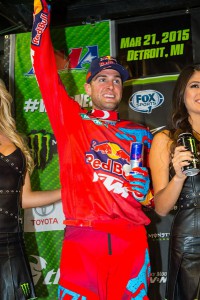 Photo: Simon Cudby[/caption]

Red Bull KTM factory rider Ryan Dungey earned 2nd overall and maintains his strong points lead in the Monster Energy Supercross Series, an FIM Championship at the twelfth round held at Ford Field.

Ryan Dungey earned a 2nd place start in the second 450SX heat race of the night. Within the first two corners he launched out front to take the lead. He never looked back, and went on to easily win the heat race for top pick in the main event.

When the gate dropped for the main event, Dungey got off to a great start leading the first lap on his KTM 450 SX-F Factory Edition. On the second lap he was passed by Eli Tomac. Once in 2nd place, Dungey rode a smart, mistake-free race to finish on the podium. His 2nd place result allowed him to leave the Detroit event with a 67 point lead in the championship chase.

"Of course the goal is to win each race that we can," stated Dungey after the event. "But sometimes it's important to remember to ride a safe race and maintain the points lead as we near the end of the series. We still have quite a few rounds remaining and it's important to finish each on the podium."

Next Round: St. Louis, MO - March 28, 2015

Detroit Supercross LIVE Interview - Ryan Dungey
https://www.youtube.com/watch?feature=player_embedded&v=J5Sfh_k7B7M

Source: KTM North America

Musquin Finishes 2nd At Detroit Supercross
[caption id="attachment_38167" align="alignright" width="300"]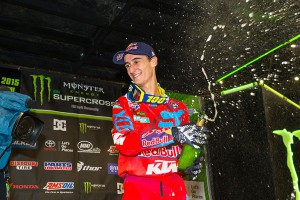 Photo: Simon Cudby[/caption]

Red Bull KTM factory rider Marvin Musquin finished 2nd overall at the sixth round of the East 250 Supercross Championship held at Ford Field.

Marvin Musquin turned the fastest lap of the day in the afternoon qualifying sessions to earn first gate pick for the main event. He got a great jump off the line in the second 250 Supercross heat coming around the first corner in 2nd place. He fell to 3rd a few corners later and then spent the next two laps reeling in the 2nd place rider. He made a pass for 2nd and remained in that position through the checkered flag.

In the main event, Musquin got a decent start and rounded the first corner in 7th place. He quickly made up time to move into the 3rd place position. A few laps later he made another pass and moved into the runner-up position. Once in 2nd place, he settled in and finished the race in that spot on his KTM 250 SX-F Factory Edition.

His 2nd place position still allows him to remain the overall points leader in the series by 13 points heading to the next event.

"I felt pretty good today," stated Musquin. "I knew that I could maintain my points lead by remaining in 2nd place so I rode a consistent race to finish on the podium."

Next Round: St. Louis, MO - March 28, 2015

Detroit Supercross LIVE Interview - Marvin Musquin
https://www.youtube.com/watch?feature=player_embedded&v=-SLm21Cyl5c

Source: KTM North America

Joey Savatgy Returns to the Podium in Detroit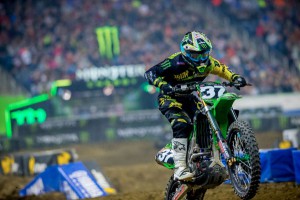 Detroit's Ford Field hosted Round 12 of Monster Energy AMA Supercross, an FIM Championship on Saturday night as Monster Energy/Pro Circuit/Kawasaki's Joey Savatgy put his KX250F back on the podium. Savatgy showed championship speed in the 250SX class all day and accomplished a third place finish in the main event following a great start and 15 strong laps. In the 450SX class, Discount Tire/TwoTwo Motorsports Kawasaki's Chad Reed and Monster Energy Kawasaki's Davi Millsaps battled for top honors with Reed finishing fourth and Millsaps gaining momentum with his second consecutive fifth-place finish. Josh Grant finished close on their heels in sixth place to match his best performance of the season.

Back on the Box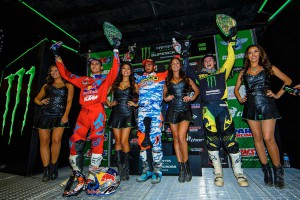 The podium was imminent for Savatgy one week ago in Indianapolis before misfortune struck and prolonged his return to the box. The Georgia native solidified his place up front by trading fast times in qualifying practice and riding a solid heat race to transfer to the main event. When the gate dropped, Savatgy hugged the inside and came out of the first turn in the top three. He clicked off competitive lap times and maintained for the first half of the main event and battled to finish third. Savatgy earned his second podium finish of the season and sits fourth overall in the Eastern Region.

"I felt strong all day and was able to stay that way through the main event," said Savatgy. "The bike is amazing and I've got my starts to where they should have been all season. I tried to latch on to the leaders early but I was pushing a little too hard and made a couple mistakes. I got it back together for the last five laps and got into a rhythm. Last week took the wind out of our sails for the championship, but we'll continue to battle for race wins and start preparing for outdoors."

Building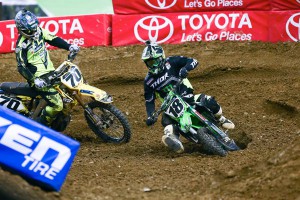 Millsaps matched his season best finish for the second consecutive weekend and his third fifth place finish. Each week, Millsaps continues to build his fitness and strength and is progressing towards the pace of the leaders. After narrowly missing a direct transfer in his heat race, Millsaps was on pace for an easy semi win before tipping over. For the main event he lined up on the very inside gate and got a great jump on his KX450F and snuck around the inside. He maintained a podium spot in the early laps and battled amongst the championship contenders in the top five. In the second half of the main, Millsaps was able to consistently jump the large quad at the end of the rhythm section, which allowed him to separate from the rest of the field.

"Tonight was the strongest I've felt yet and expect that to continue each weekend," said Millsaps. "I continue to build myself each week, but so does everyone else. I'm playing catch up, but I know with time I can be back battling for podiums and wins."

KX Proof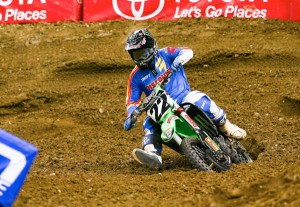 The Discount Tire/TwoTwo Motorsports Kawasaki teammates of Reed and Grant dueled all day and in the main event both rode 20 strong laps to sandwich Millsaps and finish fourth and sixth, respectively. Grant matched his best finish of the season while Kawasaki rider Kyle Chisholm achieved his best performance in 11th, as did Nick Wey in 12th.

On the Mend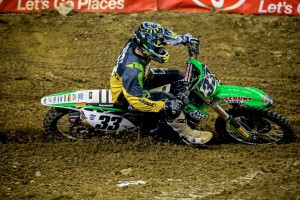 Missing from the lineup again this week was Arnaud Tonus and his KX250F. He has been battling a virus since Atlanta 2 and after consulting his home doctors in Switzerland, he has rid himself of the problem and will be returning to the U.S. Tonus plans to return to the gate before the supercross season's end.

Back on the Bike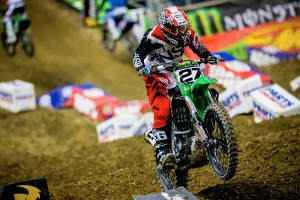 Adam Cianciarulo
was cleared to throw a leg over the familiar saddle of his KX250F this week after suffering an off-season injury that kept him from contending for a supercross championship. With roughly two months before the first round of outdoor motocross, Cianciarulo and Monster Energy/Pro Circuit/Kawasaki are beginning preparations for the Lucas Oil Pro Motocross Championship.

St. Louis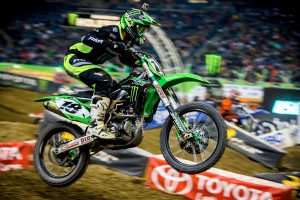 The Monster Energy Kawasaki semi hit the road for the relatively short trip from Detroit to St. Louis, Missouri and the Edward Jones Dome. Millsaps and the team will take part in the weekday press activities with the local media and visit local Kawasaki dealership Big St. Charles Motorsports for a pre-race party leading up Saturday.

Source: Kawasaki Racing

Tickle And RCH Suzuki Fight Back At Detroit SX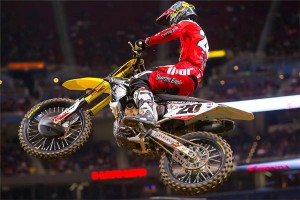 Broc Tickle
scored a solid seventh-place finish in Saturday night's 12th round of the Monster Energy Supercross AMA/ FIM World Supercross Championship at Detroit's Ford Field Stadium.

The top-seven showing was the RCH Soaring Eagle/ Jimmy Johns/ Suzuki Factory rider's seventh consecutive top-10 placing and his ninth of the season. The Holly, Michigan rider remains 10th in the points-standings and trails ninth-place Andrew Short by two points heading into next weekend's next stop in St. Louis.

Tickle and his #20 RM-Z450 finished fifth in the night's second 450SX heat race and transferred to the 'Main' via a solid second-placed-finish in his semi-final: He said: "I feel like I struggled with the same things I did the last couple of weekends but as a whole, we had a decent night.

"I was a little slow in a couple segments during practice so we made some changes for the heat race and the semi and we definitely went in the right direction. We made another change for the Main Event and that was even better so we made progress all day. We tried some stuff with the starts and that didn't really work. That's something I need to work on so I can be better out of the gate and closer to the front. I think that's what held me back in the Main Event.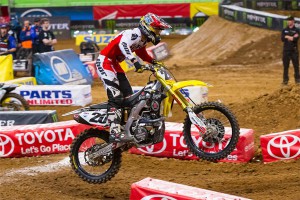 "As a team, we're going to go back to the basics this week and work on starts. Bottom-line is that I need to put together better starts to get better results. When I have a bad start, I get into a place where everyone runs in the same position all night long and that puts me in a bind. I need to get out-front when the gate drops and see what we can do from there."

Tickle's RCH team-mate Ken Roczen was side-lined for the third straight race while he recovers from an ankle injury. Roczen is scheduled to return to the seat of his #94 Suzuki RM-Z450 for the Houston Supercross on April 11th.

"It was a good night for Broc," commented RCH co-owner Carey Hart following the event. "There's no question that he has the speed. We just have to get him out of the gate and get him towards the front of the pack off the start. I think once that starts to click, we'll see him on the podium. That's what the team is going to work on this week. It's those first couple of laps that are always so important. Broc has to keep up that sprint pace when he gets out of the gate so he can separate himself and run up-front. Hopefully Ken will be back on the bike in the near future. We'll start by getting him going on the outdoor track, integrate him into Supercross and have him on the gate in Houston."

Source: Team Suzuki

Baggett Climbs Series Ranks After Detroit SX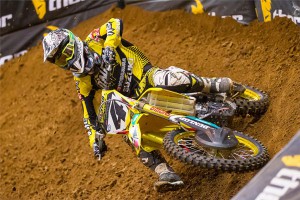 Blake Baggett
raced his Yoshimura Suzuki Factory Racing RM-Z450 to an eighth-place finish Saturday night in the Detroit Supercross in front of a crowd of 46,141 fans in Ford Field and moved-up to seventh in the series standings after 12 of 17 rounds.

Baggett was on his way to an even-stronger sixth-place result, but on the final lap another rider changed lanes in front causing him to switch his line at the last second and clip a tuff block, which led to a crash.

Baggett's Detroit Supercross got off to a decent start when he qualified in 10th. He said: "The track is probably the most technical we've had on the circuit so far. There were two sets of whoops - the second one, where you're coming down from out of the grandstands, was a little bit tricky because it's deceiving since you're coming downhill into it. It's going to get slippery as the night goes on, so traction and a good gate pick are going to be key."

Baggett missed qualifying directly out of his Heat race, but rebounded to convincingly-win his Semi to make the Main.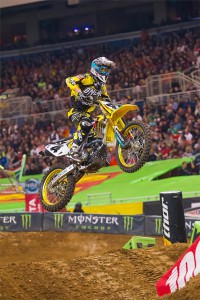 When the gate dropped on the 20-lap final Baggett was among the leaders, but coming out of the second turn a couple of riders tangled in front of him and he had nowhere to go and got tangled-up with another rider trying to find a way around. That moved him back to 11th place at the end of the first lap. From there on, Baggett used the power of his Yoshimura Suzuki RM-Z450 to steadily work his way through the field. He'd made it to sixth and for a brief time appeared to be on the verge of challenging for a top-five, but on the final lap Kyle Partridge appeared to change lines in front of Baggett. The 23 year old took evasive action but clipped a tuff block in the process and hit the ground.

Baggett was able to remount and finish in eighth, even though he was pretty beat-0up after the crash.

"We were able to find a really good set-up for the Semi," said Yoshimura Suzuki Team Manager Mike Webb of the commanding win for Baggett in his qualifying Semi. "After getting his arm hooked with another rider on that shuffle in the second turn he was as far back as 12th at the start of the Main. He began picking them off and worked his way up to sixth and then on the last lap a lapped rider moved over right in front of him and Blake went down pretty hard on the tabletop jump and (Josh) Grant and (Broc) Tickle got by. All and all it was a good night. He was fast again and put it all together in the Main."

The series resumes next Saturday, March 28th in the Edward Jones Dome in St. Louis.

Source: Team Suzuki

Difficult Weekend For Anderson And Davalos At Detroit Supercross
[caption id="attachment_38152" align="alignright" width="300"]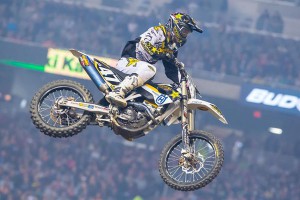 Photo: Simon Cudby[/caption]

Rockstar Energy Husqvarna Factory Racing's Jason Anderson and Martin Davalos had a rough night at Detroit's Ford Field on Saturday for the 12th round of the 2015 Supercross series. Unfortunately, both riders suffered from incidents in their main events that left them unable to finish the night. Anderson and Davalos leave the Motor City eighth overall in the 450SX class and ninth overall in the 250SX East class, respectively.

Martin Davalos had a decent start in his heat race and immediately started navigating his way through the pack to put himself in qualifying position. He made an impressive pass aboard his Husqvarna FC 250 in the whoops, but lost his timing in a section to follow. He stayed focused and battled his way back to a fourth-place finish to qualify for the main. Davalos got a top-five start in the main, but ended up going down after going off the track. He was unable to finish the race after the incident, and is currently ninth overall in 250SX East rider point standings.

"It's been a really rough season so far," said Davalos. "I'm just happy I found out what is going on with me so I can work on it and make a plan on race day. My practices were solid all day. I was up around fifth in the main and was working on moving forward. I clipped the landing of a triple and it shot me up into the berm. I hit another guy and it caused me to pin it and I flew over the berm onto the concrete. I'm feeling pretty sore from the crash, but hopefully I will be ok for St. Louis."

[caption id="attachment_38153" align="alignleft" width="300"]
Photo: Simon Cudby[/caption]

Jason Anderson had a mid-pack start in his heat and continued to charge for the remainder of the race. He made a last-lap pass to finish third and transfer to the main. In the main, Anderson started in the back of the pack, but quickly moved his Husqvarna FC 450 into the top-10 by the second lap. He worked his way up to sixth by lap seven before getting his foot caught in a rut in the rhythm section causing a dramatic crash. He was unable to finish the race, and is currently eighth overall in 450SX rider point standings.

"After my toughest weekend of the year last weekend in Indy, I really wanted to rebound this weekend," said Anderson. "My practices were just average but I felt really good when it was time to race. I qualified directly out of my heat race and felt like I was riding well. I got a decent start in the main and made my way into the top 5. I thought I had at least a fourth in me, but then I went down hard in a rhythm section and I'm pretty beat up."

Source: Husqvarna Motorcycles

Detroit SX Overview And Point Standings
2015 AMA Supercross Detroit Image Gallery
(Click for full size images)
Overall Results - Supercross Class
| Pos. | # | Rider | Bike | Interval | Best Time |
| --- | --- | --- | --- | --- | --- |
| 1 | 3 | Eli Tomac | Honda CRF450 | 20 Laps | 51.967 |
| 2 | 5 | Ryan Dungey | KTM 450 SX-F Factory Edition | +11.897 | 52.589 |
| 3 | 14 | Cole Seely | Honda CRF450 | +18.919 | 52.952 |
| 4 | 22 | Chad Reed | Kawasaki KX450F | +27.865 | 53.677 |
| 5 | 18 | Davi Millsaps | Kawasaki KX450F | +30.023 | 53.411 |
| 6 | 33 | Josh Grant | Kawasaki KX450F | +38.609 | 53.951 |
| 7 | 20 | Broc Tickle | Suzuki RM-Z450 | +43.140 | 53.973 |
| 8 | 4 | Blake Baggett | Suzuki RM-Z450 | +50.171 | 53.898 |
| 9 | 29 | Andrew Short | KTM 450 SX-F Factory Edition | +50.735 | 54.505 |
| 10 | 10 | Justin Brayton | KTM 450 SX-F Factory Edition | 19 Laps | 55.129 |
| 11 | 11 | Kyle Chisholm | Kawasaki KX450F | +04.302 | 55.050 |
| 12 | 27 | Nicholas Wey | Kawasaki KX450F | +17.274 | 55.459 |
| 13 | 199 | Kyle Partridge | Honda CRF450 | +32.856 | 54.447 |
| 14 | 42 | Ben Lamay | Husqvarna FC450 | +45.460 | 56.645 |
| 15 | 46 | Phillip Nicoletti | Yamaha YZ450F | +59.666 | 55.393 |
| 16 | 58 | Killian Rusk | Yamaha YZ450F | 18 Laps | 57.039 |
| 17 | 69 | Ronnie Stewart | Suzuki RM-Z450 | +23.936 | 56.745 |
| 18 | 70 | Nicholas Schmidt | Suzuki RM-Z450 | 17 Laps | 56.343 |
| 19 | 314 | Alex Ray | Honda CRF450 | +1:31.540 | 56.976 |
| 20 | 224 | Heath Harrison | Kawasaki KX450F | +1:38.317 | 59.615 |
| 21 | 21 | Jason Anderson | Husqvarna FC450 | 5 Laps | 53.627 |
| 22 | 23 | Weston Peick | Yamaha YZ450F | +59.817 | 53.455 |
Rider Point Standings - Supercross Class
Statistics




Race Time: 17:28.856

Margin of Victory: 11.897

Winner's Avg. Laptime: 52.442

2nd Place Avg. Laptime: 53.037

Best Qualifier: #5 - Ryan Dungey

Holeshot: #29 - Andrew Short




( Race 12 of 17 )


Ryan Dungey - 271

Trey Canard - 204

Eli Tomac - 194

Cole Seely - 180

Chad Reed - 170

Ken Roczen - 156

Blake Baggett - 154

Jason Anderson - 145

Andrew Short - 136

Broc Tickle - 134

Manufacturer Point Standings - Supercross Class
( Race 12 of 17 )


KTM - 271

Honda - 268

Suzuki - 226

Kawasaki - 195

Yamaha - 159

Husqvarna - 151

Overall Results - Supercross Lites East Class
| Pos. | # | Rider | Bike | Interval | Best Time |
| --- | --- | --- | --- | --- | --- |
| 1 | 1 | Justin Bogle | Honda CRF250 | 15 Laps | 53.004 |
| 2 | 25 | Marvin Musquin | KTM 250 SX-F | +06.084 | 52.809 |
| 3 | 37 | Joey Savatgy | Kawasaki KX250F | +08.780 | 53.553 |
| 4 | 6 | Jeremy Martin | Yamaha YZ250F | +11.837 | 53.579 |
| 5 | 62 | Anthony Rodriguez | Yamaha YZ250F | +28.474 | 54.531 |
| 6 | 986 | Colt Nichols | Honda CRF250 | +30.060 | 54.465 |
| 7 | 35 | Kyle Cunningham | Honda CRF250 | +33.259 | 54.998 |
| 8 | 52 | Mitchell Oldenburg | Yamaha YZ250F | +42.356 | 55.321 |
| 9 | 49 | James Decotis | Honda CRF250 | +53.501 | 55.468 |
| 10 | 79 | Jace Owen | Honda CRF250 | +1:00.906 | 55.667 |
| 11 | 80 | RJ Hampshire | Honda CRF250 | 14 Laps | 54.771 |
| 12 | 77 | Justin Starling | Yamaha YZ250F | +05.935 | 56.434 |
| 13 | 55 | Kyle Peters | Honda CRF250 | +11.349 | 56.647 |
| 14 | 393 | Daniel Herrlein | Honda CRF250 | +15.892 | 57.715 |
| 15 | 74 | Zack Williams | Honda CRF250 | +18.364 | 57.758 |
| 16 | 64 | AJ Catanzaro | Suzuki RM-Z250 | +20.239 | 56.588 |
| 17 | 395 | Taylor Potter | Honda CRF250 | +22.152 | 57.733 |
| 18 | 240 | Bryce Stewart | Yamaha YZ250F | 13 Laps | 58.023 |
| 19 | 385 | Adam Gulley | Kawasaki KX250F | +46.516 | 1:00.366 |
| 20 | 73 | Gannon Audette | Kawasaki KX250F | 10 Laps | 56.616 |
| 21 | 126 | Jordon Smith | Honda CRF250 | 9 Laps | 56.667 |
| 22 | 47 | Martin Davalos | Husqvarna FC250 | DNF | |
Rider Point Standings - Supercross Lites East Class
Statistics




Race Time: 13:10.764

Margin of Victory: 06.084

Winner's Avg. Laptime: 52.717

2nd Place Avg. Laptime: 53.123

Best Qualifier: #1 - Justin Bogle

Holeshot: #1 - Justin Bogle




( Race 6 of 9 )


Marvin Musquin - 144

Justin Bogle - 131

Jeremy Martin - 103

Joey Savatgy - 93

RJ Hampshire - 84

James Decotis - 69

Anthony Rodriguez - 68

Kyle Peters - 65

Martin Davalos - 63

Vince Friese - 58

Manufacturer Point Standings - Supercross Lites Class
( Race 12 of 17 )


KTM - 265

Yamaha - 251

Honda - 233

Kawasaki - 213

Husqvarna - 166

Suzuki - 13