2016 Victory Magnum X-1: An Audio-Driven Ride
Chaparral Motorsports
|
March 19, 2015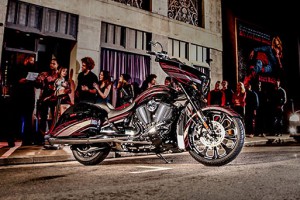 Typically, people don't think of motorcycles as the kind of ride that has decked-out audio systems that put ghetto-blasters to shame, but the Polaris-owned Victory did just that. The new 2016 Victory Magnum X-1 recently debuted at the Daytona Bike Week, and its immediate distinction was its absolutely monstrous sound system included on the bike.

Essentially, the Magnum X-1 is a remodeled and completely updated version the original Magnum. However, this new ride has increased appeal with more chrome detailing and a bolder style that truly sets the ride apart in terms of manufacture-based motorcycles.

Going Above And Beyond Previous Sound Systems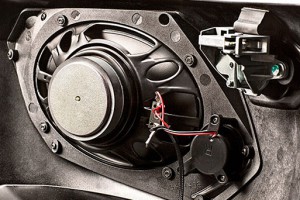 The bike's sound system is twice as loud as its previous model and four times as loud as the Victory Cross Country, a typically standard ride for those who want an audio system for long touring trips. Its custom paint job features Electric Red blended with Gloss Black and Platinum, and it will certainly catch eyes. Additionally, the bike's smoke-tinted LED headlight is a massive 74 percent brighter than the Cross Country.

The Magnum X-1 has an enormous 21-inch front wheel and 16-inch rear wheel. The custom black-billet wheels are made out of a single block of aluminum to give the bike power, strength and lightweight wheels. The bike could certainly be a trend-setter with modern cruisers and provide motorcyclists with a whole new way to ride - loud with speakers blaring.

Bike Made For Those Wanting Premium Sound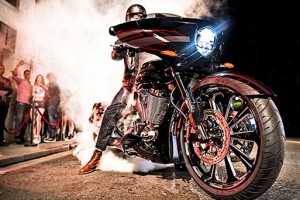 Victory described it as a ride for someone who wants to measure their trips "in miles and decibels." The Magnum X-1 comes with 10 speakers and 200 watts of power - one of the biggest sound systems ever included on a motorcycle without resorting to a custom shop.

The bike is named after the famous plane, the Bell X-1, which was the first to break the sound barrier. Its audio power is much larger than any other Victory motorcycle and even has four more speakers than its previous model.

To add to it, the Magnum X-1 also has a 1,731cc Freedom V-twin engine and a six-speed transmission and belt final drive. The bike brings plenty of power to haul around its incredible sound system, and the Magnum X-1 is expected to hit the market in April. The current pricetag on the ride sets it at $24,999.

2016 Victory Magnum X-1 Image Gallery
(Click for full size images)