Broc Tickle Leads The Suzuki RM-Z450 To Another Top 10 Finish
Chaparral Motorsports
|
March 18, 2015
[caption id="attachment_38336" align="alignright" width="300"]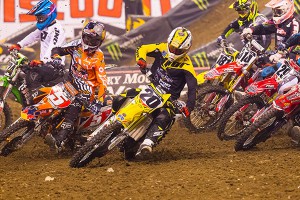 Photo: SMAI[/caption]

Broc Tickle continued his strong showings and Vicki Golden came just 6-100ths of a second short of making history Saturday night at the Indy Supercross in front of a packed house of 60,491 fans in Lucas Oil Stadium.

Tickle raced his RCH Soaring Eagle/Jimmy Johns/Suzuki Factory Racing RM-Z450 to a solid eighth-place finish in the Indy Supercross final. It marked the eighth top-10 result for Tickle in 2015 and kept him ranked inside the top 10 in the series standings after 11 of 17 rounds of the AMA/FIM Supercross Series.

In addition to Tickle's solid showing, a lot of attention was given to Vicki Golden in Indianapolis. She turned in her strongest performance of the season and came within 6-100ths of a second of qualifying for the evening program in the 250 East Supercross division. She qualified 42nd, and one rider who qualified in front of her crashed and withdrew from competition. That meant Golden was the first alternate. Announcers kept track of Golden's performance in timed qualifying and she was bolstered by the backing from fans in Indy.

Yoshimura Suzuki Factory Racing's Blake Baggett went through a sub-par night at Indy. He crashed and was stuck beneath his bike for almost a full lap before track marshals could free him. Once on the bike, Baggett swung back into action and ran a solid pace on his nimble RM-Z450, but being a lap down, he was only able to garner 15th-place. It was his worst finish of the year, this coming off a podium result at Daytona only a week earlier. Fortunately, in spite of his tough night, Baggett didn't lose a position in the standings. He currently sits in eighth.

Tickle's Top 10
[caption id="attachment_38338" align="alignright" width="300"]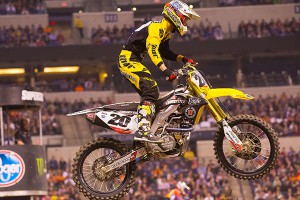 Photo: SMAI[/caption]

Broc Tickle just keeps turning in strong performances on his powerful RCH Suzuki RM-Z450 this season, and at Indy, he was the top scoring Suzuki rider in eighth. Even though he came through with a good result, Tickle admits he was hoping for a little more.

"I was really looking forward to coming to this race," Tickle explained. "Last year I got a fourth here. I knew there was going to be ruts and what not and I enjoy those, but today I struggled a little with speed. I tried with each practice to get better and we made some improvements.

"In the main event I think I started around 12th or 13th and worked my way up to eighth and stayed there. The track was tough tonight. I wasn't flowing and that's what it was all about here. I'm a little frustrated because I know I can excel in these kinds of conditions. I'll regroup and see what we can do next weekend."

Golden Getting Oh So Close
[caption id="attachment_38334" align="alignright" width="300"]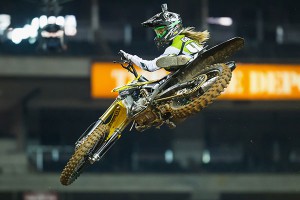 Photo: SMAI[/caption]

A blink of an eye - that's about how close HRT Racing Suzuki RM-Z250 rider Vicki Golden came to making history in Indianapolis. In qualifying she came up a mere 6-100ths of a second short of qualifying for the evening program. It was easily the closest Golden has come this year in her quest to become the first female racer to make an evening program at an AMA/FIM Supercross event.

"Indy went way better than any round so far," Golden said with a smile. "I finally felt like everything went smoothly. I just felt good and had a better attitude, because it feels good when things go right. I got really sick just before Daytona and that's one of the reasons I sat out that race."

The time away from the track actually did her good.

"I really felt rejuvenated," she said. "I came in and rode the track on press day and felt great. I needed to work on a few things and they came to me instantly in the first practice. I'm just happy with how things went. I rode confident and performed how I thought I should be. That's a huge step. I'm happy with how I rode even though we didn't quite get in there. I went for a triple (in the final timed practice) and came up short and clipped it and did a sweet little endo, but I'm happy that I was comfortable enough to go for it. We're getting there. If I make just a little more progress we should be in next weekend."

Pipes Makes The Main
[caption id="attachment_38337" align="alignright" width="300"]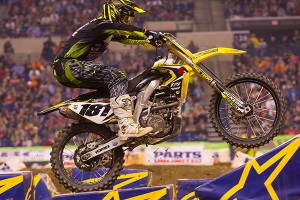 Photo: SMAI[/caption]

Another highlight for Suzuki at Indy was Dustin Pipes making his first Main event of the season on his Tpj.com/Fly Racing Suzuki RM-Z450.

"In the LCQ I was able to work my way up from eighth to finish fourth to make my first Main," Pipes said. "I'm stoked about that. My Suzuki was working great. I'm so excited to make my first Main. I was a little nervous. Hopefully next week I can get back in and ride a little better."

Congratulations also go out to Tevin Tapia, Alexander Nagy, Steve Roman, Ryan Smith and Robert Lind who all qualified into the Supercross evening program aboard Suzuki RM-Z450s. In 250 East action AJ Catanzaro also made the transfer to the evening program on his Suzuki RM-Z250.

The series moves next Saturday, March 21 to Ford Field in Detroit, Michigan. The race will be nationally televised live starting at 7:00 pm Eastern on Fox Sports 1.

Yoshimura Suzuki's Blake Baggett will be making an appearance at Rosenau Powersports, located at 24732 Ford Road, Dearborn Heights, MI 48127 on Friday, March 20 from 6:00-7:00 pm.

About Suzuki:
Suzuki Motor of America, Inc. (SMAI) distributes Motorcycles, ATVs, Scooters, Outboard Motors and Automotive Parts and Accessories via an extensive dealer network throughout 49 states. Suzuki Motor Corporation (SMC), based in Hamamatsu, Japan, is a diversified worldwide manufacturer of Motorcycles, ATVs, Scooters, Automobiles and Outboard Motors. Founded in 1909 and incorporated in 1920, SMC has 147 distributors in 201 countries. For more information, visit www.suzuki.com.
2015 Indianapolis SX Suzuki Racing Image Gallery
(Click for full size images)


Source: Suzuki Factory Racing