AMA Announces KTM RC 390 Cup Rules For MotoAmerica
Chaparral Motorsports
|
March 13, 2015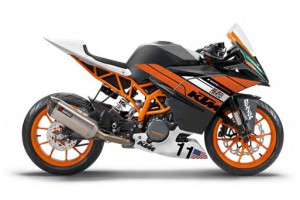 The American Motorcyclist Association has published the technical rules for the 2015 KTM RC 390 Cup class for MotoAmerica, the new home of the AMA Superbike Series.

The technical rules cover motorcycle modifications, tire use and other class-specific regulations.

The KTM RC 390 Cup is a spec class that features competition on KTM RC 390 motorcycles. The class is intended to develop young road racers for professional competition. For bike information and availability, see www.ktmusa.com.

The rules are available at www.americanmotorcyclist.com/racing/roadracing/roadracingrules.aspx.

About MotoAmerica
MotoAmerica is the new North American road racing series created in 2014. MotoAmerica is an affiliate of KRAVE Group LLC, a partnership that includes three-time 500cc World Champion, two-time AMA Superbike Champion, and AMA Hall of Fame Inductee Wayne Rainey, ex-racer and former manager of Team Roberts Chuck Aksland, motorsports marketing executive Terry Karges, and businessman Richard Varner.
About the American Motorcyclist Association
Founded in 1924, the AMA is a not-for-profit member-based association whose mission is to promote the motorcycle lifestyle and protect the future of motorcycling. As the world's largest motorcycling rights and event sanctioning organization, the AMA advocates for riders' interests at all levels of government and sanctions thousands of competition and recreational events every year. The AMA also provides money-saving discounts on products and services for its members. Through the AMA Motorcycle Hall of Fame in Pickerington, Ohio, the AMA honors the heroes and heritage of motorcycling. For more information, visit www.americanmotorcyclist.com.