Kailub Russell And Kacy Martinez Take Wins At Opening GNCC
Chaparral Motorsports
|
March 10, 2015
[caption id="attachment_37929" align="alignright" width="300"]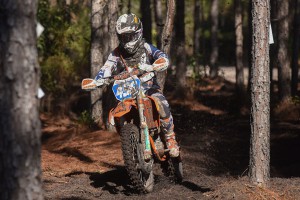 Photo: Ken Hill[/caption]

FMF KTM Factory riders Kailub Russell and Kacy Martinez took wins at the opening round of the GNCC Series in the XC1 Pro and WXC classes respectively.

Martinez was up first in the morning race. She got a 10th place start but passed into the lead within the first two miles. Once in the lead, she checked out on the field and pulled to an almost two minute lead over the next closest women's rider. Martinez also rode a strong enough race to secure the overall of the entire morning classes by almost a minute.

"It feels really good to get a win at the first round," stated Martinez. "The course was challenging but really fun in the second half of the race once I knew what lines to take. I know the next round will be different conditions but I feel pretty confident with my bike and am looking forward to the challenge."

[caption id="attachment_37930" align="alignleft" width="300"]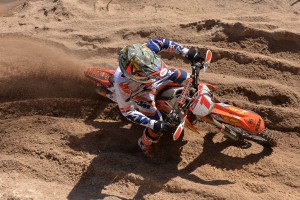 Photo: Ken Hill[/caption]

Russell got a great start off the line in the XC1 Pro class coming around the first corner in 2nd place. He quickly moved into the lead and began to pull from the pack. He had over a 20 second lead after the first lap and continued to pull a gap eventually winning the dirt bike race by over two minutes from the 2nd place rider.

This marked the first time Russell has won the Florida GNCC since he moved up to the XC1 Pro class. "I've always had a few issues at this race," stated Russell. "It feels really good to finally get a win in Florida and start the season off right. It was really hot today which I have not been used to lately but my conditioning over the winter break paid off and I felt pretty good."

The rider's will now head to Washington, GA to compete in round 2 of the series on March 15, 2015.

Overall Results - XC1 Pro and XC2 Lites Combined
[caption id="attachment_37928" align="alignright" width="300"]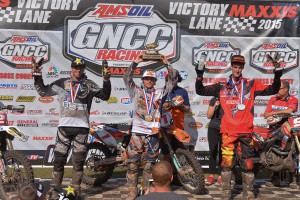 Photo: Ken Hill[/caption]



Kailub Russell - KTM

Josh Strang

Chris Bach

Thad DuVall

Tyler Medaglia

Nick Davis

Ryan Sipes

Ricky Russell

Jason Thomas - KTM

Grant Baylor

Overall Results - WXC Class


Kacy Martinez - KTM

Jessica Patterson

Ashley Copeland - KTM

Mandi Mastin - KTM

Becca Sheets

Shawn Davidson

Rachel Gutish - KTM

Shelby Turner - KTM

Tarah Gieger

Kendall LaFollette

Source: KTM North America