Cody Webb Takes Daytona GEICO EnduroCross Opener
Chaparral Motorsports
|
March 8, 2015
[caption id="attachment_37927" align="alignright" width="300"]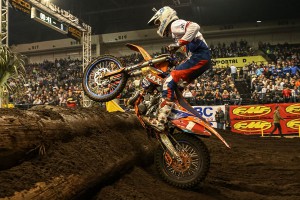 Photo: Drew Ruiz[/caption]

Cody Webb kicked off the defense of his GEICO EnduroCross AMA Championship in style by taking the win at the opening round inside the Ocean Center in Daytona Beach, Florida. The FMF/RPM/KTM Team Maxxis rider had a back-and-forth battle with Kyle Redmond on the Factory Beta early in the race and survived a crash and a bad start to take the win. Redmond eventually had a few crashes and battled back to finish third. Rockstar, Lucas Oil Husqvarna-backed Colton Haaker rode a steady race to take second.

Mike Brown had the top gate pick by setting the fastest evening Hot Lap and took advantage of that to rocket into the lead and take the Nexen Tire $500 holeshot award. Brown led the first lap but then had the first of several crashes on lap two and eventually finished sixth.

Webb quickly recovered from a bad start to get into third on lap two and take the lead on lap three. He appeared to be on his way to an easy win but Redmond, who took over Webb's place on the Factory Beta for 2015, kept the pressure on and Webb went down. Redmond led for a few laps and the two battled until a mistake pushed Redmond back. From the mid way point in the fifteen lap main, Webb steadily opened his lead on Haaker and eventually finished with a 13 second lead to take the win and the points lead.

"Honestly, a win's a win but that one sucked," Webb said after the race. "I made a lot of mistakes there in the beginning and bent my lever up but I recovered and everybody one else had their troubles so I got the victory. Now I am looking forward to going to Salt Lake in a few weeks."

[caption id="attachment_37926" align="alignleft" width="300"]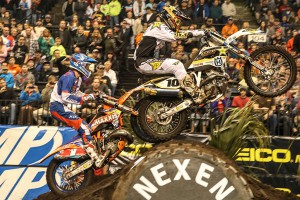 Photo: Drew Ruiz[/caption]

Haaker had a great debut on his Factory-backed Husqvarna finishing a solid second position despite coming into the series injured. "I came into the night with three broken ribs and a lacerated spleen from a crash two weeks ago," Haaker said. "I asked Fly to send me out a chest protector so I could try to race and do my best. The track tonight was different than we've ever had with the crazy coffee grounds-like dirt. So, I'm super excited to start the series off in second after all that."

SRT Racing-backed Cory Graffunder had a great ride for his new team to take fourth. He was in contention for a podium position but got stuck behind lapped riders multiple times and fell as far back as seventh before moving forward again. Beta USA's Max Gerston survived a lot of carnage and an off track excursion to finish fifth.

Brown was sixth ahead of Bobby Prochnau. Kevin Rookstool battled inside the top five and eventually finished eighth. He will be racing the Daytona Supercross on Saturday and the opening round of the GNCC series on Sunday for a Bike Week trifecta like no other.

Ty Cullins finished ninth in his first pro EnduroCross race on the Factory Beta. Destry Abbott rounded out the top ten on his Kawasaki.

[caption id="attachment_37922" align="alignright" width="300"]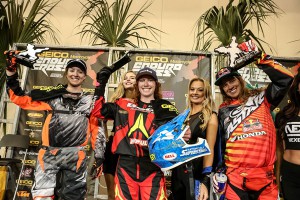 Photo: Drew Ruiz[/caption]

In the Women's class, Morgan Tanke took the win in her first race for the Factory Beta team. She survived a last lap battle with Shelby Turner and Tarah Geiger who finished second and third, respectfully.

All of the EnduroCross events also include support classes and Cooper Abbott took the win in the Open Amateur class over Quinn Wentzel and Steve Deines. Canada's Stephen Foord won the Vet class ahead of former top GNCC racer Jason Raines. Jonny Barber took third. Ty Cullins had a great battle with Quinn Wentzel to take the TrialsCross class win and Chris Venditti took third.

The next round of the GEICO AMA EnduroCross series will take place at Energy Solutions Arena in Salt Lake City, Utah on Saturday, March 21st.

2015 AMA EnduroCross Daytona Image Gallery
(Click for full size images)
2015 AMA EnduroCross Daytona Results


Cody Webb - KTM

Colton Haaker - Husqvarna

Kyle Redmond - Beta

Cory Graffunder - KTM

Max Gerston - Beta

Mike Brown - Husqvarna

Bobby Prochnau - KTM

Kevin Rookstool - Suzuki

Ty Cullins - Beta

Destry Abbott - Kawasaki

Ty Tremaine - KTM

Nick Thompson - KTM

Cooper Abbott Kawasaki

Source: EnduroCross