Polaris Makes 2015 Slingshot Available To The Public
Chaparral Motorsports
|
March 7, 2015
[caption id="attachment_37921" align="alignright" width="300"]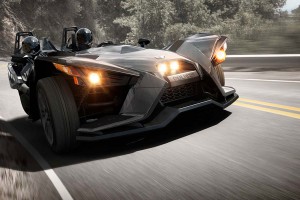 2015 Polaris Slingshot[/caption]

Earlier in the summer of 2014, viewers finally got their first glimpse of the 2015 Polaris Slingshot, which will now give some competition to the Cam-Am Spyder in the world of alternative motorcycles.

The Slingshot is unique in the fact that it has two front wheels, one rear wheel and two bucket seats for a driver and a passenger. The entire ride is weather-proof and ultraviolet-proof, which allows it sit outside in any weather conditions. There's no top to the Slingshot, but its roll bars are set behind the driver and passenger seats.

This one-of-a-kind ride has a 2,384 cc inline-Four Ecotec engine, which can push 173 horsepower at 6,200 rpm with an estimated 166 feet-pounds of torque, the source reported. Simply put, the Slingshot has much more power and force than the Cam-Am, but it also gives riders a completely different style of a so-called motorcycle.

Polaris Doesn't Hold Back On Electronics
[caption id="attachment_37920" align="alignright" width="300"]
2015 Polaris Slingshot[/caption]

In the Cam-Am Spyder's electronics, there are Vehicle Stability Systems that block rear-wheel spinning at a certain threshold for safety reasons. However, Polaris frees riders up with an advanced system that gives the Slingshot better rear-wheel spin and a ton of force that will even make the front wheels peel out.

While the three-wheeler inspired ride gives the sense of an easy-to-roll vehicle, the Slingshot actually has a stability control system and a complete three-wheel disc brake and ABS system to keep riders safe.

The Slingshot also comes with a built-in electronic system that gives riders gauge readings that aren't the manual tachometer and speedometer. Also riders can connect their phone to the system through Bluetooth and avoid any distracted driving.

More Of A Car Feel
[caption id="attachment_37917" align="alignright" width="300"]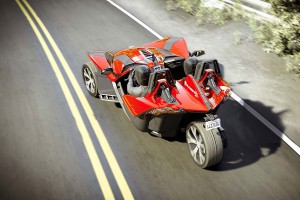 2015 Polaris Slingshot SL[/caption]

Calling the Slingshot a motorcycle almost doesn't feel right as this vehicle definitely has more of a car-vibe. It's steering wheel and quick-shift five-speed transmission makes it easy to get through the first three gears, but once you hit the latter two, you're reaching highway speeds with the Slingshot.

Polaris made their vehicle available for $19,999 and an SL model for $23,999, which comes in Crimson Red and with larger wheels. The ride also has a six-speaker stereo system and a 4.3-inch backup camera. Its small windshield actually protects riders really well, and allows the driver and the passenger to have easy conversations, even while wearing full-faced helmets.

2015 Polaris Slingshot Image and Video Gallery
(Click for full size images)
2015 Polaris Slingshot - An Introduction
https://www.youtube.com/watch?feature=player_embedded&v=lyDN3wI--Mw

2015 Polaris Slingshot - Features and Benefits
https://www.youtube.com/watch?feature=player_embedded&v=o0RhrBZObdg