2015 AMA Supercross Atlanta 2 Race Results
Chaparral Motorsports
|
March 2, 2015
Dungey Brings Home Third Monster Energy Supercross Win Of 2015 In Atlanta
Musquin Becomes First Two-Time Winner in Eastern Regional 250SX Class Competition
[caption id="attachment_38038" align="alignright" width="200"]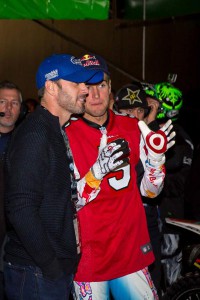 Photo: Rich Shephard[/caption]

Red Bull/KTM's Ryan Dungey became the first three-time Monster Energy AMA Supercross, an FIM World Championship, race winner of the season tonight at the Georgia Dome before 53,537 fans. Red Bull/KTM's Marvin Musquin led wire-to-wire en route to his second Eastern Regional 250SX Class Championship win of the season. This is the second time this season that KTM swept both Main Events.

NASCAR legend Jimmie Johnson, who is a six-time champion and winner of 70 Cup races, served the Grand Marshall at tonight's race.

A large contingent of NASCAR racers and teams were on hand for tonight's race.

Autotrader.com/Toyota/Yamaha's Weston Peick won his first SupercrossLive.com Holeshot Award of the season when the gates dropped on the 450SX Class Main Event. Discount Tire/TwoTwo Motorsports' Chad Reed, who won last week's race, followed Peick in second place with Dungey in third.

[caption id="attachment_38037" align="alignleft" width="200"]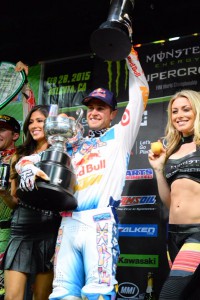 Photo: Simon Cudby[/caption]

Reed made a pass on Peick during the opening lap, but Peick answered back and took over the lead. Reed crashed on Lap 2 and remounted in 13th place. Team Honda HRC's Trey Canard took over the number-three spot on Lap 5, and on the same lap, Dungey passed Peick for the lead.

On Lap 6, Canard moved into second place, and on the next lap, GEICO Honda's Eli Tomac moved into third place. Tomac passed the fellow Honda ride on lap 16, turning in his best finish since the third race in Anaheim. Canard finished third, his fourth consecutive podium finish. Reed went on to finish in seventh place.

In six of seven career starts in Atlanta, Dungey has six podium finishes and three wins. He now has 17 career wins and holds a 30-point lead in season standings.

"I was there on the start," said Tomac. "Just to be here on the podium is huge for me. Second place is great, and I will go after the number-one position."

[caption id="attachment_38036" align="alignright" width="300"]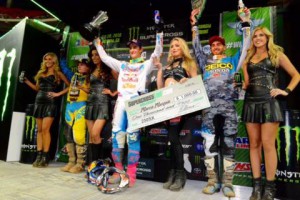 Photo: Simon Cudby[/caption]

Dungey's second place at the first race in Atlanta and his win tonight earned him the inaugural "Duel in The Dome" trophy.

"With Marvin's win [Musquin], it was perfect execution," said Dungey. "The Honda boys were breathing on me, but I was able to put some distance between us as the race went on. Winning the Duel in the Dome is icing on top of a great race."

Musquin captured the Supercrosslive.com Holeshot Award in the Eastern Regional 250SX Class Main Event with Monster Energy/Pro Circuit Kawasaki's Joey Savatgy on his rear wheel. As Savatgy ran into traffic, his teammate Arnaud Tonus took over the number-two position.

Harley-Davidson/Trail Jesters/SOB MX's Jimmy Decotis quickly moved into third place on the opening lap. On Lap 3, last week's winner, Jeremy Martin, advanced to second place, passing Tonus. Defending Eastern Regional 250SX Class Champion Justin Bogle put his GEICO Honda in third place on Lap 4.

[caption id="attachment_38035" align="alignleft" width="300"]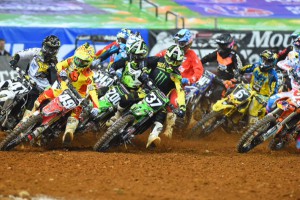 Photo: Simon Cudby[/caption]

Yamalube/Star Racing/Yamaha's Martin finished second, while Bogle finished third for the second consecutive weekend.

Musquin gave KTM their first-ever win in Atlanta and the sixth win of his career. Musquin now leads the championship by seven points.

"I made some passes in the early part of the race to get up front," said Martin. "I tried to run Marvin [Musquin] down but he was the better man tonight."

"Once again, the start was key to getting up front," said Musquin. "I proved in my Heat Race that if you don't get a good start, you can't win. I was bummed with my second-place finish last weekend, so I am really happy to get this win tonight."

Supercross LIVE Highlights 450SX Class Atlanta 2
https://www.youtube.com/watch?feature=player_embedded&v=N_nC3QBxXyk

Supercross LIVE Highlights East 250SX Class Atlanta 2
https://www.youtube.com/watch?feature=player_embedded&v=vqRiDtX_C-s

Source: Supercross Live

Dungey Earns Victory At Atlanta 2
[caption id="attachment_38034" align="alignright" width="300"]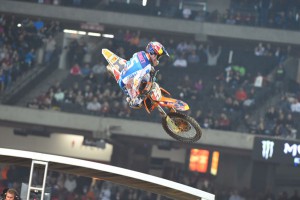 Photo: Simon Cudby[/caption]

Red Bull KTM factory rider Ryan Dungey took the victory by a large gap of seven seconds over the next closest competitor at the ninth round of the Monster Energy Supercross Series, an FIM Championship, held at the Georgia Dome. Dungey's victory was the second for the Red Bull KTM Team at the Atlanta round as his teammate Marvin Musquin took an equally dominating win in the East 250SX class.

Ryan Dungey was successful from the start of the day turning the fastest lap in the afternoon practice sessions. His fast time earned him first gate pick for the evening's heat race.

Dungey got his KTM 450 SX-F Factory Edition off to a great start in the second 450SX heat pulling the holeshot and leading the field around the first turn. He held on to that lead for the six-lap race to take an easy win and a transfer spot to the main event.

[caption id="attachment_38033" align="alignleft" width="300"]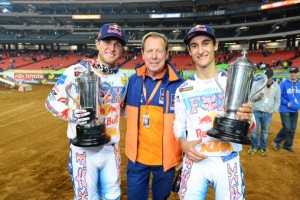 Photo: Simon Cudby[/caption]

When the gate dropped for the main event, Dungey leaped quickly out front and garnered a 3rd place start off the line. When the 2nd place rider fell on the second lap, Dungey was able to move around him and into the runner-up position. Dungey then began to reel in the lead ride of Weston Peick. On lap three he was all over Peick applying pressure around every corner. Two laps later, he made a smooth inside pass to get around Peick and take over the lead. Once out front, Dungey pulled away from the rest of the field and led the remaining ten laps. He crossed the finish line to collect a win approximately seven seconds ahead of the competition.

Dungey's win in Atlanta increases his points lead and allows him to maintain the championship leading red-plate heading to Daytona. Now halfway through the season, Dungey leads the championship by 30 points.

"It's a happy day for our team with Marvin and I both taking wins," stated Dungey. "I was able to make some quick passes and my bike was flawless. I can't thank my Red Bull KTM Team enough for all of their support."

Next Round: Daytona, FL - March 7, 2015

Supercross LIVE Interview Ryan Dungey Atlanta 2
https://www.youtube.com/watch?feature=player_embedded&v=mGNRwOXLbEE

Source: KTM North America

Musquin Wins Atlanta 2 And Stretches Points Lead
[caption id="attachment_38031" align="alignright" width="200"]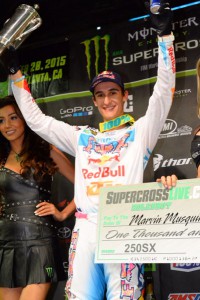 Photo: Simon Cudby[/caption]

Red Bull KTM factory rider Marvin Musquin got to throw a heel-clicker for the second time this season when he won the third round of the East 250SX Championship held at the Georgia Dome.

Marvin Musquin earned the fastest lap time in the afternoon practice session to set the pace for the remainder of the night. He got a 3rd place start in his heat race and began to push toward the lead riders. He made the pass for 2nd near the end of the race but fell in the next turn losing the spot he had gained. He quickly recovered and finished the heat in 3rd.

Musquin pulled a massive holeshot on his KTM 250 SX-F and led the field around the track for the opening lap. Musquin never looked back and went on to lead every lap of the 250SX main event to mirror the win he took at the opening round of the East Championship. Musquin crossed the checkers to take the win and pull-off his signature heel-clicker six seconds ahead of the 2nd place ride.

[caption id="attachment_38032" align="alignleft" width="300"]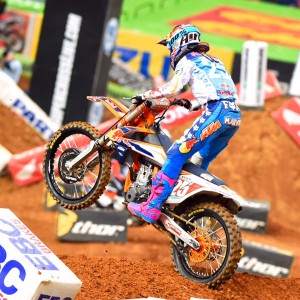 Photo: Simon Cudby[/caption]

Now heading to the fourth round of the series, Musquin maintains the red-plate and leads the championship by seven points.

"The key is to get a good start," stated Musquin on the podium. "My bike is so strong off the start which helps me so much in these races. I'm really happy to extend the points lead and am looking forward to Daytona next weekend as it is typically a challenging race that pushes all of us riders."

Next Round: Daytona, FL - March 7, 2015

Supercross LIVE Interview Marvin Musquin Atlanta 2
https://www.youtube.com/watch?feature=player_embedded&v=t2eH63gMLhI

Source: KTM North America

Tomac Returns To Podium At Atlanta 2
[caption id="attachment_38030" align="alignright" width="300"]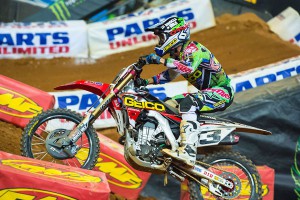 Photo: Simon Cudby[/caption]

GEICO Honda 450SX rider Eli Tomac returned to the podium with a hard-fought second-place finish on Saturday night at the Georgia Dome.

Tomac bounced back from a disappointing race in the first Atlanta event last week and was strong all day this time around.

"For me, now, it's an improvement," Tomac said. "I didn't hit the dirt with my body, so that was nice. Three weeks in a row before this I went down, so I look forward to Daytona now."

The podium was Tomac's fourth of the season and his first since the Anaheim 3 race. He remains fourth in the 450cc points standings halfway through the Supercross season.

[caption id="attachment_38029" align="alignleft" width="300"]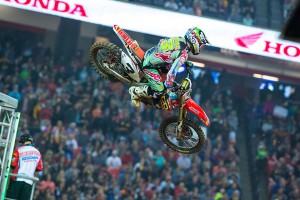 Photo: Simon Cudby[/caption]

Tomac was fourth at the start of the 20-lap main event but quickly worked his way into third. He batted Weston Pieck and then Trey Canard in an effort to work his way up the standings.

"That was a good battle," Tomac said. "I felt like I should've been better when Trey was around me. I was in defense mode instead of attack mode, and I was thinking too much about him. I should've been charging. I've got to do better next time."

But once Tomac got by Pieck, he picked up the pace and ran Canard down.

"I did regroup and put a little more pressure on him," Tomac said. "I ran out of tear-offs, so I was a little bit bummed there but I was feeling better."

[caption id="attachment_38028" align="alignright" width="300"]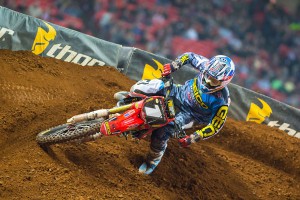 Photo: Simon Cudby[/caption]

The sandy areas of the Atlanta track played havoc for riders Saturday night. Tomac looked like he had competed in a motocross race because of all the sand flying around.

"The lap before Trey made the bobble and gave me second, that's when I ran out of tear-offs," Tomac said. "There was some bad roosts and a lot of sand on the over-under."

Still, Tomac now has some momentum as Supercross heads to Daytona International Speedway next weekend.

"I'm pretty happy with the bike," Tomac said. "I only made a few changes all year, and I think I'm in a pretty good spot. I just need to improve myself and go get another win."

Source: GEICO Honda

Plenty Of Fight Left In RCH Suzuki Factory Racing Following Atlanta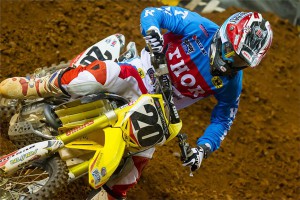 In the ultra-competitive world of Monster Energy Supercross, there's one sure bet. The pendulum swings both ways and stays in perpetual motion. On the surface, the fourth- and eighth-place finishes may not represent a tremendous shift, but for RCH Soaring Eagle/Jimmy Johns/Suzuki Factory Racing, the way those two finishes played out speaks volumes.

For Broc Tickle, rider of RCH's No. 20 Suzuki RM-Z450, Saturday night's fourth-place effort in the Georgia Dome matches his career-best 450SX finish and represents continued forward progress since being sidelined for one race following an ugly crash in Oakland, just over a month ago.

Tickle finished fifth in his heat Saturday night but went on to pick up his second semifinal win of the year. His solid showing in the main proved the semi was no fluke. The Holly, Mich., rider remains 10th in the 450SX Championship standings and now trials ninth-place Andrew Short by a slim four-point margin.

"Like I said after last weekend, Atlanta just has good vibes for me," explained Tickle following Round 9. "It felt like I was almost riding effortlessly. The track was coming to me really easily. I knew I just needed to have a good flow and ride smart. That's what my mechanic Ritchie (Matchett) and I worked on all week. We focused on not clipping things and riding clean. I think that helped me on Saturday. That's why I was good in practice and in the main event. Towards the end, I tightened up a little bit because the track started getting blown out so I just tried to clean everything up and push through the last five or six laps. We've built some great momentum over the last two weeks. We're in a good place. It feels good."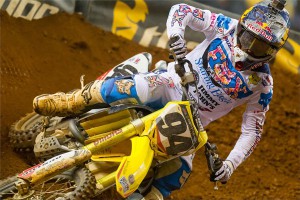 On the flip side, Ken Roczen fought his way through an ankle injury to finish eighth, but continued concern about his ankle sent the 2014 outdoor champion for an MRI Monday morning. Roczen suffered a pair of incidents two weeks ago at the Georgia Dome, and he aggravated the same ankle during Saturday's final qualifying session. Still, the 20-year-old German powered through the pain to notch a respectable eighth-place finish.

Roczen is still third in the standings but now trails second-place Trey Canard by 13 points and leader Ryan Dungey by 43.

"Obviously, our night didn't go as planned," commented Roczen. "There are some things that I have to figure out. I have to get an MRI on my ankle this week so we know what we have to do, pushing forward. We need to figure out if I can keep riding and keep training or if its better to take some time off and let it heal. It wasn't that great of a night. We'll figure it out and be back as strong as ever."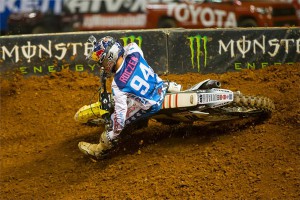 While both of his riders finished in the top 10, RCH co-owner Carey Hart knows plenty of work remains to be done. Hart was obviously pleased with Tickle's performance but, at the same time, perplexed with Roczen's last two outings.

"It couldn't have been a much better night for Broc," said Hart. "He rode really strong all day long. He's been putting in the work and it's showing. I couldn't be happier for him. At the same time, it's been a tough couple of weeks for Ken. We spent a lot of time together after the race, trying to figure out how to get that program back on track. I think we know what we need to do to get him back in the same frame of mind that he had at the beginning of the season. We're going to hit the reset button this week and go from there but first things first. He needs to get his ankle checked out. After that, we'll have a better idea where we're at."

Monster Energy Supercross travels to the World Center of Racing this weekend for the Daytona Supercross by Honda. Round 10 of the 2015 Supercross Championship will be televised live on Fox Sports 1 Saturday, March 7 beginning at 4:30 p.m. Pacific Standard Time, 7:30 p.m. Eastern.

Source: RCH Racing

Kawasaki Returns to Atlanta Looking for Redemption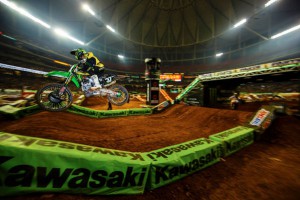 Monster Energy AMA Supercross, an FIM Championship made its second stop in as many weeks at Georgia Dome in Atlanta on Saturday. In the 250SX class, Monster Energy/Pro Circuit/Kawasaki's Joey Savatgy rode through pain in his right hand to finish fourth while his teammate Arnaud Tonus earned his career best finish in seventh.

In the 450SX class Discount Tire/TwoTwo Motorsports Kawasaki's Josh Grant and Chad Reed finished sixth and seventh respectively. Monster Energy Kawasaki's Davi Millsaps battled within the top 10 for the majority of the main event and finished 11th.

Overcoming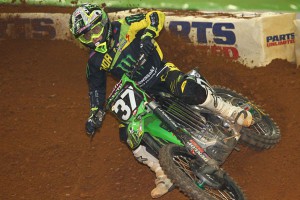 Savatgy returned to Atlanta looking for a spot on the podium. After getting his first career heat race win last weekend, he was riding a wave of momentum into the Georgia Dome on Saturday night. During the first untimed practice a couple of crashes set Savatgy back, as he injured his right hand. He was able to go out in qualifying practice and finished second in his heat race.

In the main event Savatgy got a sixth place start and slowly worked his way forward to fourth."It wasn't the best start for me today, with a couple of crashes in practice." said Savatgy. "Getting fourth isn't what I want to do, but it has been a bit of a rough stretch. Everyone has some nagging injuries and for me I wasn't able to ride during the week. I was able to get a better start tonight and that is something I want to build off of."

TwoTwo On Track

[caption id="attachment_38019" align="alignright" width="300"]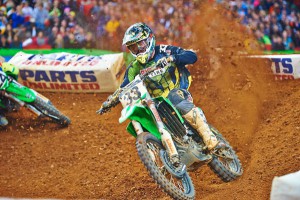 Photo: Jacob Khan[/caption]

Everyone is always trying to impress their boss, and for Grant that job is tougher when he is racing against his team owner Reed. On Saturday night, Reed jumped out to an early lead but a small mistake in a corner cost him and set up a race long duel with his teammate Grant. The two battled for the last 15 laps of the race with Grant holding on for sixth place.

Staying on Course

[caption id="attachment_38015" align="alignright" width="300"]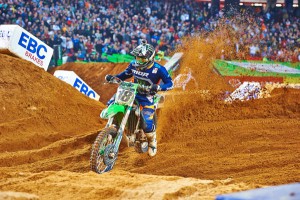 Photo: Jacob Khan[/caption]

Millsaps was strong again all day as he was racing in front of his hometown fans. The Cairo, Georgia native came back to Atlanta looking to give the crowd something to cheer about.

Millsaps looked good in his semi race, running some of his fastest laps of the day to finish second and move into the main event. In the feature race, he was only able to get a mid-pack start but slowly worked his way up through the field. He was gaining on sixth before a small mistake on lap 11 cost him time and led to an 11th place result."This wasn't the finish I was looking for," said Millsaps. "We were able to make some adjustments on the bike this week and I feel like we are getting closer each race. Heading to Daytona the track is so different from our normal supercross events, I'm hoping we can show off the power of my KX450F."

Making Progress

[caption id="attachment_38018" align="alignright" width="300"]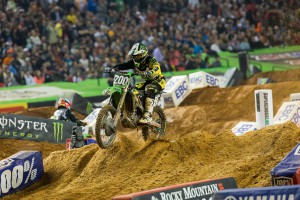 Photo: Clemens Bolz[/caption]

Tonus' return to Atlanta looked to be a chance for the Swiss rider to have his supercross breakout. In his heat race, he led the first four laps and finished second. In the main event, he got a great start out of the gate crossing the line in second. He would continue to battle in the top five for most of the race, eventually falling back to seventh. Tonus struggled with fatigue all day and following the race he discovered that he had low blood sugar and was suffering from hypoglycemia.

Reliving the 90s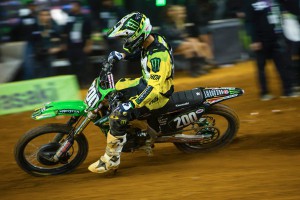 The return to Atlanta was also a return to the early 1990's as some teams paid homage to the past with special graphic schemes. Both the Monster Energy/Pro Circuit/Kawasaki and Discount Tire/TwoTwo Motorsports teams went all out for the celebration. Reed even rode a two-stroke Kawasaki KX250 during the opening ceremonies.

World Center of Racing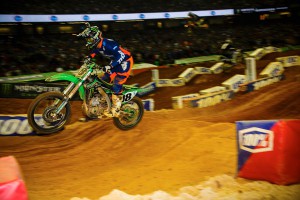 Next week the series heads to the sands of Daytona Beach, where the grassy tri-oval of Daytona International Speedway is transformed into a supercross track to kick off bike week. The storied event is one all the riders look forward to, as the track combines both supercross and motocross elements to serve as a tough test.

Source: Kawasaki Racing

Baggett Scores Fifth At Atlanta SX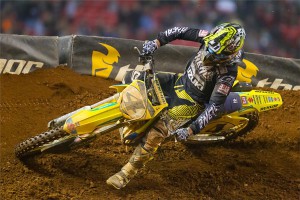 Yoshimura Suzuki Factory Racing's Blake Baggett made a strong surge through the field at Saturday's ninth-round AMA/ FIM World Supercross at Atlanta to score fifth position in front of 53,537 fans in the Georgia Dome.

Baggett's solid finish followed up an eighth the week before and another night of consistency for him, marking his seventh consecutive top-10 finish and his second best result of the season. Baggett was also the top-finishing rookie on the night.

He started the day in Atlanta by finishing 11th in timed qualifying: "I was focusing on bike set-up in practice," Baggett explained. "It was definitely slippery in a few sections so the start is going to be key. We watched some film and we made a few little changes getting ready for the Heat race."

From there he was able to qualify directly into the Main by finishing fourth in his Heat.

The Main event started with some difficulty, as Baggett was bottlenecked at the start. He emerged running 10th on the first lap, but that simply cleared the way for the best charge of the night among the top-10 finishers. He used the celebrated agility of his RM-Z450 to work his way through the field, climbing all the way to fifth by the end of the 20-lap final.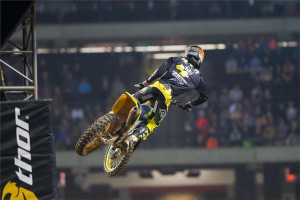 "I just kept it steady," Baggett said of his strategy at Atlanta II. "The track was super technical tonight and it got really slippery. The rocks started to come up, so it made it really tricky to get in and out of the turns without washing out the front wheel. I just stayed out of trouble."

Baggett admitted the early going could have been a little tidier, but he was happy with how he rallied to finish strong. "It was not the cleanest night on the first few laps, but I came away with a fifth and I'll take it. I'm looking forward to playing in the sand next week in Daytona."

Brandon Anderson, Baggett's mechanic has also been a key part of helping him make a smooth transition to the 450 class.

"I think what some people don't realize is that half the battle this year is being consistent and staying on two wheels," Anderson said. "That's what Blake's been doing. He's only had one crash where it took him out of contention. I'm pretty pumped and happy with how he's been riding. You don't expect a lot from someone in their rookie year, but I think Blake's been doing really good."

Baggett now turns his attention to the grueling Daytona Supercross, a race he won two times in the 250 East class. You can almost always expect the unexpected at Daytona and Baggett is hoping to carry his skills from the 250s on the track over to the big class next weekend.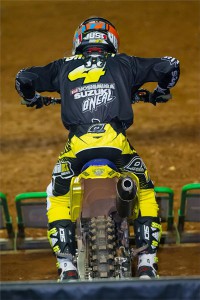 Yoshimura Suzuki's James Stewart was also on hand to sign autographs for the fans in Atlanta. He spoke about the difficulty of watching from the sidelines and his anticipation at returning to racing.

"I've been missing racing," Stewart said. "I'm looking forward to doing a little outdoor testing, helping the team in any way I can and waiting for the go ahead to return. Besides being able to hang out with some of the fans, it sucks not being able to ride, but I'll be back. In the meantime I'm wishing Blake and the whole Yoshimura Suzuki team good luck."

Baggett will take that momentum with him to Daytona International Speedway next Saturday for round 10 of the AMA/ FIM World Supercross Series, a track where he's twice won.

Source: Team Suzuki

Jason Anderson Controls Fifth Overall In The 450 Class
Martin Davalos Finishes 6th In The 250SX East Class
[caption id="attachment_38011" align="alignright" width="300"]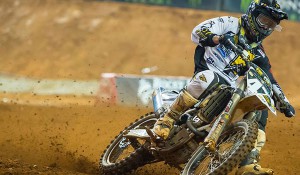 Photo: Simon Cudby[/caption]

Rockstar Energy Husqvarna Factory Racing's Jason Anderson and Martin Davalos made their second and final stop at Atlanta's Georgia Dome on Saturday for the ninth round of the 2015 Supercross series. Anderson and Davalos both maintain fifth overall in 450SX and 250SX East, respectively.

Martin Davalos pulled a mid-pack start in his heat race and, after going down in the sand shortly after, fought back to qualifying position. In the main, Davalos started in the top 10 and steadily advanced his position before making a last corner pass aboard his Husqvarna FC250 to finish sixth. He holds on to fifth overall in rider point standings.

"I didn't get a great start," said Davalos. "I got pushed around. I was in the back of the pack and, on this tight track, it was hard to get around people. The bike was good, but I rode tight and just have to work on some things. It's definitely a struggle knowing that last year I was running up front. I look forward to improving on this weekend."

[caption id="attachment_38010" align="alignleft" width="300"]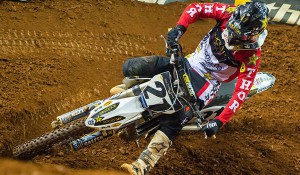 Photo: Simon Cudby[/caption]

Similar to Davalos, Jason Anderson started mid-pack in his heat and was forced to fight through the pack after going down in the first lap. He finished third in his semi to transfer to the main. In the main, Anderson started in the middle of the pack and navigated his Husqvarna FC450 up to fifth after a few exciting battles. He continued to charge hard before going off the track and reentering at 11th, but he stayed aggressive and advanced to ninth where he finished. His persistence salvaged valuable championship points as he maintains fifth overall in rider point standings. He continues to impress in his rookie year in the 450 class.

"My weekend went pretty well," said Anderson. "I feel like my bike setup is better, but I've made some big improvements with myself the last couple weeks and it allowed me to ride more like myself. I was feeling really good in the main, but I think I rushed things too much. I ended up on my head, but I came back and ended up ninth. I would rather ride aggressive and like myself and get ninth than ride conservative and get ninth. I just need to fix a few things, but I feel like overall it was a good day. I have a lot of positive things to take away from this weekend."

Source: Husqvarna Motorcycles

Atlanta 2 SX Overview And Point Standings
2015 AMA Supercross Atlanta 2 Image Gallery
(Click for full size images)
Overall Results - Supercross Class
| Pos. | # | Rider | Bike | Interval | Best Time |
| --- | --- | --- | --- | --- | --- |
| 1 | 5 | Ryan Dungey | KTM 450 SX-F Factory Edition | 20 Laps | 54.914 |
| 2 | 3 | Eli Tomac | Honda CRF450 | +05.739 | 55.032 |
| 3 | 41 | Trey Canard | Honda CRF450 | +11.991 | 54.505 |
| 4 | 20 | Broc Tickle | Suzuki RM-Z450 | +22.602 | 55.894 |
| 5 | 4 | Blake Baggett | Suzuki RM-Z450 | +24.920 | 55.942 |
| 6 | 33 | Joshua Grant | Kawasaki KX450F | +30.032 | 56.200 |
| 7 | 22 | Chad Reed | Kawasaki KX450F | +30.389 | 56.122 |
| 8 | 94 | Ken Roczen | Suzuki RM-Z450 | +42.689 | 56.117 |
| 9 | 21 | Jason Anderson | Husqvarna FC450 | +46.362 | 55.577 |
| 10 | 23 | Weston Peick | Yamaha YZ450F | +46.880 | 55.853 |
| 11 | 18 | Davi Millsaps | Kawasaki KX450F | +47.653 | 56.366 |
| 12 | 14 | Cole Seely | Honda CRF450 | +52.169 | 56.058 |
| 13 | 75 | Joshua Hill | Yamaha YZ450F | 19 Laps | 56.792 |
| 14 | 800 | Mike Alessi | Suzuki RM-Z450 | +09.372 | 57.902 |
| 15 | 29 | Andrew Short | KTM 450 SX-F Factory Edition | +12.120 | 58.023 |
| 16 | 27 | Nicholas Wey | Kawasaki KX450F | +14.681 | 58.618 |
| 17 | 46 | Phillip Nicoletti | Yamaha YZ450F | +17.407 | 57.176 |
| 18 | 11 | Kyle Chisholm | Kawasaki KX450F | +24.153 | 58.192 |
| 19 | 53 | Jimmy Albertson | Yamaha YZ450F | +43.186 | 58.435 |
| 20 | 12 | Jacob Weimer | Kawasaki KX450F | +48.725 | 57.374 |
| 21 | 70 | Nicholas Schmidt | Suzuki RM-Z450 | +51.021 | 59.310 |
| 22 | 199 | Kyle Partridge | Honda CRF450 | 18 Laps | 59.187 |
Rider Point Standings - Supercross Class
Statistics




Race Time: 18:33.753

Margin of Victory: 05.739

Winner's Avg. Laptime: 55.687

2nd Place Avg. Laptime: 55.974

Best Qualifier: #5 - Ryan Dungey

Holeshot: #23 - Weston Peick




( Race 9 of 17 )


Ryan Dungey - 199

Trey Canard - 169

Ken Roczen - 156

Eli Tomac - 137

Jason Anderson - 126

Chad Reed - 124

Cole Seely - 120

Blake Baggett - 115

Andrew Short - 100

Broc Tickle - 96

Manufacturer Point Standings - Supercross Class
( Race 9 of 17 )


KTM - 199

Honda - 199

Suzuki - 179

Kawasaki - 145

Husqvarna - 126

Yamaha - 122

Overall Results - Supercross Lites East Class
| Pos. | # | Rider | Bike | Interval | Best Time |
| --- | --- | --- | --- | --- | --- |
| 1 | 25 | Marvin Musquin | KTM 250 SX-F | 15 Laps | 56.194 |
| 2 | 6 | Jeremy Martin | Yamaha YZ250F | +04.354 | 56.319 |
| 3 | 1 | Justin Bogle | Honda CRF250 | +09.257 | 56.323 |
| 4 | 37 | Joey Savatgy | Kawasaki KX250F | +27.541 | 56.926 |
| 5 | 49 | James Decotis | Honda CRF250 | +29.338 | 56.858 |
| 6 | 47 | Martin Davalos | Husqvarna FC250 | +31.906 | 57.036 |
| 7 | 200 | Arnaud Tonus | Kawasaki KX250F | +32.454 | 56.850 |
| 8 | 62 | Anthony Rodriguez | Yamaha YZ250F | +33.821 | 56.598 |
| 9 | 80 | RJ Hampshire | Honda CRF250 | +35.380 | 57.560 |
| 10 | 343 | Luke Renzland | Yamaha YZ250 | +37.088 | 57.616 |
| 11 | 55 | Kyle Peters | Honda CRF250 | +43.520 | 58.042 |
| 12 | 43 | Matthew Lemoine | Kawasaki KX250F | +47.277 | 57.582 |
| 13 | 45 | Vince Friese | Honda CRF250 | +48.984 | 58.225 |
| 14 | 73 | Gannon Audette | Kawasaki KX250F | +50.283 | 58.317 |
| 15 | 35 | Kyle Cunningham | Honda CRF250 | +1:05.073 | 57.987 |
| 16 | 77 | Justin Starling | Yamaha YZ250F | 14 Laps | 59.921 |
| 17 | 986 | Colt Nichols | Honda CRF250 | +02.730 | 59.267 |
| 18 | 519 | Joshua Cartwright | Yamaha YZ250F | +11.019 | 59.837 |
| 19 | 79 | Jace Owen | Honda CRF250 | +40.118 | 1:00.971 |
| 20 | 393 | Daniel Herrlein | Honda CRF250 | +40.282 | 59.262 |
| 21 | 240 | Bryce Stewart | Yamaha YZ250F | 13 Laps | 1:01.219 |
| 22 | 88 | Dakota Alix | KTM 250 SX-F | 6 Laps | 59.483 |
Rider Point Standings - Supercross Lites East Class
Statistics




Race Time: 14:08.674

Margin of Victory: 04.354

Winner's Avg. Laptime: 56.578

2nd Place Avg. Laptime: 56.868

Best Qualifier: #1 - Justin Bogle

Holeshot: #25 - Marvin Musquin




( Race 3 of 9 )


Marvin Musquin - 72

Jeremy Martin - 65

Justin Bogle - 62

Joey Savatgy - 54

Martin Davalos - 45

Matthew Lemoine - 39

Vince Friese - 38

Arnaud Tonus - 38

RJ Hampshire - 38

Anthony Rodriguez - 34

Manufacturer Point Standings - Supercross Lites Class
( Race 9 of 17 )


Yamaha - 203

KTM - 193

Kawasaki - 166

Honda - 164

Husqvarna - 148

Suzuki - 7