2015 AMA Supercross Atlanta 1 Race Results
Chaparral Motorsports
|
February 23, 2015
Reed Races To First Supercross Win, Becomes Fifth Different Winner Of 2015
[caption id="attachment_37086" align="alignright" width="300"]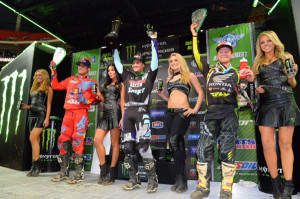 Photo: Simon Cudby[/caption]

For the first time in the 2015 Monster Energy AMA Supercross, an FIM World Championship, Discount Tire Racing/TwoTwo Motorsports' Chad Reed won the 450SX Class Main Event at the Georgia Dome in front of 51,023 fans. Reed became the fifth different winner in eight races this season. Yamalube/Star Racing/Yamaha's Jeremy Martin won the second Eastern Regional 250SX Class Main Event of his career.

Reed earned the first SupercrossLive.com Holeshot Award of his 2015 season to begin the 450SX Class Main Event, and ultimately controlled all 20 laps of the race. Autotrader.com/Toyota/Yamaha teammates Phil Nicoletti and Weston Peick held down the second and third positions, respectively, on the opening lap. Ryan Dungey moved into third place on Lap 1.

Peick, who is competing in his second race since returning from an injury, moved into second place on Lap 1 but was passed by Dungey on Lap 5 and subsequently Team Honda HRC's Trey Canard. RCH/Soaring Eagle/Jimmy John's/Factory Suzuki's Ken Roczen, who came into tonight's race in second place in season standings, crashed on Lap 4, remounting near last place.

"Being on the podium is important," said Dungey. "Consistency is key, and I say it all of the time. We will keep plugging away and look for the win next week here."

[caption id="attachment_37087" align="alignleft" width="300"]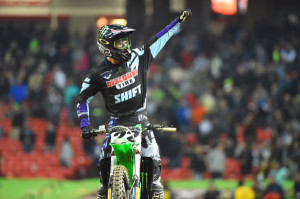 Photo: Simon Cudby[/caption]

It has been 11 years since Reed won his last Main Event at the Georgia Dome, and he has gone a record 11 seasons with a win.

"It has been a long year for me," said Reed. "I always say you have to give yourself a good start to give yourself a shot at the win, and that is what I did tonight. I am excited to come back here next weekend and race for a win."

Dungey extended his points lead to 25, and Canard moved into second place in season standings past Roczen, who finished 18th tonight.

With the win tonight, Reed has control of the Duel in the Dome, the inaugural race that awards the rider with the most points at the two Atlanta events with a commemorative trophy.

[caption id="attachment_37085" align="alignright" width="300"]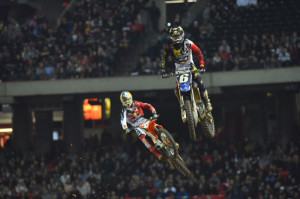 Photo: Simon Cudby[/caption]

Rockstar Energy/Husqvarna/Factory Racing's Martin Davalos, who finished ninth last weekend, jumped out to an early lead in the Eastern Regional 250SX Class Main Event with the SupercrossLive.com Holeshot Award. Defending champion Justin Bogle put his GEICO Honda bike in second place on the opening lap. Last weekend's winner Marvin Musquin started in fifth place and by Lap 3, he was in third place.

Martin assumed the fourth position on Lap 2, and set his sights on the lead. Near the halfway point of the race, a three-way battle ensued between Bogle, Musquin and Martin, who ran second, third and fourth, respectively. On Lap 8, Musquin was unable to jump the triple, which allowed Martin to pass him for third place.

Bogle moved into the lead on Lap 9, and on the same lap, Martin and Musquin passed Davalos for second and third, respectively. Martin made his move on Bogle for the lead on Lap 13 and rode to victory. Musquin also advanced past Bogle on Lap 13 for second place.

[caption id="attachment_37084" align="alignleft" width="300"]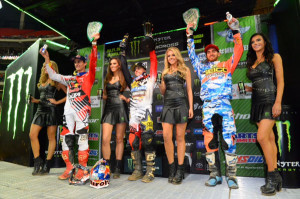 Photo: Simon Cudby[/caption]

"I went down in my Heat Race tonight, so I am glad to have bounced back and landed on the podium tonight," said Musquin. "I am glad to be able to come back here next weekend with the points lead."

Musquin has a four point lead over Martin in season standings.

"What a great night for me and my team," said Martin. "That was an amazing, crazy race, and I am looking forward to coming back here next weekend."

Supercross LIVE Highlights 450SX Class Atlanta 1
https://www.youtube.com/watch?feature=player_embedded&v=aWgNmy4P9H0

Supercross LIVE Highlights 250SX Class Atlanta 1
https://www.youtube.com/watch?v=tWbYXi17XEc&feature=player_embedded

Source: Supercross Live

Chad Reed Races His Kawasaki To The Top Of The Podium In Atlanta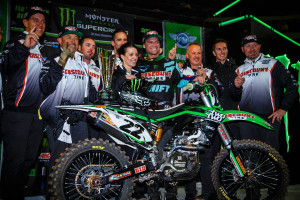 Monster Energy AMA Supercross, an FIM Championship held its first of two back-to-back races at the Georgia Dome in Atlanta on Saturday. Discount Tire/TwoTwo Motorsports Kawasaki's Chad Reed led all 20 laps of the main event to capture his first 450SX win of the 2015 season and the 44th of his career. Monster Energy Kawasaki's Davi Millsaps was forced to transfer to the main event through the semi after a crash in the heat race. Millsaps battled within the top 10 for the majority of the main event and finished 12th. In the 250SX class, Monster Energy/Pro Circuit/Kawasaki's Joey Savatgy won the first heat race of his career and rebounded from a mid-pack start to finish fifth in the main event. Arnaud Tonus suffered a crash on the first lap of the main, but fought forward from 21st place to achieve his second career top-10 finish in 10th.

Never To Be Counted Out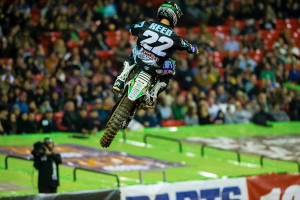 Reed has had an action packed season with both highs and lows, but Saturday night's win silenced all critics. Reed showed speed early in the day during practice and posted the ninth fastest qualifying time. He finished second in his heat race after leading a few laps, but really made a statement in the main event. He blasted out of the gate on his KX450F to grab the holeshot and immediately started setting a quick pace. By the halfway point Reed had built a sizable lead and showed no signs of slowing as he rode nearly mistake free to take his 44th career victory.

"The start made all the difference tonight," said Reed. "With the pace that the top guys are running, you have to be up front from the get-go. The track started to break down pretty quickly, but my bike was great and I was able to find lines that worked as the dirt deteriorated."

Staying On Course

[caption id="attachment_37079" align="alignright" width="300"]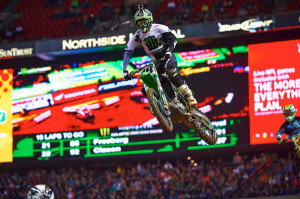 Photo: Jacob Khan[/caption]

Millsaps was determined to bounce back from Dallas, where his race was cut short after connecting with another rider. He felt good in the first qualifying practice, setting the fourth fastest lap time, until the last lap when he suffered a small crash and fell awkwardly, jarring his back. He decided to sit out the second qualifying practice and rest up for the night show and his fast time remained fifth fastest. Rounding the first turn in the heat race, another rider collided with Millsaps and put them both on the ground. He moved on to the semi and transferred to the main event. Despite an outside gate, Millsaps rounded the first turn within the top 10 and fought for as high as seventh until lap 15 when a few mistakes dropped him to 12th at the checkered flag.

"Today was really tough," said Millsaps. "It started great, I felt comfortable on the track, but I crashed and jacked-up my back. I rested it for the afternoon and just pushed through the pain all night. Nothing has quite fallen my way, but I'm optimistic that we're continuing to move forward and we will find our place at the front."

A Taste Of Victory

[caption id="attachment_37078" align="alignright" width="300"]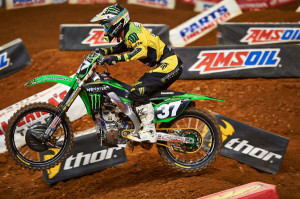 Photo: Jacob Khan[/caption]

After achieving his first career podium finish one week ago, Savatgy achieved another career first in Atlanta by capturing the heat race win. He posted the second fastest qualifying time on his KX250F and rode a flawless heat to take the win. With a boost of confidence, Savatgy was ready for the main event but had to overcome a mid-pack start. Amidst the chaos of the first lap, he came together with his teammate over the triple, which nearly ended his night. Savatgy battled forward and was able to break into the top five at the finish line.

"I'm not too happy with tonight," said Savatgy. "The heat race was great, but I couldn't get the start in the main event and that's frustrating. There is no excuse to not be up front off the start. I have the best bike possible and the best team and I want to put them up front where we belong."

Learning Curve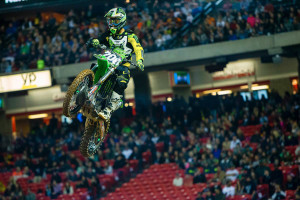 Tonus continued to learn in Atlanta as he will all season as a supercross rookie. He qualified fourth fastest, but on the first lap of the main event he came together with Savatgy as they weaved through the field and ended up on the ground. He remounted in 21st and rode consistent to pass half the field and achieve his second top-10 finish.

"My bike was really good tonight, but I didn't get to show that," said Tonus. "I got a bad start and had to double both the triples on the first lap and when I jumped off the landing of the second one, Joey tripled and we came together. From there I just tried to pass as many riders as I could."

Support System

[caption id="attachment_37080" align="alignright" width="300"]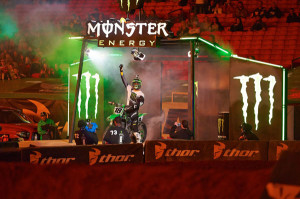 Photo: Jacob Khan[/caption]

Behind every rider is great deal of support that ranges from manufacturers and sponsors, to friends and family. For Millsaps, his support system was crucial to him getting through the day in Atlanta. His riding coach, former Kawasaki factory racer Ezra Lusk, and his physical therapist Doc G were by his side at all times making sure he is able to race at his best. In addition to that, Atlanta serves as a "hometown" race for Millsaps after spending many years living in Georgia. Davi had many family and friends in attendance that he often doesn't see now that he calls California home.

Duel in the Dome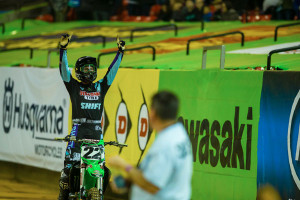 For the fist time, Monster Energy Supercross will return to the Georgia Dome for the second consecutive race next Saturday for Round 9. The points from the back-to-back races will be combined for additional bragging rights in what has been dubbed the Duel in the Dome. After his win on Saturday, Reed sits in the driver's seat for earning the Duel in the Dome trophy next Saturday, February 28th.

Source: Kawasaki Racing

Martin Grabs First Win Of 2015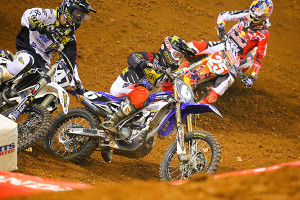 American 250MX Pro National Motocross Champion Jeremy Martin rode superbly on his Yamalube Star Racing YZ250F to take a first victory of the 2015 250SX East Coast Supercross series in the Georgia Dome, Atlanta on Saturday. In what was the 29th 250SX Main Event in Atlanta and the second round of nine in the East Coast campaign Martin followed up his fourth position in Dallas last week with a calm and decisive appearance in front of more than 50,000 spectators.

The 21 year old, who has watched team-mate Cooper Webb exert his superiority on the West Coast Division, took full advantage of race mistakes by Marvin Musquin and Martin Davalos and then gunned by reigning Champion Justin Bogle in the whoops with three laps to go to earn a memorable success in just his fourteenth 250SX outing.

"It was nice to get a win with the new number six," he commented to the Supercross Online TV Presenter referring to his digit on the YZ250F. "I could see the lead and never gave up. Fortunately I was able to get around those guys and honestly I learned a lot tonight from being behind them, how they rode the track and stuff like that. I cannot thank everyone enough."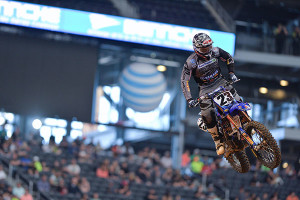 Martin climbed the podium and marked Yamaha's first triumph in 250SX in Atlanta since 2003. There was more recognition to be found in the Georgia Dome as JGR Yamaha's Weston Peick flew to a promising fifth position in 450SX and with his Yamaha YZ450F. The strong 25 year old has recovered sufficiently from the broken leg that hampered the first races of 2015 and with the JGR crew.

Martin is currently second in the 250SX standings (and trailing Musquin by four points) as the competition stays in Atlanta this week for the second part of a Georgia Dome double-header.

Source: Yamaha Racing

Dungey Extends Championship Points Lead In Atlanta
[caption id="attachment_37075" align="alignright" width="199"]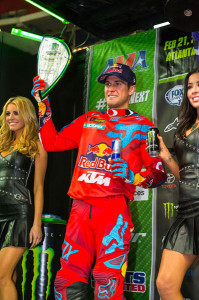 Photo: Simon Cudby[/caption]

Red Bull KTM factory rider Ryan Dungey rode to a second place finish at round eight of the Monster Energy Supercross, an FIM World Championship, and further extended his lead in the Supercross Championship to 25 points.

Qualifying fourth fastest in practice, Ryan Dungey vied for his spot in the main by racing in the opening 450 class heat race aboard his KTM 450 SX-F Factory Edition. He got away to a good start moving into the lead position early on the opening lap where he went on to take the win. Eli Tomac applied pressure to Dungey in the closing stages of the race, however, Dungey fended off his advances and was able to hold on to the top spot.

In the main, Dungey got a reasonable start and was placed fourth rounding the opening lap. A lap later he gained a spot passing Phil Nicoletti for third and from there, in true Dungey style; he rode consistent laps gradually closing in on those in front. Midway through the race he moved into the second spot and continued to close the gap on the lead ride of Chad Reed. He narrowed the gap to almost within a second of him but ran out of time with Reed going on to win and Dungey securing second place.

"Reed rode a solid race tonight getting a great start and holding on out front," said Dungey. "I had some work to do to catch up to him after an okay start. Apart from the start, I'm happy with the way I rode. The way the cards fell tonight, and several guys having big crashes, I'm happy to have been able to extend my points lead in the championship. I'm looking forward to coming back here again next weekend to hopefully get on the top step of the podium."

Next Round: February 28, 2015 - Atlanta 2

Supercross LIVE Interview Ryan Dungey Atlanta
https://www.youtube.com/watch?feature=player_embedded&v=3hpZps21_Go

Source: KTM North America

Musquin Places 2nd At Atlanta Supercross And Holds Onto Red Plate
[caption id="attachment_37073" align="alignright" width="199"]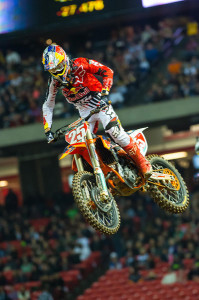 Photo: Simon Cudby[/caption]

Red Bull KTM factory rider Marvin Musquin raced to a second place finish at round eight of the Monster Energy Supercross, an FIM World Championship, which represented round two of the East 250SX Class championship held at the Georgia Dome.

Qualifying fastest in the 250SX Class earlier in the day, Marvin Musquin had first gate pick in his heat race. His anticipation at the start line hindered his jump from the gate and he rounded the opening turn in around 5th position. During the hustle on the first lap, Musquin went down. He remounted well outside of the top ten. Needing 9th or better to transfer directly to the main event, he pushed his way through the pack and managed 8th place at the end of the race. His finish landed him a spot in the main event.

In the main, Musquin got a reasonable start and rounded the opening lap in 4th position. By lap three, he had moved into 3rd place with the hard-charging ride of Jeremy Martin rallying behind him. Driving each other and battling neck and neck, Musquin and Martin gradually reeled in both Martin Davalos and Justin Bogle. By the midway point in the race, Martin made a pass stick to get by Musquin and a few laps later the pair worked their way around the top two riders. Musquin stuck close to Martin and finished the race in 2nd place.

Musquin's podium finish at the Atlanta race allows him to remain the point leader heading to round three. Musquin will once again hold the red number plate on his KTM 250 SX-F Factory Edition signifying his championship points lead with a four point gap over Martin.

"I'm not overly happy with the way I rode tonight", explains Musquin. "I let my frustrations from earlier in the day take over in the main event and I just didn't ride as smooth and relaxed as I should have. I had a rough heat race and I should have been more focused in the main. But I started to relax more towards the end of the race and still finished in 2nd place. It takes consistency to win a championship, so I'm happy to be on the podium two weeks in a row and will make sure I'm back to being 100% focused next week when we return to Atlanta."

Next Round: February 28, 2015 - Atlanta 2

Supercross LIVE Interview Marvin Musquin Atlanta
https://www.youtube.com/watch?v=p0nO-6xIqEY&feature=player_embedded

Source: KTM North America

Martin Davalos Finishes 4th In Atlanta For The 250SX East Class
Jason Anderson Maintains Fifth Overall In The 450 Class In Atlanta For Rockstar Energy Husqvarna Factory Racing!
[caption id="attachment_37067" align="alignright" width="199"]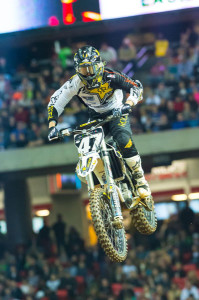 Photo: Simon Cudby[/caption]

Rockstar Energy Husqvarna Factory Racing's Jason Anderson and Martin Davalos made their first of two stops at Atlanta's Georgia Dome on Saturday for the eighth round of the 2015 Supercross series. Anderson successfully maintained his position at fifth overall in 450SX rider point standings, while Davalos improved on last week's 250SX East opening round results by earning a fourth-place finish and moving up four spots in 250SX East rider point standings.

Martin Davalos started the night strong aboard his Husqvarna FC250 by claiming an early victory in his heat race. In the main, Davalos pulled the holeshot and led 10 laps before eventually settling into the fourth-place position where he finished. The top-five finish moved him from ninth to fifth overall in 250SX East rider point standings.

"Today was good," said Davalos. "The team worked really hard this week, and we did a little testing to make me feel more comfortable. Both the practice and the heat race went well. I got a great start in the main event but I tightened up a bit. I think I was too worried about setting up my front wheel in the dragon's back instead of driving through. I have a great bike and a great team behind me. I just need to work on the intensity a bit and come back swinging next weekend."

[caption id="attachment_37066" align="alignleft" width="199"]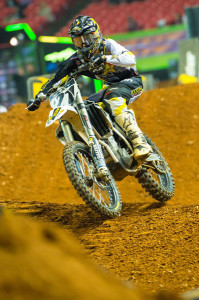 Photo: Simon Cudby[/caption]

Jason Anderson has been successfully maintaining his fifth-place position in 450SX rider point standings, and his consistent performance in Atlanta contributed to this overall endeavor. After finishing fourth in his heat race, he pulled a top 10 start in the main and held strong to finish seventh aboard his Husqvarna FC450. He is a mere one point away from fourth overall in the series.

"My night was ok," said Anderson. "I got a good start, but got a little wide in the first corner and ended up seventh. I'm only one point out of fourth overall, which is good. Looking forward to coming back to Atlanta next Saturday. I'm just going to keep plugging away."

Source: Husqvarna Motorcycles

Tale Of Two Races For RCH Soaring Eagle/Jimmy Johns/Suzuki Factory Racing In Atlanta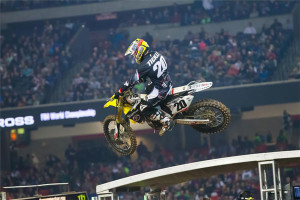 It was a tale of two races for RCH Soaring Eagle/Jimmy Johns/Suzuki Factory Racing when the Monster Energy Supercross, an FIM World Championship, mixed it up Saturday night at the Georgia Dome.

Broc Tickle, rider of RCH's No. 20 Suzuki RM-Z450 turned in a solid overall performance by winning his semi-final race and following it up with an impressive sixth-place finish in the main event. Ken Roczen, rider of the team's No. 94 machine, endured a pair of cringe-worthy incidents over the course of the day to finish 18th in the main.

"I'm always stoked to race in Atlanta," commented Tickle, who jumped from 11th to 10th in points. "Last year I set a good tone for myself and I always seem to have a good vibe when we race in the Georgia Dome. I just wanted to have a good weekend. We went through practice and it was OK and my semi, I just kind of pulled it together. I got my flow down and put some good, solid laps together. That gave me some confidence.

"I worked on my starts last week but I didn't have it for the main. My start ruined me. I think I could have been a little better, results-wise, with a better start. Overall though, I'm pretty pumped with my finish. I think I was 11th or 12th after the start and passed my way all the way up to sixth. I think that's the best I rode all year so I'm stoked about that. My bike was working really, really good. I'm going to go down to Kenny's farm this week and plan to work on my starts some more. I'll work on more of what I practiced last week and see if I can improve."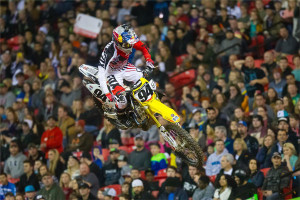 Roczen was bucked off his bike on two separate occasions, once in qualifying and then again later in the night during the main. Fortunately, the 20-year-old rider escaped serious injury but the disappointing result cost him one spot in the championship standings. Roczen slipped from second to third in points and now trails second place Trey Canard by six with nine races remaining on the 2015 Supercross calendar.

"The whole night, actually the whole day was kind of gnarly," said Roczen. "I felt like we had the bike figured out pretty good. In the main, my bike worked really good and I feel like I could have made up a lot of ground. I went in the whoops and caught one of the tough blocks somehow. It wasn't a problem with the bike or anything like that. Obviously, I just made a mistake. It just happened.

"The automatic thing, when you tuck the front end or have a problem like I did, you end up holding it wide open because you're almost crashing. I just whiskey-throttled and crashed really hard. I got lucky that I didn't get hurt. After that, the handlebars on the bike were bent really bad so it was hard to really do much after that. There's no give up in this team. I'm really lucky that I didn't get hurt and still picked up three points. It could have been a lot worse."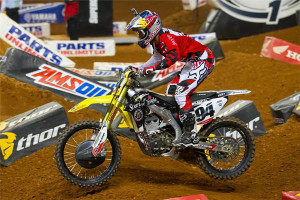 RCH co-owner Carey Hart was on hand in Atlanta and kept things in perspective. A veteran of not only Supercross but Freestyle Motocross as well, Hart knows sometimes you have to take the good with the bad that comes with competing at a high level.

"Our night was good and bad," explained Hart. "Broc had a great night and rode really, really solid. He fought all the way to the end and ended up sixth. Ken just had a rough day. Things just kind of started to crumble when he had that nasty get off in the second timed practice. Maybe he just didn't rebound. Still plenty of season in front of us so we'll get back after it next weekend."

Monster Energy Supercross returns to the Georgia Dome this weekend for an encore performance in The Big Peach. Round 9 of the 2015 Supercross Championship will be televised live on Fox Sports 2 Saturday, Feb. 28 beginning at 4 p.m. Pacific Standard Time, 7 p.m. Eastern.

Source: RCH Racing

Baggett Fights Back At Atlanta Supercross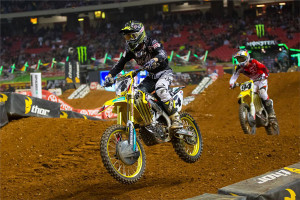 A pattern is emerging with Yoshimura Suzuki Factory Racing's Blake Baggett as where things look bad and nothing seems to be going his way, the Supercross rookie and his experienced Yoshimura crew somehow find a way to overcome adversity.

This was the case on Saturday night for round eight of the AMA/ FIM World Supercross Championship in front of 51,023 fans in the Georgia Dome - the first of back-to-back events in what is being called Atlanta's Duel in the Dome - as Baggett overcame dicey track conditions and a sub-par showing early in the day, to finish eighth.

At first, he couldn't seem to find any kind of rhythm on his factory Suzuki RM-Z450, but when the green flag dropped for the Main Event, Baggett's relentless determination paid-off with a sixth consecutive top-10 finish.

Baggett began the day slightly off the pace, coming in 13th in timed qualifying. It didn't get much better in his Heat race.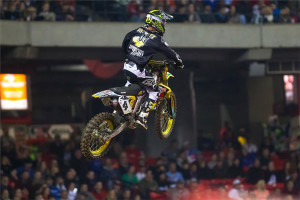 "The track was technical and the dirt was really slippery," Baggett explained of his early struggles in the Dome. "We definitely had to make some set-up changes to make the bike more comfortable."

Finally, after a rough start in his Semi, he put himself in the Main and readied for the 20-lap battle.

Once again a bad gate-pick and the slippery surface in Atlanta cost Baggett a chance at a good start. He emerged out of the bottleneck of 22 riders in the first turn deep in the field. However, as he always seems to do, Baggett fought-off adversity and went to work: He used the handling agility of his RM-Z450 to quickly slice his way through the field. He went from 16th to 13th at the end of the first lap, and then worked up to 11th by lap five. From there he just kept chipping-away making hard-fought passes on experienced veterans like Andrew Short and Davi Millsaps. The result was that at the flag, Baggett had moved all the way-up from 16th to eighth; one of the best charges of the nights.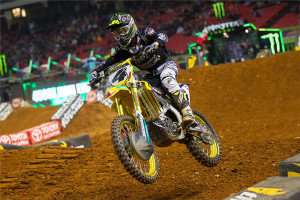 "I spun it a little bit coming off the gate and was I think 16th or so coming out of the first turn," Baggett explained. "I plugged away from there and tried to get the tyre to the ground and get some traction and work our way forward. The track was really technical tonight. I came away with an eighth, so I'll go back and do a little testing and come back ready for Atlanta II."

Yoshimura Suzuki Team Manager Mike Webb said he was doubly-impressed with Baggett's performance considering his rider was sick on race day. Said Webb: "I think the fact that he was battling dizziness added to his struggles during the night and made his finish more impressive."

Baggett's eighth kept him solidly in the top-10 in the standings at the half-way mark of the season. He's now eighth in the series and will be looking for more when the tour returns to Atlanta this coming weekend.

Source: Team Suzuki

Atlanta 1 SX Overview And Point Standings
2015 AMA Supercross Atlanta 1 Image Gallery
(Click for full size images)
Overall Results - Supercross Class
| Pos. | # | Rider | Bike | Interval | Best Time |
| --- | --- | --- | --- | --- | --- |
| 1 | 22 | Chad Reed | Kawasaki KX450F | 20 Laps | 48.886 |
| 2 | 5 | Ryan Dungey | KTM 450 SX-F Factory Edition | +01.292 | 49.017 |
| 3 | 41 | Trey Canard | Honda CRF450 | +03.338 | 48.811 |
| 4 | 14 | Cole Seely | Honda CRF450 | +17.021 | 49.589 |
| 5 | 23 | Weston Peick | Yamaha YZ450F | +18.641 | 48.864 |
| 6 | 20 | Broc Tickle | Suzuki RM-Z450 | +19.962 | 49.700 |
| 7 | 21 | Jason Anderson | Husqvarna FC450 | +27.290 | 49.944 |
| 8 | 4 | Blake Baggett | Suzuki RM-Z450 | +29.282 | 49.848 |
| 9 | 29 | Andrew Short | KTM 450 SX-F Factory Edition | +39.396 | 50.422 |
| 10 | 33 | Joshua Grant | Kawasaki KX450F | +50.533 | 51.155 |
| 11 | 46 | Phillip Nicoletti | Yamaha YZ450F | +55.338 | 50.819 |
| 12 | 18 | Davi Millsaps | Kawasaki KX450F | 19 Laps | 51.250 |
| 13 | 800 | Mike Alessi | Suzuki RM-Z450 | +07.264 | 50.872 |
| 14 | 75 | Joshua Hill | Yamaha YZ450F | +10.476 | 51.551 |
| 15 | 12 | Jacob Weimer | Kawasaki KX450F | +11.729 | 50.027 |
| 16 | 11 | Kyle Chisholm | Kawasaki KX450F | +26.473 | 51.467 |
| 17 | 27 | Nicholas Wey | Kawasaki KX450F | +30.275 | 52.224 |
| 18 | 94 | Ken Roczen | Suzuki RM-Z450 | +39.175 | 49.829 |
| 19 | 86 | Zackery Freeberg | Yamaha YZ450F | 18 Laps | 52.087 |
| 20 | 3 | Eli Tomac | Honda CRF450 | +18.146 | 49.638 |
| 21 | 69 | Ronnie Stewart | Suzuki RM-Z450 | +35.628 | 52.801 |
| 22 | 92 | Cade Clason | Honda CRF450 | 14 Laps | 54.080 |
Rider Point Standings - Supercross Class
Statistics




Race Time: 16:37.156

Margin of Victory: 01.292

Winner's Avg. Laptime: 49.857

2nd Place Avg. Laptime: 49.922

Best Qualifier: #5 - Ryan Dungey

Holeshot: #22 - Chad Reed




( Race 8 of 17 )


Ryan Dungey - 174

Trey Canard - 149

Ken Roczen - 143

Eli Tomac - 115

Jason Anderson - 114

Cole Seely - 111

Chad Reed - 110

Blake Baggett - 99

Andrew Short - 94

Broc Tickle - 78

Manufacturer Point Standings - Supercross Class
( Race 8 of 17 )


Honda - 177

KTM - 174

Suzuki - 161

Kawasaki - 130

Husqvarna - 114

Yamaha - 111

Overall Results - Supercross Lites East Class
| Pos. | # | Rider | Bike | Interval | Best Time |
| --- | --- | --- | --- | --- | --- |
| 1 | 6 | Jeremy Martin | Yamaha YZ250F | 15 Laps | 50.284 |
| 2 | 25 | Marvin Musquin | KTM 250 SX-F | +02.277 | 50.413 |
| 3 | 1 | Justin Bogle | Honda CRF250 | +07.096 | 50.779 |
| 4 | 47 | Martin Davalos | Husqvarna FC250 | +09.785 | 50.625 |
| 5 | 37 | Joey Savatgy | Kawasaki KX250F | +14.891 | 50.692 |
| 6 | 45 | Vince Friese | Honda CRF250 | +18.903 | 51.078 |
| 7 | 43 | Matthew Lemoine | Kawasaki KX250F | +20.309 | 50.635 |
| 8 | 62 | Anthony Rodriguez | Yamaha YZ250F | +24.551 | 51.488 |
| 9 | 80 | RJ Hampshire | Honda CRF250 | +25.731 | 51.723 |
| 10 | 200 | Arnaud Tonus | Kawasaki KX250F | +26.440 | 51.184 |
| 11 | 52 | Mitchell Oldenburg | Yamaha YZ250F | +28.910 | 51.442 |
| 12 | 73 | Gannon Audette | Kawasaki KX250F | +38.435 | 52.071 |
| 13 | 55 | Kyle Peters | Honda CRF250 | +40.673 | 52.245 |
| 14 | 88 | Dakota Alix | KTM 250 SX-F | +42.234 | 52.369 |
| 15 | 89 | Brady Kiesel | Honda CRF250 | +43.826 | 52.460 |
| 16 | 49 | James Decotis | Honda CRF250 | +47.762 | 52.552 |
| 17 | 95 | Nick Gaines | Kawasaki KX250F | +51.125 | 52.833 |
| 18 | 77 | Justin Starling | Yamaha YZ250F | +53.513 | 52.529 |
| 19 | 79 | Jace Owen | Honda CRF250 | 14 Laps | 53.074 |
| 20 | 393 | Daniel Herrlein | Honda CRF250 | +01.948 | 52.869 |
| 21 | 83 | Levi Kilbarger | Yamaha YZ250F | 11 Laps | 55.222 |
| 22 | 74 | Zack Williams | Honda CRF250 | 5 Laps | 53.726 |
Rider Point Standings - Supercross Lites East Class
Statistics




Race Time: 12:51.971

Margin of Victory: 02.277

Winner's Avg. Laptime: 51.464

2nd Place Avg. Laptime: 51.616

Best Qualifier: #47 - Martin Davalos

Holeshot: #47 - Martin Davalos




( Race 2 of 9 )


Marvin Musquin - 47

Jeremy Martin - 43

Justin Bogle - 42

Joey Savatgy - 36

Martin Davalos - 30

Matthew Lemoine - 30

Vince Friese - 30

RJ Hampshire - 26

Arnaud Tonus - 24

Anthony Rodriguez - 21

Manufacturer Point Standings - Supercross Lites Class
( Race 8 of 17 )


Yamaha - 181

KTM - 168

Kawasaki - 148

Honda - 144

Husqvarna - 133

Suzuki - 7