5 Tips To Keep In Mind When Purchasing A New Windshield
Chaparral Motorsports
|
February 17, 2015
|
Last Updated: May 1, 2020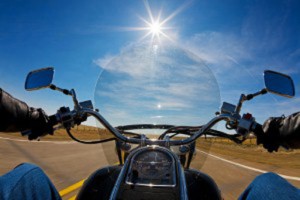 If you don't like bugs in your teeth, then you may be thinking about adding a new windshield to your motorcycle. While windshields are not always standard on all motorcycles, the equipment can help protect you from many elements on the road.

Far too often, accidents are caused by riders being hit in the face by debris, rocks, bugs or anything else that finds a way in front of your bike. However, windshields provide plenty of protection and wind resistance, which might make it easier for riders to wear open-faced helmets or to drive in inclement weather. Before you purchase a new windshield, here are five things to keep in mind:

1) Durability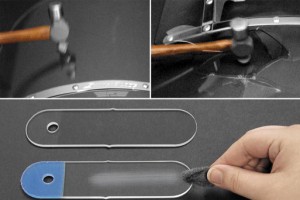 Something that's important to consider before purchasing your new windshield is how durable you want the plastic to be. The thicker the windshield, the safer it is - however you need to factor in the material it is made from. Acrylic windshields are more economical, but polycarbonate Lexan windshields are much stronger without increasing the thickness and weight.

It's important to know if you will want a thicker shield to protect against rain, snow and road debris, or a lighter windshield that will add the least amount of weight to your ride as possible. In certain states, some jurisdictions require shields to be shatter proof, which might have you rethinking the durability of the shield you choose.

2) Height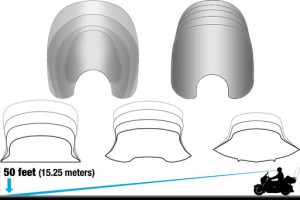 The larger the windshield, the more wind and debris protection it provides - however, certain plastics tend to fog up or gather water from rain, which can make it difficult to see. You have to consider how high you want your shield to go, so you can make sure you will still be able to see over the plastic while riding in bad weather. One common method of determining the maximum windshield height for your bike and riding style is to use your nose as a guide. If the windshield edge will sit just below your eye level when you are in your normal riding position, then you should be able to see far enough down the road without looking through the windshield.

Another point to consider is the higher the windshield, the more susceptible you are to powerful winds. When big gusts hit you and your bike, your control is diminished the higher the shield rests, so it's always important to know what is important to your specific style of riding.

Certain motorcycles have windshields that can adjust the rake, or angle, at which it sits - and some windshields can adjust the height as well.

3) Windshield Type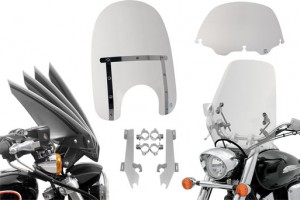 There's a lot to think about when you buy a windshield. One of the most important, is whether there is any additional hardware you need to purchase. If your bike doesn't have a factory supplied windshield, then you'll need to choose between a windshield kit, which includes the mounting hardware needed, or buying the windshield and mounts separately. Many of the kits available are designed for a wide range of motorcycles and use universal mounting hardware, while those with a separate mounting system are usually designed for your specific model.

Detachable windshields are perfect for riders who want options - ride with the screen in place on a cold March morning, and cruise with it safely stored at home on balmy June night. This type usually uses snap-on attachments or brackets to keep the part in place. This is by far the simplest piece of equipment to change, the source reported.

Another type is the permanent windshield, and this piece of equipment is a part of the original manufacturer's design. Permanent windshields can be replaced if they are broken or damaged at all. There are several aftermarket windshields designed to utilize the factory mounting hardware, in addition to O.E.M replacement parts.

4) Tints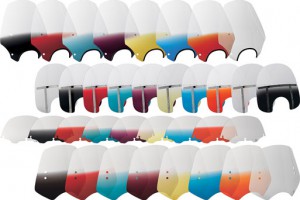 Some windshields for motorcycles come tinted to make it easier to see while riding toward the sun, not to mention to showcase your style. Without a tinted shield, glare can be distracting enough to force you to not ride. However, some tints are so dark that riders don't have good visibility in low-light settings. There are several things to consider with how often you will ride with a tinted shield and how high the shield will be set. For riders with permanent shields who do both day and night riding, tinted products might not be best for your safety if the tint interferes too much.

5) Riding Climate
The weather can change everything for motorcyclists, and having a windshield that can protect from harsh winds and cold temperatures is important. It's essential to think about where you will do the most riding. If you're in Southern California, you may not experience many cold breezes or much precipitation, but in the Pacific Northwest, you will have the exact opposite. Before you buy, think about what is most logical for your climate. Also, you will need to take into consideration your riding style - as the faster you are going, the colder the air will feel - so make sure to factor in the wind chill factor.