2015 AMA Supercross Arlington Race Results
Chaparral Motorsports
|
February 16, 2015
KTM Sweeps Supercross Round 7 At Arlington
Dungey Wins Second Monster Energy Supercross Race of Season, Leading KTM Sweep at AT&T StadiumMarvin Musquin Victorious in Eastern Regional 250SX Class Championship Opener
[caption id="attachment_36970" align="alignright" width="300"]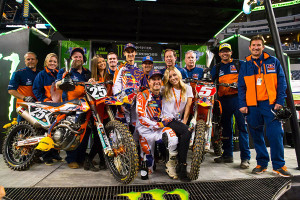 Photo: Simon Cudby[/caption]

Monster Energy AMA Supercross, an FIM World Championship, hosted the seventh race of the 2015 season in front of 54,931 fans inside AT&T Stadium. It was a dominant night for Red Bull KTM, who not only grabbed the 450SX Class win with Ryan Dungey, his second of the year, but also the opening race of the Eastern Regional 250SX Class Championship with Marvin Musquin. Each rider led every lap of his respective Main Event, providing KTM with its third ever Main Event sweep in both classes.

Dungey led the field out of the gate in the 450SX Class Main Event to earn the SueprcrossLive.com Holeshot Award ahead of Monster Energy Kawasaki's Davi Millsaps and Discount Tire Racing/TwoTwo Motorsports' Josh Grant, who was quickly shuffled back. Dungey was quick to open a lead on the field ahead of Millsaps and Team Yoshimura Suzuki's Blake Baggett, who moved into third, while Ken Roczen was making his march to the front.

On Lap 1, Roczen passed Baggett for third and was quickly followed by Team Honda HRC's Trey Canard, who won the previous race. Millsaps then came under from Roczen, who was able to make the pass and move into second on Lap 5. On the following lap, Millsaps crashed out of the race, allowing Canard to take over third. While Roczen initially closed on Dungey, the margin eventually grew as the laps wore on and the top three remained unchanged through to the finish.

Dungey became the third different two-time winner this season, joining Roczen and Canard, and moved into a tie with Jean-Michel Bayle for 13th on the all-time 450SX Class wins list with 16.

"Wins are important. You're especially going to need them as we get towards the end of the season," said Dungey. "We're doing the best we can each week, putting ourselves in a good spot and we need to keep doing that. I got a good start tonight and was able to ride my own race."

Dungey extended his lead in the 450SX Class standings to 12 points over Roczen, while Canard sits 23 points behind.

"It was tricky out there," said Roczen. "I got off to a decent start and made a small mistake early, but I'm happy with a second place. It's a long, hard season and the championship won't come easy."

[caption id="attachment_36969" align="alignleft" width="300"]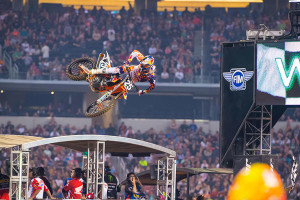 Photo: Simon Cudby[/caption]

The Eastern Regional 250SX Class Main Event began with Musquin grabbing the first SupercrossLive.com Holeshot Award of the championship ahead of Rockstar Energy Husqvarna Factory Racing's Martin Davalos and GEICO Honda's Justin Bogle, the defending Eastern Regional champion. While Musquin opened a small gap, Bogle passed Davalos for second, with the Husqvarna rider falling to the ground shortly thereafter, allowing Yamalube/Star Racing Yamaha's Anthony Rodriguez to take over the position.

Musquin extended his advantage over Bogle, who sat comfortably ahead of Rodriguez for third, until a crash by AG Motorsports/Gurrnaid Energy Honda's Kyle Cunningham brought out a red flag on Lap 8. Since the 15-lap race was past its halfway point, the restart featured a staggered lineup of riders across the start straight. When racing resumed, Musquin opened up the lead again and Bogle reasserted his control on second. The battle for third, however, intensified as Rodriguez received pressure from both Monster Energy/Pro Circuit/Kawasaki's Joey Savatgy and his Star Racing Yamaha teammate Jeremy Martin. The riders went three wide in the whoops with Savatgy emerging from the battle with the position.

Musquin took his fifth career Main Event win, multiple seconds ahead of Bogle, while Savatgy fended off the late challenges of Martin to claim his first career podium in third.

"I had a great start then I just did my laps and kept doing what I had to do," said Musquin, who missed all of last season with an injury. "Just being consistent is what it's going to take and that's what I've been preparing for. I'm just happy to get it [a win] done this early, be here feeling good and healthy, and starting out strong."

Musquin sits three points ahead of Bogle in the initial Eastern Regional 250SX Class season standings and five points ahead of Savatgy.

[caption id="attachment_36975" align="alignright" width="300"]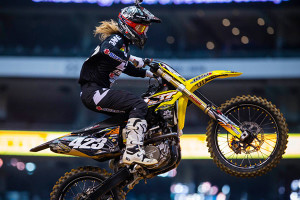 Photo: Jeff Kardas[/caption]

In her attempt to become the first female ever to qualify for a Monster Energy Supercross race, Vicki Golden came up short tonight at AT&T Stadium. She will continue to follow her dream next weekend in Atlanta at the Georgia Dome.

"Today was good and bad," said Golden. "Unfortunately, I did not qualify, but all week, I have been saying that if I don't qualify, I want to be as close as possible. We did that at least today. I felt good on the track today, and I just need to be loose on the track. I am going to make the most of this week and come back strong next week for Atlanta. Thanks for everyone's support."

Monster Energy Supercross continues next weekend with its eighth stop of the 17-race season and the first of back-to-back races from Atlanta's Georgia Dome. Live broadcast coverage on FOX Sports 1 begins at 4 p.m. PST / 7 p.m. EST on Saturday, February 21.

Supercross LIVE 2015 Arlington Post Show
https://www.youtube.com/watch?feature=player_embedded&v=7QlyyAc72lw

Source: Supercross Live

Dungey Increases Points Lead After Dallas Supercross Win
[caption id="attachment_36972" align="alignright" width="300"]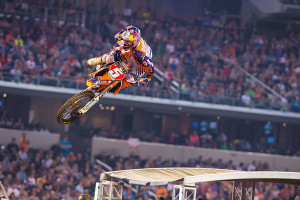 Photo: Simon Cudby[/caption]

Red Bull KTM Factory rider Ryan Dungey collected his second win of the season at the seventh round of the Monster Energy Supercross Series leading from start to finish. His win came after an already exciting night for the Red Bull KTM Factory Team after his teammate, Marvin Musquin, took the victory in the 250SX class.

Ryan Dungey had a successful outing from beginning to end at this round. He was running 4th early in his heat race before it was red-flagged. On the restart, he pulled the holeshot and went on to win the heat. That win gave him a great advantage for selecting gate pick in the main event.

He nailed the start once more when the gate dropped for the main event putting his KTM 450 SX-F Factory Edition motorcycle to the front of the pack. Once out front, he checked out and never looked back on his way to taking the win. Dungey crossed the checkered flag to take the victory by four seconds ahead of the second place rider.

[caption id="attachment_36971" align="alignleft" width="300"]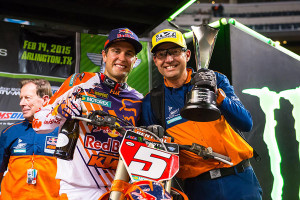 Photo: Simon Cudby[/caption]

Dungey's win in Dallas increases his lead to 12 points in the championship standings heading to the next round. He will again represent the lead in the points with the red plate as the riders head to Atlanta next weekend.

"I'm really excited to get another win," stated Dungey. "It feels great to see the hard work pay off and I'm excited to increase the point lead on the championship. I'd also like to congratulate my teammate on his win. It's always a good night when the team can sweep both races. I think it speaks a lot for our team and the bikes that we ride."

Next Round: February 21, 2015 - Atlanta, GA

Supercross LIVE Interview Ryan Dungey Arlington
https://www.youtube.com/watch?v=OJQZJBCv7R0&feature=player_embedded

Source: KTM North America

Musquin Wins Opening East 250 Supercross Event
[caption id="attachment_36967" align="alignright" width="199"]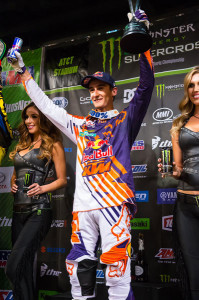 Photo: Simon Cudby[/caption]

Red Bull KTM Factory rider Marvin Musquin collected the win at the opening round of the East 250SX class championship at the seventh round of the Monster Energy Supercross, an FIM World Championship, Series held at the AT&T Stadium.

The factory rider, who spent the off-season restructuring his training program, showed up at the first round ready to battle. He turned the quickest time in the afternoon qualifiers to earn top gate pick heading into the main event.

Marvin Musquin was placed in the second heat race. He got a great start and went on to win with a comfortable gap on the rest of the field. His win in the heat gave him the first gate choice for the main event.

Musquin pulled a huge holeshot in the main event and quickly pulled away from the rest of the field. He had managed to gap the field by an impressive five seconds before the race was red-flagged on lap six due to an injured rider. Aboard his KTM 250 SX-F Musquin pulled off the track and returned to the start for the official AMA ruling.

[caption id="attachment_36968" align="alignleft" width="300"]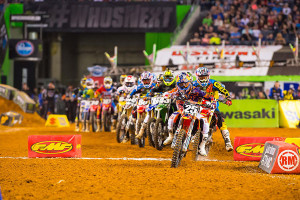 Photo: Simon Cudby[/caption]

The AMA decided to do a staggered start since more than three laps had been completed. Musquin led the way off the staggered start and quickly got out to his top spot once again. This time he again pulled on the field and went on to collect his first win of the season. His win at the opening round will give him the red plate heading to the next event.

"It feels so great to get a win tonight," stated Musquin. "Myself and the team have been working so hard in the off-season to get where we need to be to run up front. I have had a lot of injury in the past few seasons, particularly in the Supercross season, and I am happy to finally be completely healthy at the start of the season. I am so happy tonight and very thankful to my team."

Next Round: February 21, 2015 - Atlanta, GA

Supercross LIVE Interview Marvin Musquin Arlington
https://www.youtube.com/watch?v=WP_RAbWr4II&feature=player_embedded

Source: KTM North America

Consistency Keeps RCH Suzuki Factory Racing In The Hunt In Arlington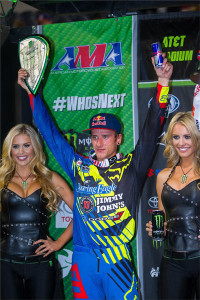 Preparation. Consistency. Results. Those three words summarize any championship caliber race team's mission statement. When the plan is properly executed, success comes naturally.

While success may not always be defined as victory, a good night can take on the form of a quiet second-place finish. And, a top 10.

Such was the case for Ken Roczen, Broc Tickle and the RCH Soaring Eagle/Jimmy Johns/Suzuki Factory Racing Team in Saturday night's Monster Energy Supercross, an FIM World Championship, at AT&T Stadium. Roczen finished second to championship leader Ryan Dungey. Tickle finished ninth.

While the top-two effort left him one step below the top of the box, Roczen felt good with the result but was quick to point out that second won't be enough to close the deal at season's end.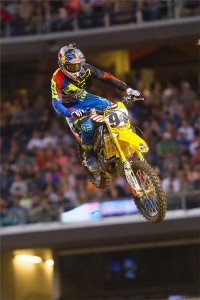 "I need to work on my starts," explained Roczen following the race. "I've been working hard on trying to be better, I just have to get out front. Ryan (Dungey) was pretty much gone after two laps and I made one big mistake after the finish line but overall, it was a decent race. We got second again and we'll definitely take the podium.

"It's still a long season but I have to work on my starts so I can be out front. Ryan is a really good starter. I just need to get holeshots. Third and fourth out of the gate isn't going to be good enough. We need to win races and can't make mistakes. Obviously, there are enough guys who can win. You just have to go in the main, get that holeshot and ride smart. You have to win."

Roczen finished second for the third time this season but still lost three points to Dungey in the championship standings. In the first seven races of 2015, the 20-year-old German rider has won twice, finished second three times and has only one finish (Oakland) worse than fourth.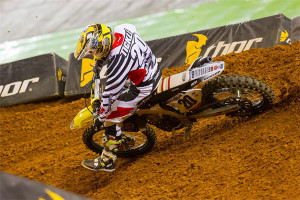 Tickle's evening wasn't quite as straightforward. A red flag halted his heat race, forcing the AMA to restart the night's first 450SX qualifier. Shortly after the ensuing restart, the Holly, Mich., rider tangled with Jimmy Albertson and Jason Anderson, forcing him to race his way through the semi where a gritty last-lap performance secured him a starting spot in the main event.

Despite starting deep in the field and the constant nag that comes with the lingering effects from a back injury, Tickle rode a smart, consistent race during the main to come away with a respectable ninth-place showing.

"We had a red flag during the heat race," recalled Tickle. "I think someone went down in the rhythm section so they red-flagged the race about halfway through and we had to restart. I got a decent start, that time. I think I was fourth or fifth. Then (Jimmy) Albertson lost control and (Jason) Anderson ran into him and I ran into Anderson, so that caused a big pile up. Pretty much finished almost last in the heat race.

"Went to the semi and had a bad gate pick. Thought I had the holeshot for a second but I got pushed a little wide. The last lap of the semi was pretty hectic. I made a couple of mistakes at the end but it turned out for the best because it got my intensity level up. I'm not stoked with my riding, 100 percent. I kind of felt like I did last weekend where I wasn't totally comfortable. I need to work on some stuff this week so I can get better. Working on the little things is going to help me a lot."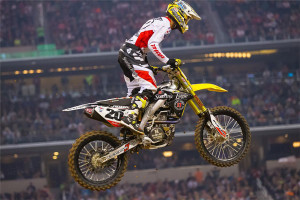 RCH co-owner Carey Hart was at AT&T Stadium for the race and in the team's post-race debrief after the checkers waved. Hart pointed out consistency will make or break his team's pursuit of the ultimate goal, the Monster Energy Supercross title.

"It was a great night," offered Hart. "Ken had a good day in practice and qualifying. He was solid through the night. We have to keep banging out first- and second-place finishes to stay in this championship hunt. It was just one of those nights. (Ryan) Dungey got a clear start and had a clean track. Ken had to work through three or four guys to get to second and by then, Dungey had already set the pace and pretty much checked out. Broc's still feeling it in his back but he finished ninth so it was a solid night all around. The only unfortunate part is that Ryan won and we lost a few points. There are 10 races left so we have to keep grinding."

Roczen, Tickle and the rest of the Monster Energy Supercross crew continue east this weekend when the series visits Atlanta for the first of back-to-back weekends at the Georgia Dome. Round 8 of the 2015 Supercross Championship will be televised live on Fox Sports 1 Saturday, Feb. 21 beginning at 4 p.m. Pacific Standard Time, 7 p.m. Eastern.

Source: RCH Racing

Kawasaki's Joey Savatgy Starts East Region On The Podium In Dallas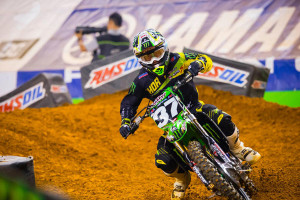 With the 250SX East Coast season opening at AT&T Stadium in Dallas, Monster Energy/Pro Circuit/Kawasaki's Joey Savatgy capitalized on a good start to earn his best Monster Energy Supercross finish claiming a podium spot in third. His teammate Arnaud Tonus made his U.S. racing debut and after a rough start came through the field to get an eighth-place finish. In the 450SX Class, Monster Energy Kawasaki's Davi Millsaps was running in third place when he was hit from behind and crashed just before the finish line. Discount Tire/TwoTwo Motorsport's Josh Grant earned an eighth-place finish while Chad Reed finished 11th.

First Podium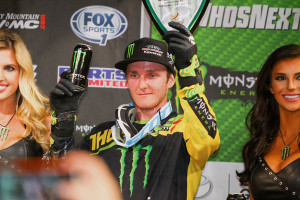 Savatgy rode solid all evening in Dallas after qualifying seventh in the afternoon. After placing fourth in his heat race, Savatgy got a great start in the main event and worked his way up to fourth place until a mid-race red flag, which created a single-file restart. Just after the restart Savagty passed for third on lap 10 and was able to hold the position to the finish.

"I'm really excited to be on the podium," said Savagty. "During practice I wasn't really feeling it, but I knew that I could get the most out of my Monster Energy/Pro Circuit/Kawasaki KX250F. After the heat race I was a little more confident and when I got a good start in the main event I just kept pushing to get on the podium."

U.S. Debut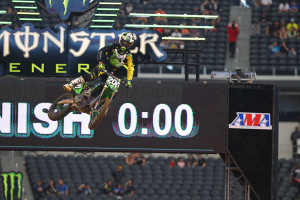 In his first race on U.S. soil Tonus was quick to impress in practice, posting the second fastest qualifying time. In his heat race, a tough start cost him early, but he was able to push forward and finish fourth, advancing to the main event. In the feature, Tonus got tangled in the second turn as he avoided a down rider and was back in 17th place. With the red flag restart, Tonus was able to make up a lot of time and gained eight positions in final seven laps.

"I am happy with how I was able to ride today," said Tonus. "In the main event, I didn't get a good start but when the red flag came out, it gave me an advantage. I was able to charge hard the last half of the race and make up some positions. With my first race over, I'm feeling more comfortable and I'm ready to get back to racing in Atlanta."

Misfortune

[caption id="attachment_36976" align="alignright" width="300"]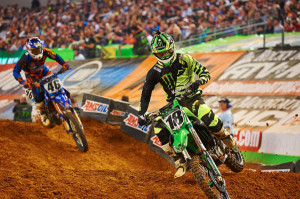 Photo: Jacob Khan[/caption]

Millsaps 20th place finishing position didn't do justice to how well he rode throughout the night program. In his heat race, Millsaps made aggressive passes and advanced directly to the feature race. In the Main Event, the Cairo, Georgia native got a good start and was running at the front of the field. While he was running third he was hit from behind causing him to loop out and during the crash he slammed his chin into the handlebar. Millsaps was unable to continue and finished 20th. The hard hit dazed Millsaps but after being checked out by the doctors at the Asterisk Mobile Medical unit he has been cleared to ride this week.

"Things are starting to come together, but some bad luck has come up and bit us this week," said Millsaps. "I feel like I had a podium finish tonight, but then I got hit from behind and it ruined my race. I'm sore right now, but I should be good to go in Atlanta next week."

Breaker One

After being injured at the first Anaheim race, Wil Hahn has still played an integral part with the Monster Energy Kawasaki team. This week he joined transporter driver Brian Barnhart for the drive from Irvine, California to Dallas. Riding shotgun on the two-day drive, Hahn gained an appreciation for some of the behind the scenes work that goes into a factory racing program.

"Being a part of the Monster Energy Kawasaki team is really like being a part of a family," said Hahn. "Riding with "B" for two days and hanging with the guys has been a great experience. Everyone on the team is giving 100% to be successful and seeing it firsthand is amazing."

Birthday Boy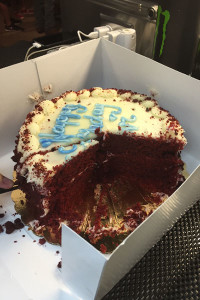 Before the night show began, the team serenaded Millsaps with a rousing version of Happy Birthday as he turns 27 on February 15. Though the night didn't end as planned, Millsaps and team were able to enjoy the cake after the race.

Onto the South
Next weekend the riders head to the Georgia Dome in Atlanta for the first of two consecutive races at the venue. For Millsaps, it is a return to his home state for two straight weeks where he will look to return to the podium.

Source: Kawasaki Racing

Baggett Close To Arlington SX Podium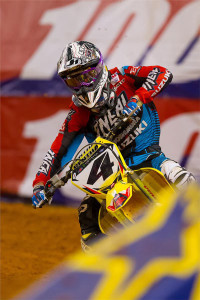 Yoshimura Suzuki Factory Racing's Blake Baggett raced to a career-best fourth place in Saturday night's AMA/ FIM World Championship Supercross at Arlington in Texas and moved to seventh in the series standings.

The Dallas Supercross was Baggett's fifth consecutive top-10 finish, his first time ever inside the top five, and also confirmed him the top-finishing rookie among the talented freshman class of 2015.

A solid performance in Timed Qualifying, where Baggett was seventh fastest, gave a bit of an indication of the performance to come. Seven races in and Baggett and the Yoshimura Suzuki crew are still finding small, but important adjustments to the RM-Z450 to help the powerful machine suit Baggett's riding style.

"Like me, the team is just plugging away making improvements on the bike every week," Baggett explained after qualifying. "The bike is coming around. The track was getting pretty rutted already after the third practice session. The base of some of the ruts was so deep we were hitting the stadium floor, so it was pretty slippery in a few spots."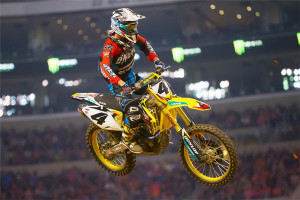 Baggett missed qualifying directly into the Main from his Heat race, but he rallied for a strong result in his Semi to put it safely in the final. Unfortunately he didn't have the best of gate picks and was forced to start far to the inside.

"I got a good jump and came out of the first turn pretty good," Baggett explained. He broke out into a very solid third-place on the first lap, and then dropped a couple of positions on the next lap. "I made a little error in the first lane (of a whoop section) and got passed by (Ken) Roczen and (Trey) Canard."

As the race settled in, it was Baggett running a steady fifth, which turned into fourth after Davi Millsaps crashed. He was running right on Canard's rear wheel most of the way, until another miscue cost him time.

"I jumped in tow with Canard and tried to stay behind him," Baggett said. "I was with him until lap 15 when I made another mistake and lost the train a little bit, but I had a steady ride to fourth and we're making progress. We're just a few seconds from being on the box and I'm just going to keep plugging away and try to keep my momentum going in Atlanta."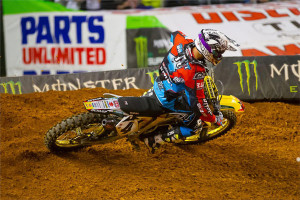 In the end Baggett finished just 4.5 seconds off the podium. It marked his best result of 2015 and moved him up two positions in the series standings, making him the only rider in the top 10 to improve in their ranking. Baggett's performance also earned accolades from Fox Sports TV commentators Ricky Carmichael and Jeff Emig during Saturday night's broadcast.

Yoshimura Suzuki races back into action again this coming Saturday, February 21st, at round eight of the 2015 AMA/ FIM World Supercross Championship, as the series moves to Atlanta for the first of back-to-back weekend at the Georgia Dome.

Source: Team Suzuki

Top Ten Finishes In Both Classes For Husqvarna At Arlington
Jason Anderson Finishes 6th In The 450 Class In Arlington For Rockstar Energy Husqvarna Factory Racing!Martin Davalos Finishes 9th In The 250SX East Class
[caption id="attachment_36962" align="alignright" width="300"]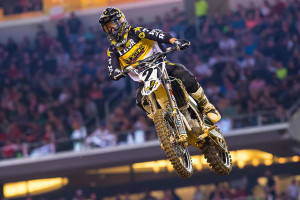 Photo: Simon Cudby[/caption]

Rockstar Energy Husqvarna Factory Racing's Jason Anderson and Martin Davalos made an exciting showing in front of a packed crowd at AT&T Stadium in Arlington, Tex. on Saturday for the seventh round of the 2015 Supercross Series.

Jason Anderson started in the top 10 in his heat race, moved up to sixth, and was in a good battle before having to restart the race due to a red flag. After the restart, Anderson encountered some bad luck after crashing behind a rider who went down right in front of him. He remounted in 16th and was forced to take a trip to the 450 semi. He pulled a mid-pack start in the semi before moving through the pack and finishing third to transfer to the main.

Anderson started mid-pack in the main, stayed focused, and steadily worked his way up to an impressive sixth-place finish. He leaves Arlington fifth overall in 450 rider point standings.

"My weekend was decent," said Anderson. "I'm climbing my way back up again and ended up sixth. The track was a little bit sketchy with the lines and there was concrete in spots. Other than that I'm not too bummed on the night. There were a lot of wierd crashes tonight and, on a track where so much could have gone wrong, I feel like I kept my head and rode smart and stayed up. I just have to keep riding solid and keep the top-10 streak alive."

[caption id="attachment_36961" align="alignleft" width="300"]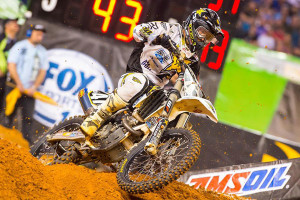 Photo: Simon Cudby[/caption]

Arlington marked the start of the 250SX East series. Martin Davalos, a seasoned veteran in the 250SX class, started in the top 10 in his heat race and then quickly advanced to the third-place position. After stalking the first and second-place riders for the next few laps, he made a clean pass in the last lap and crossed the finish line in second to transfer to the main.

In the main, Davalos pulled a second-place start before going down shortly thereafter. After working his way up to 14th he was subject to a complete restart after a red flag in the seventh lap. Davalos lined up for the first staggered start of the season and battled his way to ninth by the time the checkered flag waved. He leaves the first round of the 250SX East series ninth overall in rider point standings.

"The track was pretty tricky," said Davalos. "It had traction in some spots and it didn't have traction in other spots. I got a great start but got taken out in the second corner. I couldn't find a good flow to get going, then we obviously had the restart. This was a tough track to make a pass on anyone. I just kind of rode around for ninth. I'm looking forward to next week's race in Atlanta."

Source: Husqvarna Motorcycles

Arlington SX Overview And Point Standings
2015 AMA Supercross Arlington Image Gallery
(Click for full size images)
Overall Results - Supercross Class
| Pos. | # | Rider | Bike | Interval | Best Time |
| --- | --- | --- | --- | --- | --- |
| 1 | 5 | Ryan Dungey | KTM 450 SX-F Factory Edition | 20 Laps | 51.156 |
| 2 | 94 | Ken Roczen | Suzuki RM-Z450 | +03.708 | 51.336 |
| 3 | 41 | Trey Canard | Honda CRF450 | +12.993 | 51.796 |
| 4 | 4 | Blake Baggett | Suzuki RM-Z450 | +17.409 | 51.621 |
| 5 | 29 | Andrew Short | KTM 450 SX-F Factory Edition | +23.588 | 52.422 |
| 6 | 21 | Jason Anderson | Husqvarna FC450 | +27.485 | 52.028 |
| 7 | 3 | Eli Tomac | Honda CRF450 | +29.371 | 51.965 |
| 8 | 33 | Joshua Grant | Kawasaki KX450F | +35.182 | 52.365 |
| 9 | 20 | Broc Tickle | Suzuki RM-Z450 | +39.049 | 52.793 |
| 10 | 14 | Cole Seely | Honda CRF450 | +41.634 | 52.248 |
| 11 | 22 | Chad Reed | Kawasaki KX450F | +44.488 | 52.525 |
| 12 | 75 | Joshua Hill | Yamaha YZ450F | +45.683 | 53.316 |
| 13 | 46 | Phillip Nicoletti | Yamaha YZ450F | +47.451 | 53.075 |
| 14 | 12 | Jacob Weimer | Kawasaki KX450F | +47.805 | 52.791 |
| 15 | 27 | Nicholas Wey | Kawasaki KX450F | 19 Laps | 53.895 |
| 16 | 53 | Jimmy Albertson | Yamaha YZ450F | +18.506 | 54.087 |
| 17 | 199 | Kyle Partridge | Honda CRF450 | +23.635 | 53.892 |
| 18 | 800 | Mike Alessi | Suzuki RM-Z450 | +24.086 | 53.653 |
| 19 | 285 | Tony Archer | Kawasaki KX450F | 18 Laps | 55.742 |
| 20 | 18 | David Millsaps | Kawasaki KX450F | 5 Laps | 52.264 |
| 21 | 70 | Nicholas Schmidt | Suzuki RM-Z450 | +23.388 | 54.092 |
| 22 | 23 | Weston Peick | Yamaha YZ450F | DNS | |
Rider Point Standings - Supercross Class
Statistics




Race Time: 17:23.429

Margin of Victory: 03.708

Winner's Avg. Laptime: 52.171

2nd Place Avg. Laptime: 52.356

Best Qualifier: #5 - Ryan Dungey

Holeshot: #5 - Ryan Dungey




( Race 7 of 17 )


Ryan Dungey - 152

Ken Roczen - 140

Trey Canard - 129

Eli Tomac - 114

Jason Anderson - 100

Cole Seely - 93

Blake Baggett - 86

Chad Reed - 85

Andrew Short - 82

Justin Barcia - 71

Manufacturer Point Standings - Supercross Class
( Race 7 of 17 )


Honda - 157

KTM - 152

Suzuki - 146

Kawasaki - 105

Husqvarna - 100

Yamaha - 95

Overall Results - Supercross Lites East Class
| Pos. | # | Rider | Bike | Interval | Best Time |
| --- | --- | --- | --- | --- | --- |
| 1 | 25 | Marvin Musquin | KTM 250 SX-F | 15 Laps | 51.826 |
| 2 | 1 | Justin Bogle | Honda CRF250 | +04.079 | 52.105 |
| 3 | 37 | Joey Savatgy | Kawasaki KX250F | +06.727 | 52.362 |
| 4 | 6 | Jeremy Martin | Yamaha YZ250F | +07.610 | 52.797 |
| 5 | 43 | Matthew Lemoine | Kawasaki KX250F | +11.870 | 52.880 |
| 6 | 45 | Vince Friese | Honda CRF250 | +16.018 | 53.358 |
| 7 | 80 | RJ Hampshire | Honda CRF250 | +17.580 | 53.183 |
| 8 | 200 | Arnaud Tonus | Kawasaki KX250F | +18.420 | 53.367 |
| 9 | 47 | Martin Davalos | Husqvarna FC250 | +19.457 | 53.466 |
| 10 | 55 | Kyle Peters | Honda CRF250 | +23.026 | 53.159 |
| 11 | 986 | Colt Nichols | Honda CRF250 | +24.802 | 53.186 |
| 12 | 343 | Luke Renzland | Yamaha YZ250F | +28.061 | 54.130 |
| 13 | 62 | Anthony Rodriguez | Yamaha YZ250F | +31.140 | 52.880 |
| 14 | 77 | Justin Starling | Yamaha YZ250F | +35.379 | 53.966 |
| 15 | 49 | James Decotis | Honda CRF250 | +37.185 | 54.159 |
| 16 | 74 | Zack Williams | Honda CRF250 | +39.511 | 54.713 |
| 17 | 393 | Daniel Herrlein | Honda CRF250 | +43.007 | 55.029 |
| 18 | 73 | Gannon Audette | Kawasaki KX250F | +43.959 | 53.900 |
| 19 | 64 | AJ Catanzaro | Suzuki RM-Z250 | +44.093 | 54.794 |
| 20 | 88 | Dakota Alix | KTM 250 SX-F | +49.884 | 55.269 |
| 21 | 52 | Mitchell Oldenburg | Yamaha YZ250F | 13 Laps | 54.629 |
| 22 | 35 | Kyle Cunningham | Honda CRF250 | 7 Laps | 53.486 |
Rider Point Standings - Supercross Lites East Class
Statistics




Race Time: 14:00.235

Margin of Victory: 04.079

Winner's Avg. Laptime: 56.015

2nd Place Avg. Laptime: 56.287

Best Qualifier: #25 - Marvin Musquin

Holeshot: #25 - Marvin Musquin




( Race 1 of 9 )


Marvin Musquin - 25

Justin Bogle - 22

Joey Savatgy - 20

Jeremy Martin - 18

Matthew Lemoine - 16

Vince Friese - 15

RJ Hampshire - 14

Arnaud Tonus - 13

Martin Davalos - 12

Kyle Peters - 11

Manufacturer Point Standings - Supercross Lites Class
( Race 7 of 17 )


Yamaha - 156

KTM - 146

Kawasaki - 132

Honda - 124

Husqvarna - 115

Suzuki - 7