2014 KTM 250 SX‑F Offers Race-Quality Power For All
Chaparral Motorsports
|
February 15, 2015
[caption id="attachment_37877" align="alignright" width="300"]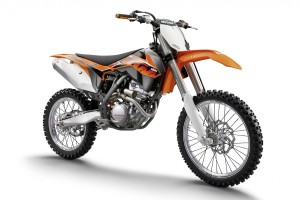 Photo: H. Mitterbauer[/caption]

For many dirt bike enthusiasts, KTM is at the front of the pack when it comes to creating top-notch motorcycles. It certainly cements its reputation with the 2014 KTM 250 SX-F, a motocross machine that continues the tradition of high-powered excellence for the brand.

The KTM 250 SX-F doesn't have much left to prove: It is already a multi-championship bike for KTM's world championship MX2 motocross teams, as well as the bike of which Ken Roczen won his 2014 AMA Supercross Lites West Champion title. Riders who want to embrace this high quality may want to consider the 2014 model for their next big investment.

Power To Spare
[caption id="attachment_37873" align="alignright" width="300"]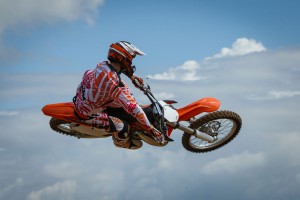 Photo: Alessio Barbanti[/caption]

The championship-level power of the 2014 KTM 250 SX-F comes from the four-stroke, water-cooled engine. KTM has also added a Header Resonator System to provide some extra torque and give you a leg up on the race track, but the new design cuts back on noise emissions to maintain the enjoyable rider experience. With a displacement of 250cc, it's definitely got enough oomph to keep you going throughout race conditions, and a lighter five-speed transmission allows you to control the performance of the machine without adding too much extra weight.

In fact, the dirt bike weighs in at just more than 226 pounds, in large part because the design has been updated to cut back on excess gear. The 1.98-gallon fuel tank is made out of a lighter polythene material, and the handlebars have been similarly altered to reduce weight without harming the comfort and control of the machine.

Upgraded Chassis
[caption id="attachment_37875" align="alignright" width="300"]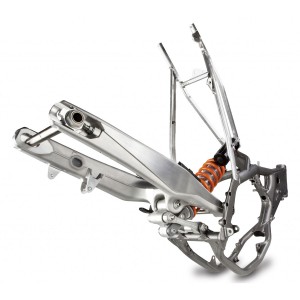 Photo: H. Mitterbauer[/caption]

The rest of the chassis is equally impressive. KTM has updated the swingarm, exhaust system and suspension to enhance the riding performance of the 250 SX-F. Of these, the changes to the swingarm may make the biggest difference of all, as a thinner design and lower weight still strike the right balance between stability and flexibility. Meanwhile, optimized settings have been created for everything from the rebound damping to the rear monoshock, allowing riders to customize the bike for the specific conditions of the day. It all comes together to create a rigid frame that can make precise turns without sacrificing speed or security.

KTM may have only made minor changes from the 2013 KTM 250 SX-F, but with the success of its predecessors, the dirt bike didn't require too many updates. Still, the finished product is an impressive machine that can certainly meet the needs of motocross racers.

2014 KTM 250 SX-F Image Gallery
(Click for full size images)