When And How To Replace Grips On Your Dirt Bike
Chaparral Motorsports
|
February 13, 2015
|
Last Updated: January 16, 2021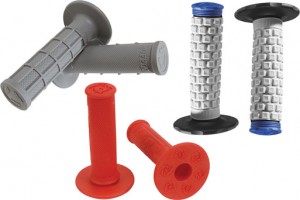 Grips are important pieces of motorcycle equipment and any motocross racer will tell you having worn or old MX grips can cause a lot of problems while riding. Several factory-issued dirt bikes can come with either weak or flimsy grips, and sometimes nothing at all. For this reason, many options of grips are available for riders to choose from.

Whether you prefer a waffle, half waffle, or diamond grip; single density or a double/triple-compound grip; practically all dirt bike grips can be installed in the same basic manner.

When To Replace Your Grips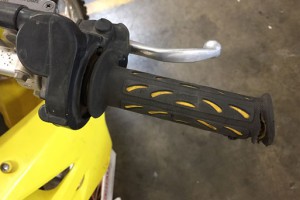 Standard factory-issued grips usually don't last as long as name-brand grip companies that pull all their effort and energy into creating the most durable and comfortable piece of equipment. There are many signs that point to you needing new grips and it doesn't just have to be when the rubber starts to shred.

Instead, inspect the tread on the grips and if it is wearing in any area, it's probably time to replace them. Additionally, if your grips start to bend or sag at all, this can create an unnatural grip for you, which could lead to slips and falls.

Most riders will know when it's time to replace their grips, but if your hand is slipping at all, it's time to change them.

How To Remove Your Old Grips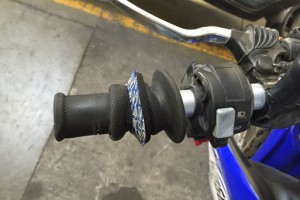 One of the fastest ways to remove grips on your dirt bike is to use a razor cutter to slice through the rubber. Whether you call it a razor cutter, Stanley knife, utility knife, or a box cutter - they all refer to the same tool, a retractable knife that uses disposable razor blades for a safety in cutting. However, rubber is not the easiest material to cut, and you don't want to put too much pressure and carve gouges in your aluminum handlebars, so it is best to spend the dime and put in a fresh blade before you start. Using WD-40 or oil on the blade can help to give a smoother incision as well.

Once you slice along the length of the grip, it is a simple matter to rip it open and strip of the old rubber by pulling it down of the handlebars. If your grips have been wired on, make sure to snip the wire at the base of the grip before cutting and removing them.

Prepping Your Bike For New Grips
When you are able to remove the old grips, you need to clean the bar from the previous glue that is left on the metal. Use a scouring pad to clean the excess glue and a wire brush for hard pieces still stuck to the bar.

Another recommendation is to file the end of the bar, if needed, to create a less sharp or jagged edge to the metal. Typically, a single crash on a dirt bike can rip through the plastic of new grips when the metal isn't filed. You don't want to install the grips until the metal bars are smooth at the end, otherwise you could end up having a metal burr slicing through your new grips as you're maneuvering them into place.

Installing The Grips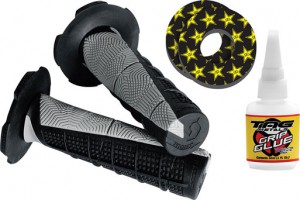 After you have the bars cleaned and filed, you need to spray or lay down grip glue. Some riders might say they don't use grip glue, but you might have wished you did the second your grips comes off while riding.

A handy trick some riders use is to use a hair dryer or some form of strong heat on the new grips before you put them on the bar - Don't place the heat source too close to the rubber as it can burn. After you warm up the rubber grips, they say it will be easier to manipulate on the bar and create a better handle.

When you're ready to install your new grips, put a small amount of grip glue on the bar ends and the inside of the grip. Then, slide the grip on the metal with the tread facing upward. There are two different sizes of grips, so make sure you use the larger one for the throttle bar.

Make sure you wipe off any excess glue once you apply the grips and let the newly added equipment sit for at least eight hours before you ride. If you want a more secured grip to the bar, use safety wire and wrap it tightly around the base of the grip, twisting it to lock your grip in place. Some grips come with a special groove just for this purpose. Of course, when you clip the wire make sure to bend it away from your fingers and press it into the rubber, you'd hate to rip a hole in your motocross gloves because you forgot and left the wire ends exposed. Additionally, some riders then add a grip donut for further protection and style.