Oakland Supercross Victory Goes To Trey Canard
Chaparral Motorsports
|
January 31, 2015
[caption id="attachment_36448" align="alignright" width="300"]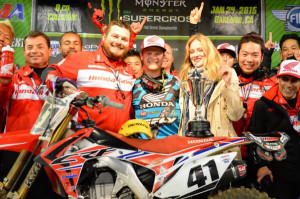 Trey Canard - Photo: Simon Cudby[/caption]

On Jan. 24, Trey Canard, team Honda, surged in the Oakland Supercross to take first place after passing previous leader Chad Reed in the seventh lap of the 450 Main event, Cycle News reported. The Oakland Supercross was in the Coliseum in Oakland, California, where massive crowds came to watch the motorcycle event.

Reed finished third in event with his Discount Tire/Two Two Motorsports Kawasaki, while Red Bull KTM's Ryan Dungey landed in second place. Canard was able to pass four riders within the second lap to advance to sixth place shortly after a crash from Soaring Eagle/RCH Suzuki rider Ken Roczen.

Roczen Falls To Second Place Overall
[caption id="attachment_36476" align="alignright" width="300"]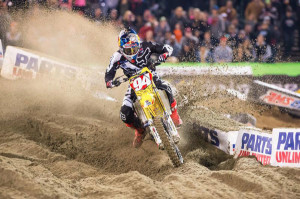 Ken Roczen[/caption]

Roczen was in the lead for the series, but the crash made him finish in 15th place in Oakland, which dropped him to the second spot in the series with 78 points, Ultimate Motorcycling reported. Many thought Roczen would pull out of the race after he slammed his helmet on the handlebars during the crash, but the Suzuki rider slowly got up and finished the race.

Canard finished in first place just three seconds ahead of Dungey to earn the top spot on the podium, Cycle New reported.

"I don't know what to say," Canard said after the race. "I didn't think I would be on the podium after the first few laps; it was busy out there. It has been a long haul to get here on top of the podium, and I am really happy about it."

Dungey Looking On To Next Race
[caption id="attachment_36455" align="alignright" width="300"]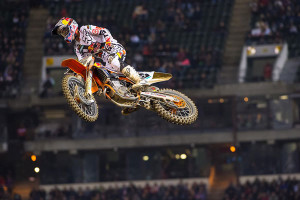 Ryan Dungey - Photo: Simon Cudby[/caption]

Afterward, Dungey told reporters that he was eager to move on to the next round, which will return the series back to Anaheim, California, for the fifth round of the season on Jan. 31 in Angel Stadium, NBC Sports reported.

"I wish I could have taken the win tonight, but I am happy that my consistent results have paid off and we are in the top spot heading to the next round," said Dungey, according to Cycle News. "I have to keep building off these results and continue to work toward that win."

Dungey added that the track conditions in Oakland were extremely tough, and he tried to make up ground to catch Canard but could never pull it off, Ultimate Motorcycling reported.

Dungey currently leads the series with a total of 82 points, while the Oakland Supercross winner Canard sits in third with 68 points.