Chaparral Motorsports Pro Works Pt. 4: Installing A Dr. D Hour Meter
Chaparral Motorsports
|
January 30, 2015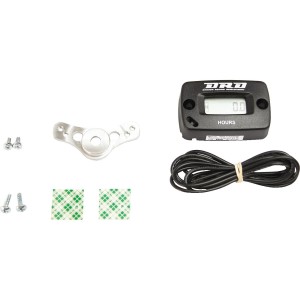 Unlike most other motorcycles that may have one or multiple gauges to provide information such as mileage, MPH, RPM and diagnostics such as warning lights, dirt bike are pretty rudimentary and offer no such luxuries (unless you have an endure or dual sport type of bike). The lack of a speedo or odometer on a dirt bike means less weight, but it also means you need some way to keep track of how much riding you've been doing so you know when to perform an oil change or tend to other serviceable items.

While four-strokes require more maintenance than two-strokes, both motorcycles can greatly benefit from installing an hour meter. An hour meter can be an invaluable accessory, digitally keeping tabs on how many hours you've ridden. With an hour meter a simple glance at the screen can instantly tell you whether it's time to check the valves, service the air filter, or perform some other type of scheduled maintenance. The nice thing about an hour meter is that they weigh next to nothing and take up very little space so mounting one to your bike shouldn't be an issue.

After previously installing a Dr. D Engine Relocation Kit in Part 3 of the Chaparral Motorsports Pro Works series, in the video below Larry Brooks shows the step by step process of installing a [mageProductLink sku="drd-5423" title=""]Dr. D Hour Meter[/mageProductLink]. The Dr. D Hour Meter is available with or without a billet aluminum mount. The mount allows you to install the meter to the top triple clamp or top of the gas tank so it's easy to see and read. If you opt for the non-mount version, the meter can be stuck to nearly any part of the bodywork or frame with the adhesive strip that's on the back of the meter. Wherever you choose to install your hour meter, just make sure to keep it was from any extremely hot components like the exhaust or engine.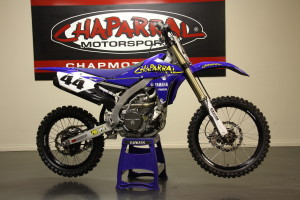 The nice thing about the Dr. D hour meter is that it's extremely easy to install. It comes with the meter and a single piece of wire. The meter operates off of electrical pulses which can be picked up from the spark plug wire. To install you simply figure out where you want to mount the meter, push one end of the wire into the groove in the back of the plastic meter housing and then wrap the other end of the wire around your spark plug wire. It's that simple. Watch the video and Larry will show you how to install an hour meter on a 2015 Yamaha YZ450F.