New KTM Freeride 250 R Debuts For The First Time In The American Market
Chaparral Motorsports
|
January 28, 2015
[caption id="attachment_36901" align="alignright" width="300"]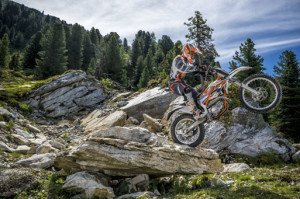 Photo: R. Schedl[/caption]

For the first time in 2015, American riders will be able to get their hands on the new KTM Freeride 250 R two-stroke dirt bike. The KTM Freeride has been sold in European markets for a few years now, and the latest off-road edition from the motorcycle manufacturer will be available in the states.

The 2015 KTM Freeride 250 R is half enduro and half trials bike - an all-out trails bike fit for the most experienced rider or for a person getting their feet wet with an off-road bike. The non-street-legal two-stroke bike weighs just over 200 pounds without fuel and liquids, but its slim body and quick power will give riders plenty of take-off speed.

Built For Agility, Not All-Out Speed
[caption id="attachment_36905" align="alignright" width="300"]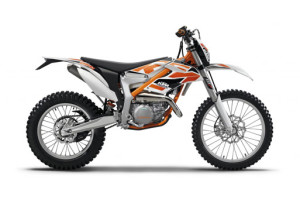 Photo: H. Mitterbauer[/caption]

The new Freeride 250 R has a similar engine build like the KTM 250 XC-W, but the latest model's engine is 4.4 pounds lighter and it doesn't have an exhaust power-valve. Instead, the Freeride is built for slower speeds and not for the race track. Its peak horsepower can reach about 4,500 rpm.

The six-speed transmission has much shorter shifting ratios between the first five gears, which will give a different takeoff feeling than the other KTM models. The Coil Spring Steel (CSS) clutch gives the bike a softer pull with a heavier punch.

The 250cc two-stroke motor actually has an electric starting system and does not have a kickstarter, Cycle News reported. The design gives the bike a ton of bottom-end and torque.

Power To Ride Free
[caption id="attachment_36899" align="alignright" width="300"]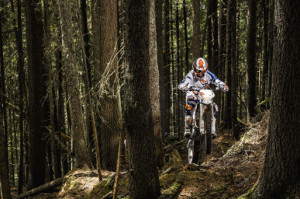 Photo: R. Schedl[/caption]

"All those who have never had the opportunity to enjoy the punch of a powerful two-stroke in a lightweight, agile offroad chassis are in for a surprise with the Freeride 250 R," KTM stated on their website. "However, those who have already had this pleasure know: The power of such an engine develops completely differently, the expanding combustion gases effectively pressing down twice as often on the crankshaft as a four-stroke."

There is a four-stroke 350cc version of the Freeride available oversees, but the 250 model's ground clearance is 60mm higher than the 350 Freeride version, Motocross Action magazine reported. The Freeride 250 R's frame has some stainless steel sections and bolt-on forged aluminum components with a polymer plastic subframe.

As of right now, there will only be a limited number of KTM Freeride 250 R models available in the U.S., and each bike has a price tag of $7,899. The off-road bike will give riders a fun experience and its solid suspension and super-grip tires will let drivers explore any terrain.

2015 KTM Freeride 250 R Image Gallery
(Click for full size images)