2015 AMA Supercross Oakland Race Results
Chaparral Motorsports
|
January 26, 2015
Canard Wins First Monster Energy Supercross Race Since 2011 In Oakland
Malcolm Stewart Wins First-Ever 250SX Class Race
[caption id="attachment_36449" align="alignright" width="300"]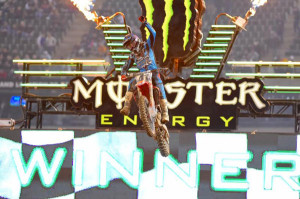 Photo: Simon Cudby[/caption]

Team Honda's Trey Canard won his first Monster Energy AMA Supercross, an FIM World Championship, race of the 2015 season in front of 47,671 fans at O.co Coliseum. GEICO Honda's Malcolm Stewart captured his first win in the Western Regional 250SX Class Championship.

BTO Sports/KTM's Andrew Short won the SupercrossLive.com Holeshot Award with RCH/Soaring Eagle/Jimmy John's/Factory Suzuki's Ken Roczen, who came into tonight's race as the points leader with two wins, and Discount Tire/TwoTwo Motorsports' Chad Reed in second and third respectively.

Reed passed Short for the lead on the opening lap, and Roczen passed Reed on Lap 1. However, after the pass, Roczen did not have the momentum needed to clear the triple jump and crashed upon landing, forcing him to drop back to nearly last place. He eventually remounted and finished 16th overall.

Roczen's crash allowed Reed, who was black flagged last week because of an on-track altercation with Team Honda's Trey Canard, to take over the lead. Team Honda's Cole Seely moved into third place on Lap 4 and Canard pulled into third place on the same lap.

[caption id="attachment_36446" align="alignleft" width="300"]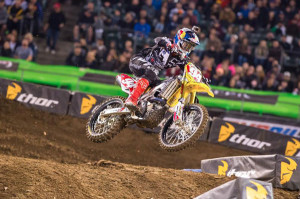 Photo: Simon Cudby[/caption]

Canard took over second place, just behind Reed, on Lap 5, and the stage was set for the highly anticipated duel between the two riders. Canard wasted little time on Reed, passing him on the following lap.

On Lap 16, Red Bull/KTM's Ryan Dungey passed Reed for second place, marking his second-consecutive runner-up finish of the year. Reed finished third, his best finish of the season.

"All things considered, tonight's track was really tough," said Dungey. "I wanted to make up some ground on Trey [Canard] for the lead, but it didn't work out. It's nice to take over the points lead, but the season is still young."

Canard's last win came in Arlington, Texas in 2011.

"I don't know what to say," said Canard. "I didn't think I would be on the podium after the first few laps; it was busy out there. It has been a long haul to get here on top of the podium, and I am really happy about it."

[caption id="attachment_36444" align="alignright" width="300"]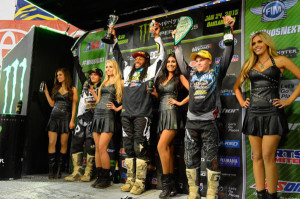 Photo: Simon Cudby[/caption]

Rockstar Energy/Husqvarna Factory Racing's Zach Bell started the Western regional 250SX Class Main Event by winning the SupercrossLive.com Holeshot Award. Following closely was Monster Energy/Pro Circuit/Kawasaki's Chris Alldredge and GEICO Honda's Malcolm Stewart in second and third respectively.

Yamalube/Star Racing/Yamaha's Cooper Webb, who came into tonight's race with a two-race win streak and the points lead, started near the back of the pack.

Stewart worked his way into second place on Lap 1, and on the following lap, he moved into the lead. On the race's third lap, the lead would change again as Red Bull/KTM's Justin Hill passed Stewart for the lead. Alldredge had a miscue and jumped off the track, which cost him several positions. Cycle Trader/Rock River/Yamaha's Alex Martin moved into the third position by Lap 5.

While working his way through the pack, Webb collided with four-time AMSOIL Arenacross Champion Tyler Bowers and subsequently crashed.

While in the lead on Lap 7, Hill crashed and turned the lead back over to Stewart. Following the bad start and the crash, Webb came back, and passed Bowers, to put himself in third place. On the last lap, Webb passed Martin for second place and earned his third consecutive podium finish.

Martin finished third, the first podium of his career.

[caption id="attachment_36445" align="alignleft" width="199"]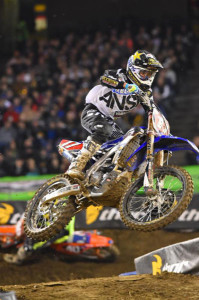 Photo: Simon Cudby[/caption]

"I didn't get the start that I wanted, but I worked my way through, but then Bowers [Tyler] sawed my front end off," said Webb.

Webb holds and eight-point lead in championship stands over Bowers. Stewart moved up one spot in the standings and is sixth.

"This is a big moment for me," said Stewart. "First of all, I want to thank my brother. I want to thank these fans out here tonight; I am an Oakland Raiders fan, so you guys are great. I knew I could do it, and tonight it finally paid off.

Monster Energy Supercross continues next weekend with its fifth stop of the 17-race season from Anaheim, California, the third of three stops at Angel Stadium. Live broadcast coverage on FOX Sports 1 begins at 7 p.m. PT / 10 p.m. ET on Saturday, January 31.

https://www.youtube.com/watch?x-yt-cl=84924572&v=9FD2IRIsQxE&list=PLS9EW4D0HArn6wHrgs1on-H37mVEXwQ8Y&feature=player_embedded&x-yt-ts=1422411861

Source: Supercross Media

Canard Victorious At Oakland Supercross
[caption id="attachment_36448" align="alignright" width="300"]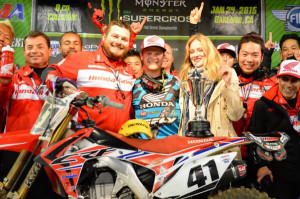 Photo: Simon Cudby[/caption]

For Team Honda, Saturday night at O.Co Coliseum in Oakland, California, was filled with excitement and celebration as Trey Canard raced to his first 450SX victory in nearly four years. The Oklahoma native was unstoppable all day, topping timed qualifying practice and pulling away in the 450SX main event for an inspirational win.

Teammate Cole Seely also had a positive night, improving on last week's sixth-place finish to score a season-best fifth. Finishing just in front of Seely in fourth was GEICO Honda's Eli Tomac, who fought his way through the field after a tough start. All three factory CRF450R racers landed in the top five, while GEICO Honda's Malcolm Stewart topped the 250SX class.

Team Honda Explores the Bay Area

[caption id="attachment_36447" align="alignright" width="300"]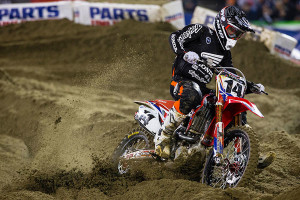 Photo: Jeff Kardas[/caption]

Following a successful pre-race press day on Thursday, along with additional interviews Friday morning, Team Honda riders and staff were able to enjoy some rare recreational time in the Bay Area. Cole Seely joined trainer and professional mountain bike racer Brian Lopes, along with crewmember Jason Haines, on a mountain bike ride in Santa Cruz with other riders and journalists. "Having to come up early for press makes keeping to your training schedule difficult, so getting time and an opportunity to go ride and have some fun was really cool," Seely said.

Team manager Dan Betley also had an opportunity to jump on a mountain bike for a ride with the GEICO Honda mechanics at the Mt. Diablo trail just outside of Walnut Creek. "I had an awesome time on Friday," Betley said. "It was really nice to get away. We're all so focused on the task at hand, so it was good for everyone to have the chance to relax a little before Saturday."

Trey Canard and a few other members of Team Honda went into the city to explore the famous Pier 39 and Fisherman's Wharf before taking a boat tour of the bay. The tour went around Alcatraz Island and under the Golden Gate Bridge, while a guide explained the city's rich history.

Trey Canard
"I'm just so happy with how tonight went, I don't even know what to say. I didn't think I would be on the podium after the first few laps; it was chaotic out there. It's been a long haul to get here on top of the podium, but it feels so great. Everyone on the team has been working their butts off this season and I'm so grateful that I could finally give them what they've been working so hard for, a win. I got lucky with Kenny's [Roczen] problem, so now the points gap has been closed a bit. I just need to work on my starts and stay on the podium each week, and it'll be a fight to the end."
Cole Seely
"I'm excited and happy with how the night went. We're moving in the right direction, for sure. I felt like I was hitting all my marks really well, and I put myself up front and in a good position early in the race. Unfortunately, I made some mistakes five or six laps in, which really cost me a lot of time and positions. I'm happy I was able to regroup and shake it off to salvage a fifth from that, which is my best finish of the season. My starts are improving and I'm riding well."
Dan Betley: Team Manager
"I couldn't be any happier for Trey or our team tonight. He's worked so hard and has such dedication, even after enduring so such adversity in his career. For him to win another supercross race is just fantastic. He got a bad start but somehow found a way to make it through the pack on the first lap, even after getting slammed by another rider. He just put his head down, made the passes he needed to and rode his own race. It was also a good night for Eli and Cole, who took fourth and fifth for the night. In the last four rounds we've won two, taken two pole positions, and won heat races. We're obviously on our way up, and I'm excited."
Satoshi Matsushima: HGA Chassis Engineer
"It was a very good night for Honda, first with GEICO Honda's Malcolm Stewart winning the 250 class, then team HRC's Trey Canard winning the 450 class with a very good, steady ride! GEICO Honda's Eli Tomac and Team HRC's Cole Seely struggled a little bit in the race but were able to finish fourth and fifth, respectively, in the 450 class, so we had three Hondas in the top five in the 450 class! We'll keep on trying for the championship, and thanks for your support!"
Brent Presnell: Mechanic (Trey Canard)
"Tonight was awesome! Trey was really fast all day long, so I knew he was capable of pulling off the win. He got a bad start but somehow was able to charge through the pack and make his way up to the front pretty quickly. Once he was in the lead, he was able to just manage his race. The last couple laps were extremely nerve-racking, with a few sketchy moments, but luckily he was able to keep it together. This is one of those confidence-boosting wins and definitely a great building block for the rest of the year."
Rich Simmons: Mechanic (Cole Seely)
"I think each week Cole has shown good improvement. Tonight's goal was to be in the top five and we achieved that, so it was a good night for us. He's been riding well all year, but now he's just racing better overall by putting himself in a good position and making passes. We want to continue to build on this and hopefully be up on the podium soon."
Source: Honda Racing

Stewart Makes Oakland A Double Podium For Honda
[caption id="attachment_36452" align="alignright" width="300"]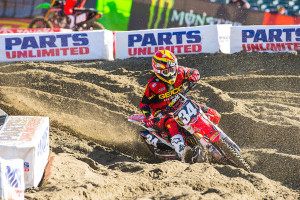 Photo: Simon Cudby[/caption]

Winning once only makes true racers want to win again, and GEICO Honda rider Malcolm Stewart is no exception.

Fresh off his first career 250cc victory in Monster Energy Supercross competition, Stewart has his sights set on continuing his success in this weekend's race at Angel Stadium of Anaheim, and that starts with confidence in himself and his team's confidence in him.

"Just believe - that's it," Stewart said. "You're always going to have ups and downs in racing, and Oakland [Calif.] was my time to get on the box."

Stewart joined the team for 2015, and after a hiccup in the first race of the year Stewart has shown plenty of speed. He scored a podium finish in Phoenix, followed by a fifth-place finish in the second Anaheim race.

Now, he hopes to keep the momentum rolling in Anaheim 3.

[caption id="attachment_36453" align="alignleft" width="300"]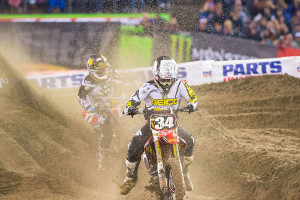 Photo: Simon Cudby[/caption]

"I felt good on practice all day long, and it paid off," Stewart said. "Now, let's just keep building from here. Whether I win, get second, get third, let's get it on the box. It always looks good when the GEICO Honda gets on the box."

Stewart's recent run of success has helped him leap 16 places in the standings to sixth, 22 points behind leader Cooper Webb with five West Series races remaining.

The Oakland victory was big for Stewart for many reasons, including having his father and mother present, but his emotions were also tempered because older brother James wasn't there to celebrate with him.

"Even though I got this win, it doesn't feel the same as when I have my brother here," Stewart said. "I miss him so much, and it's emotional not having him here."

Family is important to Stewart, and he's appreciative of his GEICO Honda family for supporting him this season.

"(Team owner) Jeff Majkrzak and the entire team has had my back this year," Stewart said. "That means a lot, and I'm glad I can earn their support. I hope we can continue to have success the rest of the year."

[caption id="attachment_36450" align="alignright" width="300"]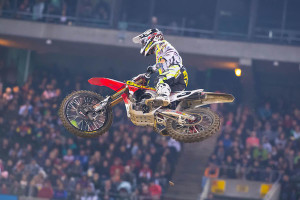 Photo: Simon Cudby[/caption]

A testament to the growth of GEICO Honda's Eli Tomac as one of the top 450cc riders in Monster Energy Supercross competition is his refusal to accept anything less than victory.

Tomac finished fourth in last week's race in Oakland, Calif., but while many riders would be smiling with such a result, he knows he can do better.

And that's what Tomac will be looking for in Saturday's event at Angel Stadium of Anaheim.

"Going to the third Anaheim race, I've been feeling pretty good, but it seems like when we get to some of the bumpier tracks, that is when I get a little bit tight," Tomac said. "Once I get that figured out, hopefully we'll be consistently getting first or second instead of third or fourth. That's what I'm shooting for right now."

Tomac scored his first career 450 victory two races ago on Phoenix, so he knows he can beat the best in a competitive Supercross class. He has finished third and fourth in the two races since and is in the thick of the 450 championship race.

He's fourth in the standings, trailing Ryan Dungey by 18 points. With 13 races remaining in a grueling Supercross season, Tomac knows there is plenty of time to make up ground.

[caption id="attachment_36451" align="alignleft" width="300"]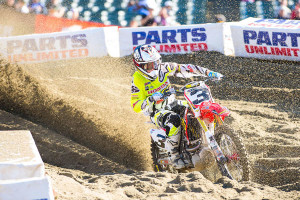 Photo: Simon Cudby[/caption]

"It's a long season," Tomac said. "The points will take care of themselves as long as we're performing at a high level and staying consistent."

That's what Tomac has been in 2015, save for a tough opening race in Anaheim when he fell and finished 20th. Only Dungey has scored more points since then as Tomac has become a threat to win each week.

Though he'll race Anaheim for the third time this year, there is little to be gained from racing twice before in the same month.

"The layout completely changes every time," Tomac said. "It might end up being wet this weekend from what I've seen on some forecasts, so it could be a really interesting race."

Unlike many Supercross riders, Tomac welcomes the chance of rain.

"If it is muddy, normally I'm good in it," Tomac said. "There are a lot of variables there, but normally it's good for me."

Source: GEICO Honda

Dungey Earns 2nd At Oakland Supercross
[caption id="attachment_36455" align="alignright" width="300"]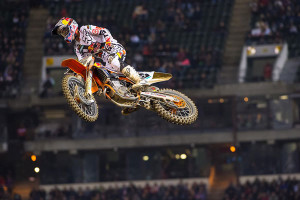 Photo: Simon Cudby[/caption]

Red Bull KTM factory rider Ryan Dungey earned an impressive 2nd place result at the 4th round of the Monster Energy Supercross, an FIM World Championship held in front of an enthusiast crowd at the Oakland Coliseum.

Ryan Dungey was placed in the second 450SX heat where he nearly pulled the holeshot to get an early lead on the pack. Within the first few corners he dropped to 3rd place where he remained for the next two laps while closing the gap on the 2nd place rider. A lap later he made the pass for the position and began to close on the leader. Dungey applied pressure to the leader on the last lap but was unable to make the pass and finished in 2nd for a great transfer spot into the main event.

Unfortunately, Dungey's Red Bull KTM factory teammate, Dean Wilson, suffered an ACL injury during a practice crash earlier in the week and did not race the Oakland Supercross.

[caption id="attachment_36454" align="alignleft" width="199"]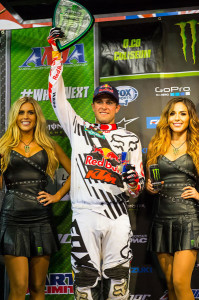 Photo: Simon Cudby[/caption]

Dungey jumped off the line to a top five start. At the end of the first lap he came in 5th place. Shortly before the halfway mark Dungey had moved into the top three. He remained in that position for the next few laps slowing chipping away on the gap to the 2nd place ride of Chad Reed. With three laps to go, Dungey was able to make the pass on Reed on his KTM 450 SX-F to take over the position when Reed made a mistake and rode off the track. Dungey held onto the spot for the remaining laps to finish in the runner-up position.

Dungey's podium position at the Oakland Supercross moves him to 1st overall in the championship standings by five points. "I am excited to run the red plate at the next round," stated Dungey. "I wish I could have taken the win tonight but I am happy that my consistent results have paid off and we are in the top spot heading to the next round. I have to keep building off these results and continue to work toward that win."

Next Round: January 31, 2015 - Anaheim, CA

https://www.youtube.com/watch?x-yt-ts=1422411861&v=jw3dGBxejSY&feature=player_embedded&x-yt-cl=84924572

Source: KTM North America

Chad Reed Puts Kawasaki on the Podium in Oakland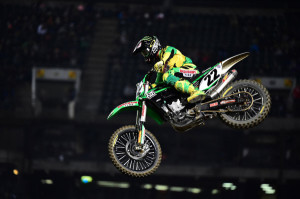 Monster Energy AMA Supercross, an FIM World Championship made its first visit of the season to the Bay Area for Round 4 on Saturday at O.co Coliseum in Oakland. Discount Tire/TwoTwo Motorsport's Chad Reed pushed to the front of the field in the main event to capture his first podium of the season in third place on his KX450F. Monster Energy Kawasaki's Davi Millsaps fought within the top-10 for all 20 laps to finish in seventh place. In the 250SX class, Monster Energy/Pro Circuit/Kawasaki's Chris Alldredge took the early lead in the main event, but it was his teammate Tyler Bowers who pushed forward to finish just off the podium in fourth place. Motosport.com Kawasaki's Josh Hansen finished eighth and Alldredge was credited 21st following a crash while battling up front.

Redemption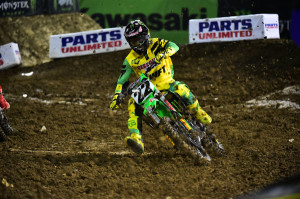 Reed started off the season with back-to-back 10th place finishes followed by a disqualification last week in Anaheim. Although upset about the events in Anaheim, it ignited a fire within him and fueled his results in Oakland. Reed posted competitive times in practice and qualified as the top Kawasaki-mounted rider in fifth. He got a great start in the main event and immediately put himself into position to take charge. He took over the lead on Lap 4 and was setting the pace before his line was taken away from him and dropped him to second. Riding on the rear wheel of the leader, Reed made a costly mistake that sent him off track. He re-entered safely, but lost a position. He finished strong in third place and achieved his first podium finish of the season.

"It's great to get up here after last week," said Reed. "I'm bummed because I really do feel like I had a win in me tonight, but I made a couple mistakes and jumped off the track. We've put what happened last week behind us and will move forward with a new motivation."

Staying On Track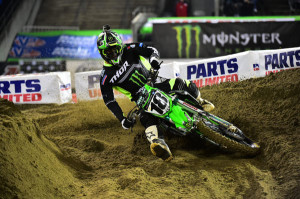 Millsaps left Anaheim not feeling like himself but with a solid week of training, he started off qualifying in Oakland feeling comfortable and posted the seventh fastest qualifying time. Mistakes while up front in his heat race kept him from transferring directly to the main, but he transferred from his semi and used the extra track time to see how the track was going to develop for the main event. The gate dropped for the main event and Millsaps did not get the greatest jump from outside the start box, but muscled his way into the top-10 by the end of Lap 1. He clicked off consistent lap times for all 20 laps and crossed the line in seventh.

"I felt much better tonight," said Millsaps. "I was able to maintain my pace through the main event, but if you're not at the front from the beginning it's hard to find that extra second each lap while in traffic. I'm happy with our result and we're only going to continue to get better."

Still In The Hunt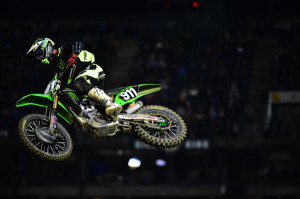 Bowers maintained second place in the championship as they hit the halfway mark of the Western Region. He qualified fifth and cruised into the main event with a fourth place in his heat race. Bowers did not get the start he was looking for in the main event and rounded the first lap in ninth. Each lap he picked off riders and moved into a podium position by the midway point of the 15-lap main event. He pushed the limits of the deteriorating track and had to settle for fourth place at the checkered flag. Bowers sits eight points behind in the championship.

"I should have been on the podium tonight," said Bowers. "Once again my start in the main event did not help. I moved as quick as I could to catch the leaders and made a few mistakes towards the end that cost me a podium and points. We've got two more rounds before the break and I'd like to have the red plate before then."

Putting The Pieces Together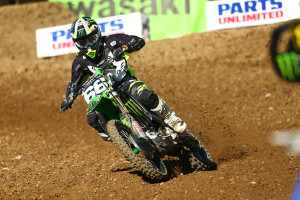 Hansen and Alldredge have both showed the potential to be podium contenders in the 250SX class and with each week they are getting closer to achieving that. For Hansen, he has combined his natural talent with a new training regime that continues to improve. Hansen finished eighth in Oakland and felt the best he has this season. Alldredge on the other hand, showed he had the speed to be up front as he won the LCQ and led the opening laps of the main event. But the rookie has yet to stay mistake-free through an entire main event. With continued work, both Kawasaki-mounted riders have showed they can put the KX250F up front.

Third Time's The Charm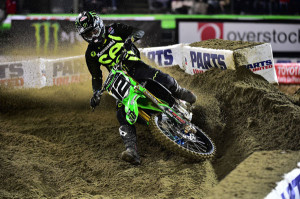 Monster Energy Supercross returns to Angel Stadium in Anaheim for the third and final time of the season for Round 5 on Saturday, January 31st. Bowers finished third at Anaheim 1, second at Anaheim 2, and looks to take the final step up to the top of the box at Anaheim 3.

Source: Kawasaki Racing

Top 10 Finishes For Osborne, Bell In The 250 Class
[caption id="attachment_36464" align="alignright" width="300"]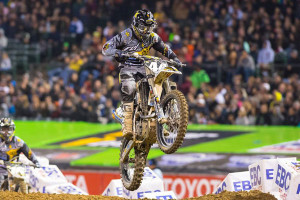 Photo: Simon Cudby[/caption]

500 truckloads of dirt invaded Raider Nation on Saturday as Oakland's O.Co Coliseum played host to round four of the 2015 Supercross series.

Zach Bell was ready to make an impressive showing in Oakland after finishing outside the top ten last week at Anaheim. He got a good start in the 250 heat and finished third to transfer to the 250 main. Bell grabbed the holeshot in the main and kept his Husqvarna FC 250 near the front of the pack to finish fifth. He currently sits 11th overall in 250 championship point standings.

"Today was good," said Bell. "Qualifying, practice, everything went well. Last weekend I hurt my foot so I took last week off so I could get it good for this weekend and show everyone what I could do. I got a holeshot and put it in the top 5 so I'm happy. I just need to build off of this and get better every weekend."

[caption id="attachment_36465" align="alignleft" width="300"]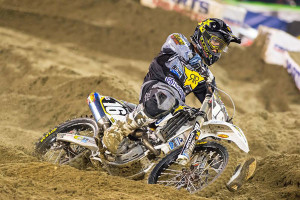 Photo: Simon Cudby[/caption]

Zach Osborne made some exciting passes in his heat and finished fifth to transfer directly to the 250 main. In the main, Osborne steadily piloted his Husqvarna FC 250 through the pack to finish sixth. He currently sits fourth overall in 250 championship point standings.

"Today was ok for me," said Osborne. "The track was pretty challenging, and I haven't been spending as much time as I'd like on my bike due to my previous thumb injury. I think the technical track was definitely the biggest obstacle for me this week, but I'll be back up there next week."

Jason Anderson Finishes 10th in the 450 Class at Oakland For Rockstar Energy Husqvarna Factory Racing!

[caption id="attachment_36463" align="alignright" width="300"]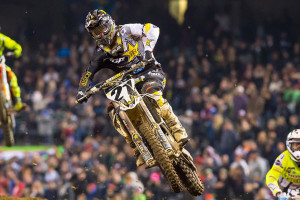 Photo: Simon Cudby[/caption]

Jason Anderson and his Husqvarna FC 450 finished third in the 450 semi to transfer to the main. In the main, Anderson pulled a top-ten start and was charging toward the front of the pack when he suffered a gnarly crash in lap six that cartwheeled him to the back of the pack. He remounted and fought his way back to tenth. He currently sits fifth overall in 450 championship point standings.

"The weekend was ok," said Anderson. "When it came down to it I was up there, but I ended up crashing pretty hard and finished 10th. I'm ready to get back up there next week to redeem myself.

Martin Davalos Makes His 2015 Supercross Debut

[caption id="attachment_36462" align="alignright" width="300"]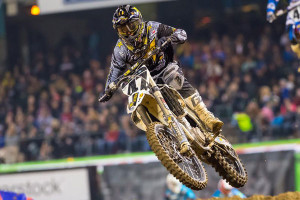 Photo: Simon Cudby[/caption]

After putting in some preparation laps during qualifying last week at Anaheim 2, Martin Davalos came to Oakland ready to race. He raced his first 20-lap main event and gained valuable experience as he eventually settled into an 18th-place finish. Davalos has two more west rounds before he starts the 250 SX East series starts in Dallas on February 14.

I felt pretty well," said Davalos. "I got better on the bike throughout the day, but I felt like I rode too conservative. I should have pushed a little more, but it was a great experience. I feel like I loosened up a bit more and I'm looking forward to getting more seat time on the 450 next week at Anaheim 3.

Source: Husqvarna Motorcycles

Barcia Finishes Oakland Just Outside Top 5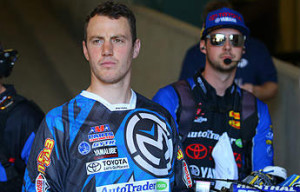 O Co. Coliseum in Oakland, Calif. was host to round four of the 2015 Monster Energy AMA Supercross Championship. 47,671 fans were in attendance and all of the action was broadcast live on Fox Sports One.

As reported earlier, Weston Peick underwent surgery on his foot last week and is recovering. He will return to training and racing when cleared by his doctors, the expectation being four to six weeks. Phillip Nicoletti began substituting for the injured Peick in Oakland and will continue to do so until Peick's return.

Justin Barcia transferred directly to the main by winning heat race two earning an interview with the fans and the Fox Sports One television audience. When asked by Fox Sports One commentator Ralph Shaheen if Justin was ready to get a main event win Justin replied, "We want that main event win bad. It's going good, the whole AutoTrader Toyota Yamaha team is working super hard, I'm really happy with everyone. My Pirelli tires hooked up good on that start so that felt nice. It's just been a work in progress, a lot of new things, new trainer, new team, just everything, so I'm just working toward my goal and that's obviously winning and podiums." Nicoletti won the LCQ securing his gate for the main event.

When the gate dropped for the main event, Barcia began the race in the top-10, being credited for ninth on the first lap, while Nicoletti checked in 21st. Barcia methodically rode the remaining 19 laps advancing to sixth at the checkers, while Nicoletti improved to 15th.

Angel Stadium of Anaheim will host its third and final round of the series in 2015 on Jan. 31. Fox Sports One will broadcast the entire event live starting at 10:00 p.m. (EST).

Source: JGR MX

Baggett Races To Best Result At Oakland SX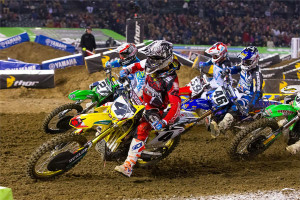 The progress of series rookie Blake Baggett continued on Saturday night, where he finished ninth on his Yoshimura Suzuki RM-Z450 at round four of the 2015 AMA /FIM World Supercross Series in front of 47,671 fans at O.co Coliseum in Oakland, California.

Baggett was initially classified seventh, but later learned he'd been assessed a two-position penalty for jumping a triple at the site of a medical flag. Baggett was one of three riders given the penalty. It resulted in Baggett being moved back to ninth in the official results, but despite the setback, it marked his best result of the season.

Baggett had another of what is becoming his characteristic come-from-behind races on his No. 4 Yoshimura Suzuki RM-Z450 in the final at Oakland: He ran as far back as 13th on the first lap of the 20-lap Main, but he rode a solid and steady race to work his way up to the seventh by the end of race.

After finishing 10th in timed qualifying and sixth in the first 450 Heat race, in the first Semi Baggett nailed the holeshot and pulled away to a commanding victory; his first win in a 450 Supercross qualifying race.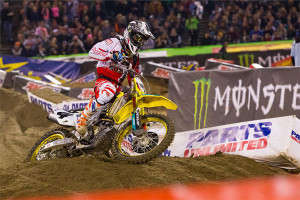 In the Main event Baggett got one of his best season starts out of the gate, but then nearly crashed a couple of turns-in on the first lap after getting jostled in a hectic traffic jam. The slip cost him a handful of positions on the track and he found himself mid-pack at the end of lap one.

Said Baggett: "I got a decent start. I was right there in the fight and then I got bumped around a little bit and lost a few spots."

On a brilliant second lap he'd already worked his way into the top-10 and from there Baggett ran a smart race and used the power of his Yoshimura Suzuki RM-Z450 to move past veteran riders Davi Millsaps and Andrew Short on his way to the eventual seventh-place (before the penalty) and was the top-finishing Suzuki rider.

Baggett talked about his mindset after getting shuffled back on the first lap: "I just started chugging away and working my way towards the front," he said. "This was a super-fast track, so it was really hard to make-up time on people, but I had my spots on the track and certain places that I was able to make passes, so I was able to work my way up."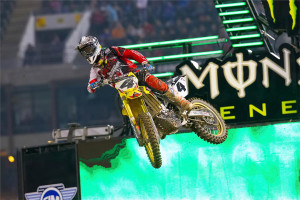 In spite of the penalty setback, the 22 year old is encouraged by his progress and looking for even better results in the coming rounds.

"It was my best finish so far and I'll just keep building from here," he said. "I had a really good Semi where I got the holeshot, so I'm figuring things out and I expect to be in the fight soon."

Yoshimura Suzuki Factory Racing's next event is round five of the 2015 AMA/ FIM World Supercross Championship this coming Saturday, January 31st, at Angel Stadium in Anaheim, California.

Source: Team Suzuki

Hill Finishes 9th At Oakland After Big Crash While Leading
[caption id="attachment_36468" align="alignright" width="300"]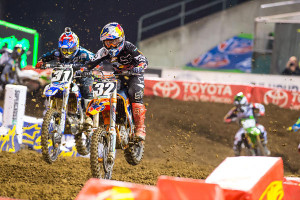 Photo: Simon Cudby[/caption]

Red Bull KTM factory rider Justin Hill earned 9th overall after a disappointing crash lost him the lead at the 4th round of the Monster Energy Supercross, an FIM Championship held at Oakland Coliseum.

Justin Hill had a great afternoon turning the fastest lap time of the practice sessions and earning top gate pick in his heat race. Hill lined up for the second 250SX heat where he got off to a top five start. At the end of the first lap he was sitting in 4th position. He made a pass for 3rd on the next lap and two laps later made an inside pass on Alex Martin to take 2nd place. He finished the race in 2nd place to earn a great gate pick for the main event.

At the gate drop of the main event, Hill leaped off the line to a top five start but got pushed back a few positions after the first corner. He finished the first lap in 6th place. Hill made some impressive passes in the next two laps and had moved to 3rd place by lap three. Two laps later Hill powered his KTM 250 SX-F into the lead. He held the lead for the next three laps before making a mistake in the sand section where he went end over end and lost the position. He recovered in 5th place but was unable to pick-up the pace he held before. The crash shook him a bit and he dropped a few more positions before the end of the race eventually settling for 9th.

[caption id="attachment_36467" align="alignleft" width="300"]
Photo: Simon Cudby[/caption]

"I'm really bummed about tonight's result," stated Hill after the race. "I felt good on the bike all day and was fast in practice. I simply mistimed my entry into the sand section. I had been doubling into that section most of the day but they changed the entry a bit during track maintenance so my normal line didn't work during the race. I'm pretty sure I face planted the sand. I just struggled to find my rhythm after that and went off the track again a little later. I'm going to do my best to bounce back at Anaheim III next weekend."

Next Round: January 31, 2015 - Anaheim, CA

Source: KTM North America

Nelson Passes A Dozen Riders En Route To A Top 10 Finish
[caption id="attachment_36473" align="alignright" width="300"]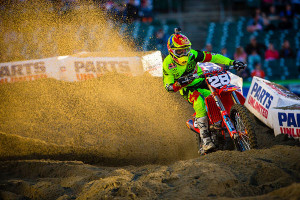 Photo: Jeff Kardas[/caption]

Troy Lee Designs / Lucas Oil / Red Bull / KTM's Jessy Nelson put in a valiant effort in Oakland, California to come through the pack after a first lap crash to finish in the top 10. Teammate Shane McElrath also worked his way through the deep field of 250SX Class riders to finish the night in 11th.

The 10th place finish on the results sheet didn't tell the story of Nelson's hard-fought battle from last. He passed an amazing 12 riders along the way while trying to make up as much time as possible during the 15 lap Main Event.

"I had some good qualifying times and ended up getting a heat race win, which was great," said Nelson. "In the main, I got a really bad start - missed a shift - got a little off axes coming out of the gate. I ended up coming together with another rider on the first lap and went to last. From there I just tried to salvage some points as much as possible. The race went by pretty fast and wasn't able to get back to where I wanted to be."

Every week, McElrath is proving he is more and more comfortable up front as he led three laps of his heat race. He didn't get the start he wanted in the main and had to also come through the pack, eventually finishing just behind Nelson in 11th.

[caption id="attachment_36472" align="alignleft" width="300"]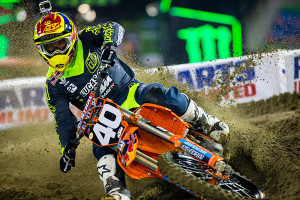 Photo: Jeff Kardas[/caption]

"I led the heat race for a little bit and felt comfortable out there," said McElrath. "There was some chaos during the first couple laps which really didn't help me settle in and find a good pace. Just one of those things where we'll move past this and look to do well next weekend."

Nelson is currently third in the championship standings, while McElrath is eighth.

The Troy Lee Designs/Lucas Oil/Red Bull/KTM team will be back in action next weekend for the final of three stops to Angel Stadium in Anaheim, California on January 31.

The Team TLD riders wore the new 2015 GP Air Astro Flo Yellow and the SE Corse Gray/Yellow, along with the 2015 SE3 Team Helmet Team Yellow Limited Edition at O.co Coliseum in Oakland, California.

See more of the 2015 gear sets and the 2015 Moto Helmets online and at your local TLD retailer.

Source: Troy Lee Designs

Tough Night For RCH Racing In Oakland
Tickle Sidelined Early, Roczen Battles Back To Finish 16th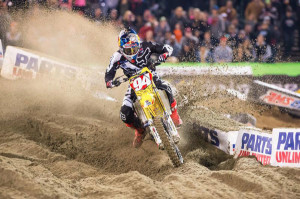 If adversity builds character, then RCH Soaring Eagle/Jimmy Johns/Suzuki Factory Racing left Oakland steeped in fortitude.

RCH Suzuki RM-Z450 riders Ken Roczen and Broc Tickle had hard-hitting nights and left the fourth race of the 2015 Monster Energy Supercross, an FIM World Championship, bruised and battered but ultimately, none too worse for the wear.

Both Roczen and Tickle fell victim to the challenging Oakland race course at O.co Coliseum, taking a hit in the final race rundown as well as the 450SX points. Roczen, who came into the event with a 12-point lead in the championship, now trails new leader Ryan Dungey by four, while Tickle slipped from seventh to 12th in the standings.

Much to everyone's chagrin, the RCH duo's collective night started out on the polar end of the spectrum from where it finished. Roczen picked up his first heat-race win of the year and Tickle finished third in the same heat, guaranteeing both riders choice spots at the starting gate for the main event.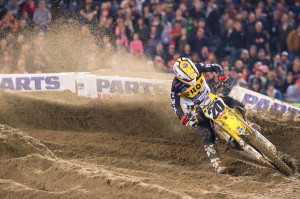 Unfortunately, Tickle was caught up in a multi-bike melee heading into the first corner. Although the Holly, Mich., rider was able to recover quickly from the initial incident, he came up short on a triple later during the opening lap, forcing him back to the paddock and an early exit.

"I'm super-bummed on the way the night ended up," said Tickle. "I had an awesome second practice qualifier and a great heat. The racing was awesome and the track felt great. Unfortunately, I crashed on the start in the main and was in the back of the pack. I got back going but I came up short on that triple and jammed my back. I was hoping to tough it out and salvage as many points as I could but my body was telling me something different. We'll regroup this week so I can be at Anaheim next weekend ready to rock."

As a precautionary measure, Tickle made a voluntary trip to nearby Sutter Eden Medical Center following the incident where he was examined, released and cleared to travel home with the team.

For his part, Roczen got a great jump out of the gate to start the main event and was solidly inside the top three for the opening circuits. But after setting up and making the pass for second on two-time 450SX champion Chad Reed, the 20-year-old German rider misjudged the same triple as Tickle, landing on the face of the jump and taking himself out of any chance for the win. Shaken but not broken, Roczen picked up his Suzuki, finished the race and earned a respectable 16th-place finish.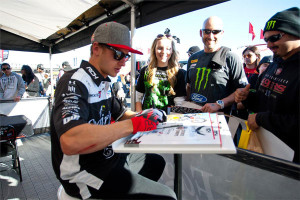 "My heat race was really good," explained Roczen. "I got off to a great start in the main. Battled with (Chad) Reed and Shorty (Andrew Short) ... Made the pass on Reed. And I just totally brain farted. I'm so mad at myself. I tried to triple and came up short. I hit my face and my goggles on my handlebar so I had to stop and just check myself for a minute. Luckily, I got back up and kept going. Those are important points."

"We had a rough night," commented team manager Kyle Bentley following the race. "Things aren't always going to be perfect. Broc came up short on the same triple Kenny did. That's racing. We're just glad they're both healthy. We'll move on and regroup and be ready for Anaheim next weekend."

Monster Energy Supercross, an FIM World Championship, returns to Anaheim next weekend for the series' third and final visit of the year to Angel Stadium of Anaheim. Race five of the 17-race Supercross schedule will be televised live on Fox Sports 1 Saturday, Jan. 31 beginning at 7 p.m. Pacific Standard Time, 10 p.m. Eastern Standard Time.

Source: RCH Racing

Oakland SX Overview And Point Standings
2015 AMA Supercross Oakland Image Gallery
(Click for full size images)
Overall Results - Supercross Class
| Pos. | # | Rider | Bike | Interval | Best Time |
| --- | --- | --- | --- | --- | --- |
| 1 | 41 | Trey Canard | Honda CRF450 | 20 Laps | 52.106 |
| 2 | 5 | Ryan Dungey | KTM 450 SX-F Factory Edition | +03.310 | 52.951 |
| 3 | 22 | Chad Reed | Kawasaki KX450F | +07.844 | 52.706 |
| 4 | 3 | Eli Tomac | Honda CRF450 | +09.725 | 52.666 |
| 5 | 14 | Cole Seely | Honda CRF450 | +10.709 | 52.742 |
| 6 | 51 | Justin Barcia | Yamaha YZ450F | +14.074 | 53.366 |
| 7 | 18 | David Millsaps | Kawasaki KX450F | +26.869 | 53.836 |
| 8 | 29 | Andrew Short | KTM 450 SX-F Factory Edition | +37.416 | 53.780 |
| 9 | 4 | Blake Baggett | Suzuki RM-Z450 | +37.416 | 53.094 |
| 10 | 21 | Jason Anderson | Husqvarna FC450 | +46.793 | 53.477 |
| 11 | 12 | Jacob Weimer | Kawasaki KX450F | +48.192 | 54.830 |
| 12 | 24 | Brett Metcalfe | Suzuki RM-Z450 | 19 Laps | 55.154 |
| 13 | 11 | Kyle Chisholm | Kawasaki KX450F | +04.026 | 55.606 |
| 14 | 46 | Phil Nicoletti | Yamaha YZ450F | +16.754 | 55.878 |
| 15 | 94 | Ken Roczen | Suzuki RM-Z450 | +19.728 | 53.941 |
| 16 | 45 | Vince Friese | Honda CRF450 | +19.728 | 54.951 |
| 17 | 39 | Fredrik Noren | Honda CRF450 | +20.181 | 55.803 |
| 18 | 199 | Kyle Partridge | Honda CRF450 | 18 Laps | 55.993 |
| 19 | 58 | Killian Rusk | Yamaha YZ450F | +01.636 | 57.337 |
| 20 | 47 | Martin Davalos | Husqvarna FC450 | +33.705 | 55.440 |
| 21 | 33 | Joshua Grant | Kawasaki KX450F | 3 Laps | 54.807 |
| 22 | 20 | Broc Tickle | Suzuki RM-Z450 | DNS | |
Rider Point Standings - Supercross Class
Statistics




Race Time: 17:51.950

Margin of Victory: 03.310

Winner's Avg. Laptime: 53.597

2nd Place Avg. Laptime: 53.763

Best Qualifier: #94 - Ken Roczen

Holeshot: #29 - Andrew Short




( Race 4 of 17 )


Ryan Dungey - 82

Ken Roczen - 78

Trey Canard - 68

Eli Tomac - 64

Jason Anderson - 62

Justin Barcia - 58

Cole Seely - 45

David Millsaps - 44

Andrew Short - 44

Chad Reed - 42

Manufacturer Point Standings - Supercross Class
( Race 4 of 17 )


Honda - 90

Suzuki - 84

KTM - 82

Yamaha - 66

Husqvarna - 62

Kawasaki - 59

Overall Results - Supercross Lites West Class
| Pos. | # | Rider | Bike | Interval | Best Time |
| --- | --- | --- | --- | --- | --- |
| 1 | 34 | Malcolm Stewart | Honda CRF250 | 15 Laps | 53.931 |
| 2 | 17 | Cooper Webb | Yamaha YZ250F | +01.443 | 53.269 |
| 3 | 31 | Alex Martin | Yamaha YZ250F | +02.343 | 54.069 |
| 4 | 911 | Tyler Bowers | Kawasaki KX250F | +07.036 | 54.070 |
| 5 | 44 | Zachary Bell | Husqvarna FC250 | +12.507 | 54.167 |
| 6 | 16 | Zach Osborne | Husqvarna FC250 | +13.794 | 54.267 |
| 7 | 157 | Aaron Plessinger | Yamaha YZ250F | +14.705 | 53.711 |
| 8 | 100 | Joshua Hansen | Kawasaki KX250F | +17.272 | 54.712 |
| 9 | 32 | Justin Hill | KTM 250 SX-F | +21.732 | 53.073 |
| 10 | 28 | Jessy Nelson | KTM 250 SX-F | +24.170 | 54.102 |
| 11 | 40 | Shane McElrath | KTM 250 SX-F | +39.299 | 54.679 |
| 12 | 86 | Zackery Freeberg | Yamaha YZ250F | +43.418 | 55.510 |
| 13 | 65 | Scott Champion | Yamaha YZ250 | +47.028 | 56.795 |
| 14 | 57 | Jackson Richardson | Honda CRF250 | +48.041 | 55.178 |
| 15 | 71 | Cole Martinez | Yamaha YZ250 | +50.230 | 55.794 |
| 16 | 130 | Thomas Hahn | Honda CRF250 | +1:05.601 | 56.381 |
| 17 | 981 | Austin Politelli | Yamaha YZ250F | 14 Laps | 56.617 |
| 18 | 148 | Trevor Reis | Yamaha YZ250F | +01.891 | 57.465 |
| 19 | 397 | Brandon Scharer | Suzuki RM-Z250 | +25.016 | 57.057 |
| 20 | 341 | Nico Izzi | Yamaha YZ250F | 8 Laps | 57.344 |
| 21 | 66 | Chris Alldredge | Kawasaki KX250F | 4 Laps | 55.561 |
| 22 | 360 | Aaron Siminoe | Kawasaki KX250F | +1:05.472 | 1:00.850 |
Rider Point Standings - Supercross Lites West Class
Statistics




Race Time: 13:35.752

Margin of Victory: 01.443

Winner's Avg. Laptime: 54.383

2nd Place Avg. Laptime: 54.479

Best Qualifier: #28 - Jessy Nelson

Holeshot: #44 - Zachary Bell




( Race 4 of 9 )


Cooper Webb - 86

Tyler Bowers - 78

Jessy Nelson - 71

Zach Osborne - 69

Justin Hill - 65

Malcolm Stewart - 64

Aaron Plessinger - 54

Shane McElrath - 49

Alex Martin - 47

Joshua Hansen - 47

Manufacturer Point Standings - Supercross Lites Class
( Race 4 of 17 )


Yamaha - 88

Kawasaki - 78

KTM - 77

Honda - 74

Husqvarna - 70

Suzuki - 2