5 Side-By-Side UTVs To Consider In 2015
Chaparral Motorsports
|
January 24, 2015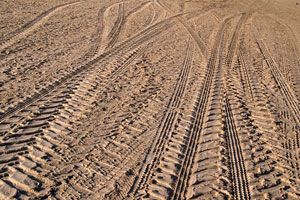 This year, ATV manufacturers are stepping up their lineups of different side-by-side UTVs by offering completely new models and entry-level vehicles that are both exciting and affordable, Outdoor News reported.

These vehicles are a great option for those who need a compact vehicle that can still tow a heavy load and bring passengers along. Whether you are using a side-by-side for hunting, farm work or general off-road travel, picking the right vehicle is essential. Here are five side-by-side UTVs to consider:

1) 2015 Polaris Ranger XP 900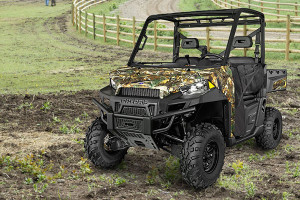 If you're searching for a side-by-side that is completely customizable to your liking, the Polaris Ranger XP 900 will be perfect for you. According to Polaris's official site, the 875-cc engine is a four-stroke, liquid-cooling, electronic-fuel-injected piece of machinery with an automatic transmission.

The Ranger XP comes with large and heavy-duty front and rear tires. The vehicle also has stamped-steel wheels to take on any rugged terrain. Polaris says the UTV has a hitch towing rating of 2,000 pounds, and because it's so customizable, the ride can come in Solar Red, Sage Green and Pursuit Camo. You can also add on hunting gear, plow systems, storage racks, bumper guards and winches, among many other available options, to this side-by-side.



2) 2015 Arctic Cat Wildcat X Limited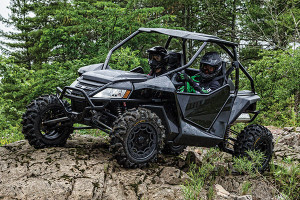 If you're looking for an ideal side-by-side UTV to do farm work and haul equipment around every day, then the 2015 Arctic Cat Wildcat X Limted is definitely not the vehicle for you, Outdoor Life reported. This side-by-side has a 95-inch wheelbase and an electric differential lock, which allows you climb over the most rugged terrain possible. Additionally, the vehicle has up to 18 inches of wheel travel, which will make this UTV last through any trip.

The Wildcat has a 951-cc, V-twin engine that can power up to 95 hp, and its 300-pound bed will make it easy to get to where you need to go in the quickest way possible.



3) 2015 Can-Am Commander XT 1000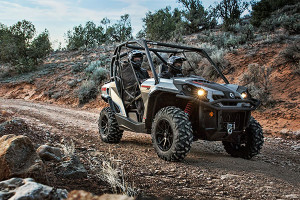 The 2015 Can-Am Commander XT 1000 is one heavy-duty UTV that has a V-Twin, 976-cc engine that will put plenty of power in your hands. Also, the Commander has a whopping 600-pound bed capacity and a hitch limit of 1,500 pounds.

UTV Guide said the Commander is Rollcage - ROPS certified and has a center of gravity rating of six out of 10. The Commander is a bit on the long side, with a total length of 118 inches, but for the amount of punch this ride harnesses, it could be worth it to you.



4) 2015 Yamaha Viking VI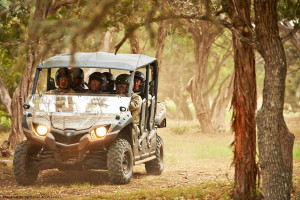 Some side-by-side UTV owners want a ride that can haul as many people as possible to get them to a specific location across rugged off-road terrain. The 2015 Yamaha Viking VI might be the perfect UTV extended cab for someone wanting legroom, shoulder room and the ability to carry up to six passengers, Outdoor Living reported.

The Viking VI has a fully automatic transmission and on-command four-wheel drive to make it a practical and safe ride. According to the source, the side-by-side comes with a 700-cc engine that can tow 1,500 pounds and haul 600 pounds.



5) 2015 Honda Pioneer 500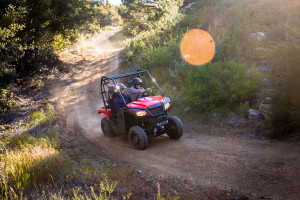 Honda recently equipped its UTVs and side-by-sides with Independent Rear Suspension (IRS) and with Rancher Automatic Dual Clutch Transmission (DCT), Honda's official site reported. The 2015 Honda Pioneer 500 gives you full-sized features but also a compact ride that helps you get around the tricky areas that larger side-by-sides cannot access.

The Pioneer 500 gives riders everything they want in a side-by-side but without the extra weight, which makes it a much more enjoyable ride.