Preview: Gibbs Quadski XL Amphibious ATV
Chaparral Motorsports
|
January 20, 2015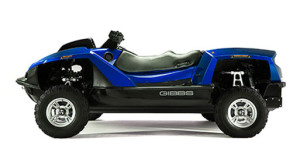 Gibbs, an ATV manufacturer, released its newest vehicle that takes riders from land to water and works as one of the most intriguing amphibious vehicles in the world. According to Gizmag, the Gibbs Quadski works as both a personal water craft vehicle and a four-wheeled ATV that makes no terrain stoppable for this newest ride.

While the company first released its Quadski a few years ago, the ATV manufacturer came back and made the two-seated ride, so passengers can get in on the fun as well. The Quadski XL is more than 128 inches long, which creates a long enough saddle for both riders to enjoy land and sea adventures.

Quadski Doesn't Skimp On Overall Weight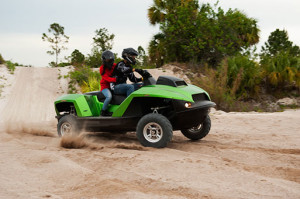 Even though the Quadski XL now weighs a whopping 104 pounds more than the previous model to bring it to a total of 1,437 pounds, the amphibious vehicle is still able to bring the same 45 mph land and water speeds, FOX News reported. The Quadski uses its 140 hp BMW Motorrad 1300 cc four-stroke inline engine that can send power to the rear wheels while on land and the Gibbs jet drive while on the water.

All it takes to switch from land to water is a simple push of the terrain button, which then takes roughly five seconds to switch from rear wheel power to its jet drive. According to the Orange County Register, the pneumatic tires are able to move, tuck under their wells and disconnect from the driveline. Additionally, the ride has a stainless-steel coating that will prevent rust buildup from transitioning back and forth between land and sea.

Groups Interested In Multi-Functionality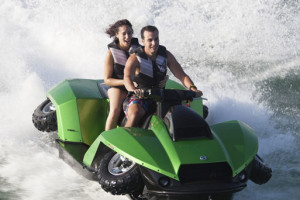 With the ability to transition quickly from a land to a water vehicle, several groups are interested in the new Gibbs Quadski. According to the Orange County Register, groups such as beach lifeguards, the Navy SEALS, sheriff departments and the Border Patrol have all contacted the manufacturer about using the vehicle for their work.

However, the Quadski comes with a hefty price tag starting at $42,800, which technically costs more than both a brand new ATV and a personal water craft vehicle combined, the source stated. Additionally, the vehicle runs on 98 RON Premium plus unleaded fuel, which will cost a lot at the pump each time the rider fills up, Gear Junkie reported.

At the same time, this vehicle could be the start toward a new trend with amphibious dual-terrain vehicles.