Icon 1000 Prep Boots Hit The Market
Chaparral Motorsports
|
January 19, 2015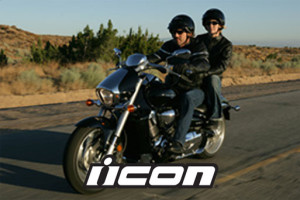 The Icon 1000 motorcycle gear apparel line continues to be at the forefront of high-quality and well-designed accessories for serious riders. Recently, Icon released its 1000 Prep Boots, which, much like the Icon 1000 full-hood jacket, these boots are made to last through any sort of climate.

According to Motorcycle Gear, the 1000 Prep Boots are constructed with long-lasting and tough leather that includes a leather 12-inch top grain upper section on the boot as well. These high-top boots are perfectly constructed to reach the mid-calf so that they protect riders from hot exhaust pipes and rainy or wet weather as well as as provide more coverage in the instance of a crash.

The absolutely durable leather is another shield of protection for riders while they are cruising down the asphalt, and the boot's three accordion stretch panels, which rest at the crown of the foot and two above the ankle, allow flexible riding and comfort for a larger and heavy-duty boot.

Icon crafted a beautiful pair of motorcycle boots that are made for both the road and casual walking. The boots are light enough to wear all day and the gear will not feel like riders are wearing extra protective apparel while motorcyclists are off their bikes.

The narrow fit makes them [specify] extremely snug when putting the boots on, but the comfort level is high for this style of shoe. These boots also come with padded waterproof lining that can withstand rain and snow, and the gear will keep riders' feet dry during walks through puddles or other large pools of water.

Extra Protection For Riders' Feet
[caption id="attachment_36519" align="alignright" width="300"][mageProductLink sku="038-3403-0629" title=""]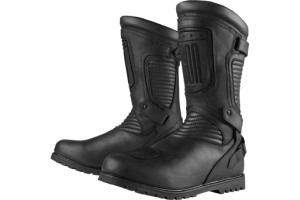 [/mageProductLink] [mageProductLink sku="038-3403-0629" title="Icon One Thousand Prep Boots"]Icon One Thousand Prep Boots[/mageProductLink][/caption]

Numerous motorcycle riders have open footpegs, which means while traveling down a road at more than 60 mph,a loose rock or piece of debris could cause serious damage to a rider's shin if it hits right. However, the Icon 1000 Prep Boots have heat-pressed leather shifter panels and molded leather shin plates to protect rider's lower extremities.

The boots come in either Brown or Stealth black and the gear is available in a variety of sizes for men or women. The Icon 1000 Prep Boots are $270, but like most Icon motorcycle gear, the price is worth the extra amount of quality that comes with the brand. The new boots are similar to the previous Icon Elsinore, but the Prep Boots added waterproof qualities for roughly the same price as the previous model, Ride Apart reported.