Dunlop Set To Be Tire Supplier For MotoAmerica
Chaparral Motorsports
|
January 16, 2015
Spec Tires For All MotoAmerica Classes
[caption id="attachment_36425" align="alignright" width="300"]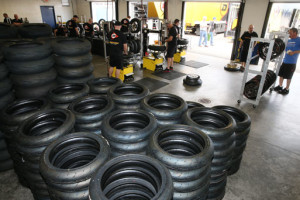 Dunlop Tires for MotoAmerica Racing[/caption]

MotoAmerica has announced that Dunlop will continue as the exclusive tire supplier of the MotoAmerica AMA/FIM North American Road Racing Series, with 2015 set to mark the tire company's seventh successive year as the spec-tire of the AMA Superbike Series and its support classes.

Racers competing in the premiere MotoAmerica Superbike, Superstock 1000 and Supersport classes will use Dunlop's KR448 and KR449 racing slicks while the Superstock 600 racers will use Dunlop's GPA-Pro DOT tires built in Dunlop's factory in Buffalo, New York. The KTM 390 Cup machines will run on Dunlop Alpha 13s.

"Dunlop has always been a big part of AMA Superbike racing and I'm glad they're stepping up to do so again in 2015," said three-time 500cc World Champion and MotoAmerica president Wayne Rainey. "I had great success using Dunlops during my career and they were a big part of my World Championship in 1991. I know our racers and teams will be happy to have Dunlops on their motorcycles for the coming season."

Dunlop, who has been supporting racers and teams in AMA Superbike racing for 30 years, will offer the same tires used in the MotoAmerica AMA/FIM North American Road Racing Series to its club racers across the country.

"Dunlop has supported American road racing longer than any other tire company, and we've been the exclusive tire supplier since 2009," said Mike Buckley, Dunlop's senior vice president of sales, marketing and R&D. "Our commitment to the paddock has never been greater, and we're very excited to extend our exclusive agreement into 2015 with MotoAmerica."

About MotoAmerica
MotoAmerica is the new North American road racing series created in 2014. MotoAmerica is an affiliate of KRAVE Group LLC, a partnership that includes three-time 500cc World Champion, two-time AMA Superbike Champion, and AMA Hall of Famer Wayne Rainey, ex-racer and former manager of Team Roberts Chuck Aksland, motorsports marketing executive Terry Karges, and businessman Richard Varner.
About Dunlop
Dunlop is the largest supplier of original equipment and replacement motorcycle tires in the U.S. and the only manufacturer of motorcycle tires in North America. With North American operations located in Buffalo, New York, Dunlop has been making and selling high-quality tires in the U.S. since 1923. For more information, visit www.dunlopmotorcycle.com. For information on Dunlop's spec tires for MotoAmerica, go to www.dunlopracing.com.
Source: MotoAmerica