2014 Vespa 946 Channels Vintage Scooter Esthetics
Chaparral Motorsports
|
January 15, 2015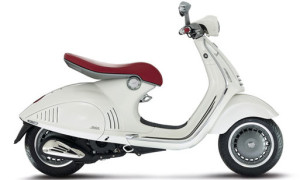 The 2014 Vespa 946 certainly stands out among other scooters in the industry, primarily due to its high price tag. Believe it or not, the 946 goes for about $10,000, which might seem odd to think about a luxury scooter. Some people might argue that there's no such thing as a luxury scooter, but Vespa 946 tries to surprise riders with a quality ride around town, Business Insider reported.

The scooter has a 155-cubic-centimeter engine, but the price of the ride still has many wondering what makes it worth so much. However, the most expensive Vespa on the market has a monocoque chassis and a design that embodies that of the D'Ascancio-crafted 1946 MP6 prototype, which is exactly where the 946 gets its name.

Steel Body Gives It A Classic Look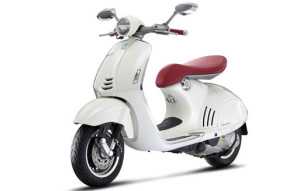 The scooter is made with sheets of steel, which are common to how some of the early scooter designs were crafted. The 946 has only a few aluminum panels bolted to the scooter, but the company still claims the ride can reach 117 mpg.

Its 12.7 horsepower can bring the rider to a top speed of 57 mph, and the scooter includes anti-slip regulation (ASR) electronic traction control. The scooter comes with LED lighting and a LCD multifunction display. The two-channel ABS brakes give the scooter a safe and smooth ride for the type of vehicle. The 946 weighs in at 346 pounds, which is not the lightest, but most riders will be surprised with the scooter's agility compared to its bulkiness.

The frame of the Vespa scooter has big curves and a large leather saddle and handgrips. The scooter also comes with rubber grips on the floorboards to give riders more security while driving. However, one of the downfalls of the $10,000 scooter is that it severely lacks any true storage space. The 946 comes with a 2.2-gallon tank and an extremely small glove compartment.

Vespa's scooter has all the look and feel of a vintage 1940s scooter and will surely grab the attention of scooter enthusiasts. According to The New York Times, the scooter closely resembles the ride made famous with Audrey Hepburn in the classic A Roman Holiday.

A lot of scooter riders will say there are much cheaper options to get around town, but the Vespa 946 is still an extremely classy ride even if it is just a scooter.