Wrap Up Of Stage Seven Results For The 2015 Dakar Rally
Chaparral Motorsports
|
January 14, 2015
[caption id="attachment_36410" align="alignright" width="300"]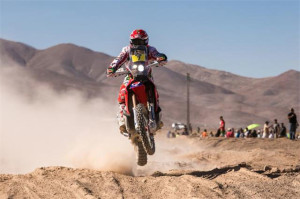 Paulo Goncalves - Photo: HRC[/caption]

On Jan. 11, competitors in the 2015 Dakar Rally were right back at it in the seventh stage, which spread across 445 miles from Iquique, Chile, to Uyuni, Bolivia, Ultimate Motorcycling reported.

The day before was the only rest period through the entire race, which left racers with just Jan. 10 to work on their motorcycles to prepare for the final leg of the race, the source reported. Riders did not have an easy stage six because of the weather conditions that surrounded Bolivia. Racers encountered some rain and snow through the sixth leg and also had to deal with the extremely high altitude that comes with Bolivia's terrain.

The seventh day had a lot of leader changes. Helder Rodrigues, who started the race at the top after leading Jan. 9 stage six, eventually fell down a few places. However, according to the source, Paulo Goncalves, teammate of Rodrigues, took the lead in the seventh round and claimed his second win on the 2015 Dakar Rally.

It wasn't an easy lead change for the HRC Honda rider, but Goncalves was able to finish a mere 14 seconds ahead of the second place Marc Coma of Red Bull KTM. Coma has four Dakar championships under his belt, but Goncalves was able to beat out the veteran.

"This stage was great. I started in the front, and that's always difficult, as it's very easy to lose time as you open the road," said Goncalves about his day seven win, according to Ultimate Motorcycling. "I pushed very hard to stay at the front of the race. I'm very happy, of course, with my result today. I never stopped pushing until the finish. This stage was very hard - mud, stones, and many bumps - unbelievably hard, but I won it and that's great."

Not The Easiest Of Race Days
[caption id="attachment_36409" align="alignright" width="300"]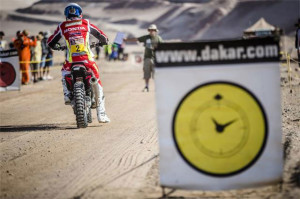 Joan Barreda - Photo: HRC[/caption]

The day was not the best riding experience for some other veteran racers after Joan Barreda lost his handlebar in a crash. According to Cycle News, Barreda, rider for of Honda, ended up in 12th place, which was his worst finish ever in a Dakar Rally race. The starting point of day seven began at 11,500 feet on the plateau of a lengthy and difficult terrain, which didn't make it easy for any of the riders.

"The road book contained a danger warning without specifying whether it was level 1, 2 or 3," said Barreda about his early exit, according to Cycle News. "I saw it from quite far away and I started braking 100 meters before it, but the mud caused the motorcycle to slide, and I hit the obstacle. I was sent flying."

Barreda added that it caused him to ride his motorcycle with just one hand for roughly 75 miles of the race. However, Barreda's bike eventually quit on him and caused four minutes of downtime for the veteran rider.

"After that I pulled out all the stops," said Barreda." But it's no big deal. We've got a big team. We'll fix it."

More Stages And Challenges Up Ahead
[caption id="attachment_36408" align="alignright" width="300"]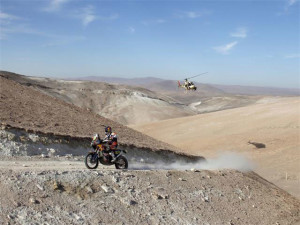 Marc Coma - Photo: RallyZone[/caption]

There are still five more stages to complete the entire 2015 Dakar Rally, and according to Ultimate Motorcycling, the conditions for the eighth stage could be even more strenuous. The day will involve 500 miles of racing from Uyuni back to Iquique once again.

Riders will have to go through a massive ice lake, and if conditions allow, riders will be able to cross the lake 30 at a time. If the weather conditions are not up to par, riders will be forced to travel along the edge of the lake to get back to Iquique.